Microsoft Cortana-Powered Speaker Challenges Amazon's Echo With Skype Calls — from foxbusiness.com by y Jay Greene
Excerpt:
Microsoft Corp. is hoping to challenge Amazon.com Inc.'s Echo smart speaker for a spot on the kitchen counter with a device from Samsung Electronics Co. that can make phone calls. The Invoke, which will debut this fall, comes more two years after the release of the Echo, which has sold more 11 million units through late last year, according to estimates by Morgan Stanley. It also will compete with Alphabet Inc.'s Google Home, which was released last fall. The voice-controlled Invoke, made by Samsung's Harman Kardon unit, will use Microsoft's Cortana digital assistant to take commands.
Microsoft Screams 'Me Too' With Cortana-Powered Rival to Amazon Echo and Google Home — from gizmodo.com by Alex Cranz
Excerpt:
With Microsoft's Build developer conference just two days away, the company has revealed one of the most anticipated announcements from the event: A new Cortana-powered speaker made by German audio giant Harman Kardon.
Now, it's fair to see this speaker for what it is: An answer to the Google Home and Amazon Echo. Both assistant-powered speakers are already in homes across our great nation, listening to your noises, noting your habits, and in general invading your lives under the guise of smart home helpfulness. The new Microsoft speaker, dubbed "Invoke," one will presumably do the good stuff, let giving you updates on the weather and letting you turn on some soothing jazz for your dog with just a spoken command. Microsoft is also hoping that partnering with Harmon Kardon means its speaker can avoid one of the bigger problems with these devices—their tendency to sound cheap and tinny.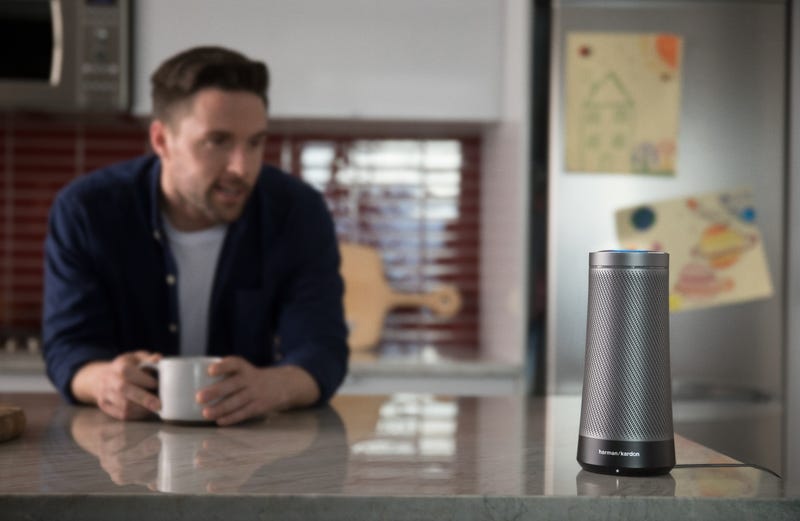 Harman Kardon's Invoke speaker is a Cortana-powered take on an Amazon Echo — from theverge.com by Chaim Gartenberg
Excerpt:
As teased earlier, the Invoke speaker will offer 360-degree speakers, Skype calling, and smart home control all through voice commands. Design-wise, the Invoke strongly resembles Amazon's Echo that its meant to compete with: both offer a similar cylindrical aluminum shape, light ring, and a seven-microphone array. That said, Harmon Kardon seems to be taking the "speaker" portion of its functionality more seriously than Amazon does, with the Invoke offering three woofers and three tweeters (compared to the Echo, which offers just a single of each driver). Microsoft is also highlighting the Invoke's ability to make and receive Skype calls to other Skype devices as well as cellphones and landlines, which is an interesting addition to a home assistant.
From DSC:
Here we see yet another example of the increasing use of voice as a means of communicating with our computing-related devices. AI-based applications continue to develop.