Introducing the new Surface family — from microsoft.com
To do great things, you need powerful tools that deliver an ideal balance of craftsmanship, performance, and versatility. Every Surface device is engineered with these things in mind, and you at the center. And that's how the Surface family does more. Just like you.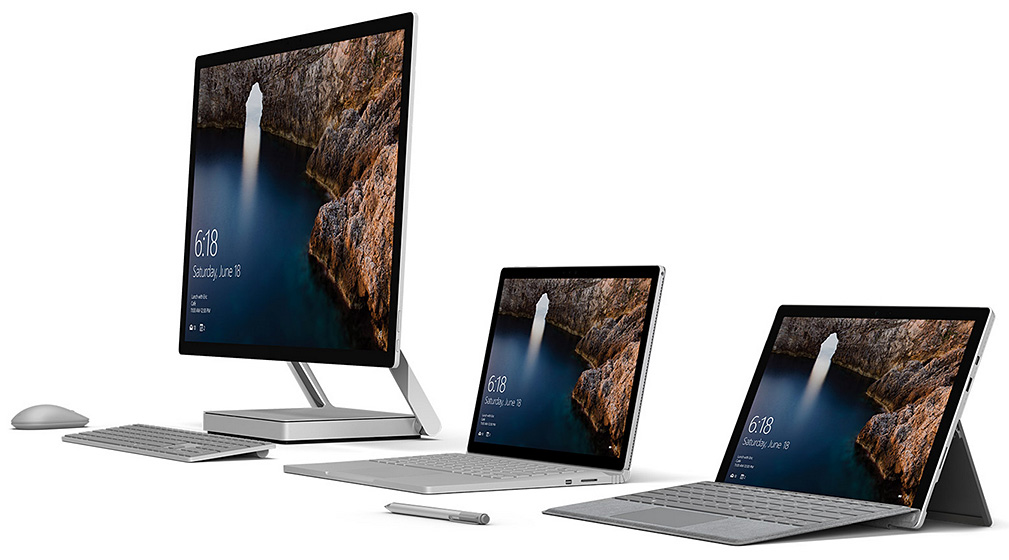 Also see the new Surface Dial: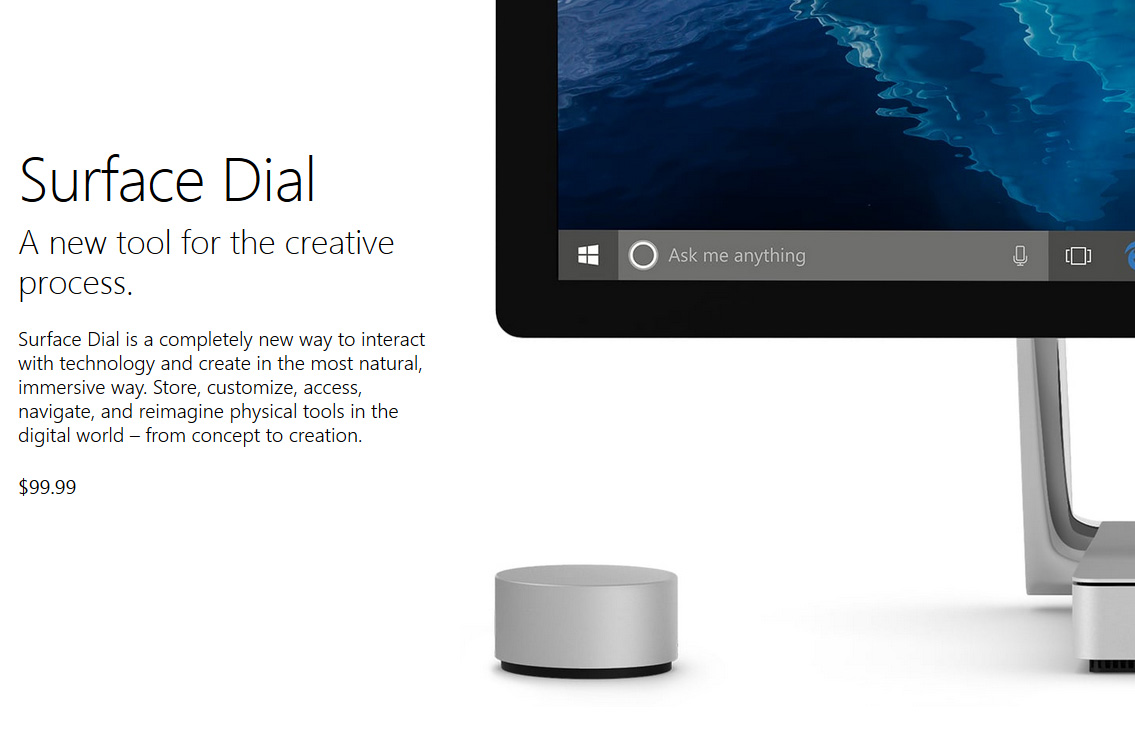 Microsoft 'Surface Studio' and 'Dial' Up Close  — from blogs.barrons.com by Tiernan Ray
Excerpt (emphasis DSC):
Microsoft (MSFT) this morning held an event in downtown Manhattan that included both an update to Windows, the "Creators" edition, and also new versions of the company's Surface tablet computer, including a revamp of the "Surface Book" laptop and tablet combo device, and a new desktop machine called the "Surface Studio" that has the thinnest display ever made, the company claims.
Perhaps the most intriguing thing at the event was something called "Dial," a rotating puck device that can function like a wireless mouse with the Studio, but can also be placed right on top of the display itself to bring up a context-specific menu of functions, or to perform actions like cut and paste.
Microsoft announces its first desktop PC, the $3,000 Surface Studio — from businessinsider.com by Steve Kovach
Excerpt (emphasis DSC):
Microsoft on Wednesday announced its first desktop PC, the Surface Studio.
It's an all-in-one computer, designed to compete with Apple's iMac. The PC is geared toward professionals, and it has high-end specs designed for tasks like video or photo editing.
…
But the real surprises are the adjustable display and a new accessory called the Surface Dial. The display can lie nearly flat on the table, giving graphics artists the ability to draw and work. The Surface Dial can be placed on the screen to bring up color palettes and other options. The Surface Dial will work with other Surface products — the Surface Pro and Surface Book — but you won't be able to use it on the screens.
Microsoft wants to bring machine learning into the mainstream — from networkworld.com by Steven Max Patterson
Microsoft released the beta of the Cognitive Toolkit with machine learning models, infrastructure and development tools, enabling customers to start building
Excerpt (emphasis DSC):
Microsoft just released the open-source licensed beta release of the Microsoft Cognitive Toolkit on Github. This announcement represents a shift in Microsoft's customer focus from research to implementation. It is an update to the Computational Network Toolkit (CNTK). The toolkit is a supervised machine learning system in the same category of other open-source projects such as Tensorflow, Caffe and Torch.
Microsoft is one of the leading investors in and contributors to the open machine learning software and research community. A glance at the Neural Information Processing Systems (NIPS) conference reveals that there are just four major technology companies committed to moving the field of neural networks forward: Microsoft, Google, Facebook and IBM.
This announcement signals Microsoft interest to bring machine learning into the mainstream. The open source license reveals Microsoft's continued collaboration with the machine learning community.
Microsoft just democratized virtual reality with $299 headsets — from pcworld.com by Gordon Mah Ung
Excerpt:
VR just got a lot cheaper.
Microsoft on Wednesday morning said PC OEMs will soon be shipping VR headsets that enable virtual reality and mixed reality starting at $299.
Details of the hardware and how it works were sparse, but Microsoft said HP, Dell, Lenovo, Asus, and Acer will be shipping the headsets timed with its upcoming Windows 10 Creators Update, due in spring 2017.
Despite the relatively low price, the upcoming headsets may have a big advantage over HTC and Valve's Vive and Facebook's Oculus Rift: no need for separate calibration hardware to function. Both Vive and Oculus require multiple emitters on stands to be placed around a room for the positioning to function.
The 10 Coolest Features Coming to Windows 10 — from wired.com by Michael Calore
Excerpt:
Microsoft is gearing up for a Windows refresh. The Windows 10 Creators Update will arrive on all Windows 10 devices for free in the spring of 2017. Today, Microsoft showed off all the new features coming to the multi-mode OS. Here's the best of what will be coming to your Windows PC or Surface device.
The Surface Studio Story: How Microsoft Reimagined The Desktop PC For Creativity — from fastcompany.com by Mark Sullivan
A 28-inch screen, a very special hinge, and a new type of input device add up to an experience conceived with artists and designers in mind.