Baidu shows off DuSee, an augmented reality platform for China's mobile users — from techcrunch.com by Lucas Matney
Excerpt:
Soon, hundreds of millions of mobile users in China will have direct access to an augmented reality smartphone platform on their smartphones.
Baidu, China's largest search engine, unveiled an AR platform today called DuSee that will allow China's mobile users the opportunity to test out smartphone augmented reality on their existing devices. The company also detailed that they plan to integrate the technology directly into their flagship apps, including the highly popular Mobile Baidu search app.
#Zuckerberg Claims Future of #AR is in Smartphones, Not Glasseshttps://t.co/QbpL9OhElN pic.twitter.com/Zd17yiRFG5

— Roblem VR (@RoblemVR) July 29, 2016
From DSC:
With "a billion iOS devices out in the world", I'd say that's a good, safe call…at least for one of the avenues/approaches via which AR will be offered.
Deaking University to bring AR to classrooms — from by Emma Boyle
Medicine and engineering classes will be first to access to the technology.
Excerpt:
Recently it's appeared that augmented reality (AR) is gaining popularity as a professional platform, with Visa testing it as a brand new e-commerce solution and engineering giant Aecom piloting a project that will see the technology used in their construction projects across three continents. Now, it's academia's turn with Deakin University in Australia announcing that it plans to use the technology as a teaching tool in its medicine and engineering classrooms.
As reported by ITNews, AR technology will be introduced to Deakin University's classes from December, with the first AR apps to be used during the university's summer programme which runs from November to March, before the technology is distributed more widely in the first semester of 2017.
Microsoft kicks open the $3K HoloLens doors to all developers and companies — from digitaltrends.com by Kevin Parrish
Also see: HoloLens Development Edition Updates
Amazing MIT Research Project Lets You Reach Into Augmented Reality — from uploadvr.com by Jamie Feltham
Excerpt:
Creating realistic interactions with objects and people in virtual reality is one of the industry's biggest challenges right now, but what about for augmented reality?
That's an area that researchers from Massachusetts Institute of Technology's (MIT's) Computer Science and Artificial Intelligence Laboratory (CSAIL) have recently made strides in with what they call Interactive Dynamic Video (IDV). First designed with video in mind, PhD student Abe Davis has created a unique concept that could represent a way to not only interact with on-screen objects, but for those objects to also realistically react to the world around them.
If that sounds a little confusing, then we recommend taking a look at…
Augmented reality "will change the way architects work" says Greg Lynn — from dezeen.com
Excerpt:
Venice Architecture Biennale 2016: augmented reality will revolutionise the architecture and construction industries according to architect Greg Lynn, who used Microsoft HoloLens to design his contribution to the US Pavilion at the Venice Biennale (+ movie).
.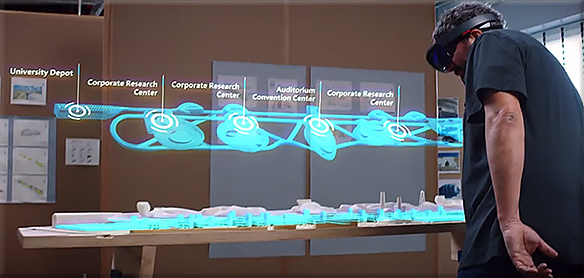 Augmented Reality In Healthcare Will Be Revolutionary — from medicalfuturist.com
Augmented reality is one of the most promising digital technologies at present – look at the success of Pokémon Go – and it has the potential to change healthcare and everyday medicine completely for physicians and patients alike.
Excerpt:
Nurses can find veins easier with augmented reality
The start-up company AccuVein is using AR technology to make both nurses' and patients' lives easier. AccuVein's marketing specialist, Vinny Luciano said 40% of IVs (intravenous injections) miss the vein on the first stick, with the numbers getting worse for children and the elderly. AccuVein uses augmented reality by using a handheld scanner that projects over skin and shows nurses and doctors where veins are in the patients' bodies. Luciano estimates that it's been used on more than 10 million patients, making finding a vein on the first stick 3.5x more likely. Such technologies could assist healthcare professionals and extend their skills.
The man behind HBO's virtual reality bet says these new glasses could replace going to a movie theater — from businessinsider.com by Nathan McAlone
Excerpt:
But even with a wealth of hardware partners over the years, Urbach says he'd never tried a pair of consumer VR glasses that could effectively trick his brain until he began working with Osterhout Design Group (ODG).
ODG has previously made military night-vision goggles, and enterprise-focused glasses that overlay digital objects onto the real world. But now the company is partnering with OTOY, and will break into the consumer AR/VR market with a model of glasses codenamed "Project Horizon."
The glasses work by using a pair of micro OLED displays to reflect images into your eyes at 120 frames-per-second. And the quality blew Urbach away, he tells Business Insider.
You could overlay images onto the real world in a way that didn't appear "ghost-like." We have the ability to do true opacity matching," he says.
Live streaming VR performances — from digitalbodies.net by Emory Craig
Excerpt:
Live streaming VR events continue to make the news. First, it was the amazing Reggie Watts performance on AltspaceVR. Now the startup Rivet has launched an iOS app (sorry, Android still to come) for live streams of concerts. As the musician, record producer and visual artist Brian Eno once said,
You can't really imagine music without technology.
In the near future, we may not be able to imagine a live performance without the option of a live stream in virtual reality.
Virtual Reality And Education Expanding Your Brain Expeditions Pioneer Program — from iamvr.co
Excerpt:
While statistics on VR use in K-­12 schools and colleges have yet to be gathered, the steady growth of the market is reflected in the surge of companies (including zSpace, Alchemy VRand Immersive VR Education) solely dedicated to providing schools with packaged educational curriculum and content, teacher training and technological tools to support VR­-based instruction in the classroom. Myriad articles, studies and conference presentations attest to the great success of 3D immersion and VR technology in hundreds of classrooms in educationally progressive schools and learning labs in the U.S. and Europe.
…
Much of this early foray into VR­-based learning has centered on the hard sciences — biology, anatomy, geology and astronomy — as the curricular focus and learning opportunities are notably enriched through interaction with dimensional objects, animals and environments. The World of Comenius project, a biology lesson at a school in the Czech Republic that employed a Leap Motion controller and specially ­adapted Oculus Rift DK2 headsets, stands as an exemplary model of innovative scientific learning.
In other areas of education, many classes have used VR tools to collaboratively construct architectural models, recreations of historic or natural sites and other spatial renderings. Instructors also have used VR technology to engage students in topics related to literature, history and economics by offering a deeply immersive sense of place and time, whether historic or evolving.
"Perhaps the most utopian application of this technology will be seen in terms of bridging cultures and fostering understanding among young students."
---
Addendum on 8/5/16: