Who is taking MOOCs? Teachers, says MIT-Harvard study — from pbs.org by Kirk Carapezza, WGBH
Excerpt:
A new MIT-Harvard study released on [April 1st] finds that nearly 40 percent of learners who take open online courses are teachers. That finding has researchers wondering whether they can better design online courses once predicted to upend students' experience to meet teachers' needs.
The study describes two years of open online courses launched on MIT and Harvard's non-profit online initiative, edX. It explores 68 certificate courses and 1.7 million participants.
"We know who these people are," said Harvard Associate Professor Andrew Ho, co-author of the study.
HarvardX and MITx: Two Years of Open Online Courses Fall 2012-Summer 2014
Abstract:
What happens when well-known universities offer online courses, assessments, and certificates of completion for free? Early descriptions of Massive Open Online Courses (MOOCs) have emphasized large enrollments, low certification rates, and highly educated registrants. We use data from two years and 68 open online courses offered by Harvard University (via HarvardX) and MIT (via MITx) to broaden the scope of answers to this question. We describe trends over this two-year span, depict participant intent using comprehensive survey instruments, and chart course participation pathways using network analysis. We find that overall participation in our MOOCs remains substantial and that the average growth has been steady. We explore how diverse audiences — including explorers, teachers-as-learners, and residential students — provide opportunities to advance the principles on which HarvardX and MITx were founded: access, research, and residential education.
Keywords:
MOOC, massive open online course, HarvardX, MITx, edX, online learning, distance education, higher education, residential learning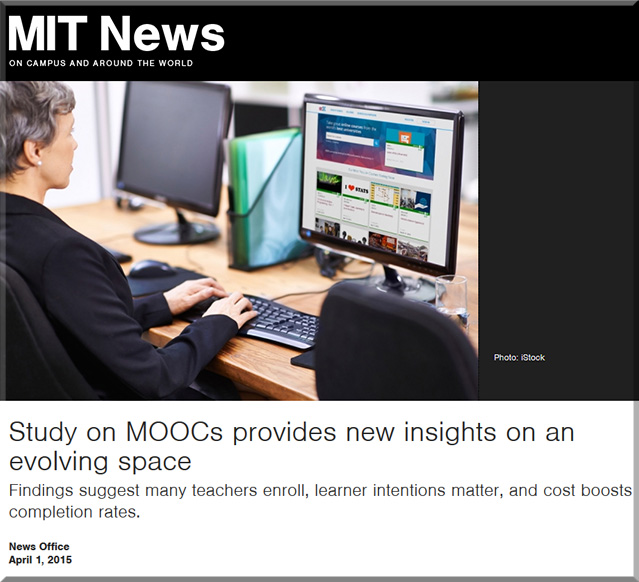 Excerpt:
[On April 1], a joint MIT and Harvard University research team published one of the largest investigations of massive open online courses (MOOCs) to date. Building on these researchers' prior work — a January 2014 report describing the first year of open online courses launched on edX, a nonprofit learning platform founded by the two institutions — the latest effort incorporates another year of data, bringing the total to nearly 70 courses in subjects from programming to poetry.
"We explored 68 certificate-granting courses, 1.7 million participants, 10 million participant-hours, and 1.1 billion participant-logged events," says Andrew Ho, a professor at the Harvard Graduate School of Education. The research team also used surveys to ­gain additional information about participants' backgrounds and their intentions.
August LearnMoodle MOOC is now enrolling — from moodlenews.com by Joseph Thibault
9 free MOOCs for corporate training — from elearningindustry.com
Excerpt:
MOOCs for corporate training offer a wide range of benefits but due to the broad range of courses available today, finding the right ones for skill set development and corporate training can often be a time consuming and frustrating task. To make the process easier, I'd like to share some of the top MOOCs for corporate training that you may want to consider.
Over 120 MOOCs and courses coming up in the month of April 2015 — from edtechreview.in
From 2014:
Ten big reasons for the rise of corporate MOOCs — from trainingzone.co.uk by Donald Clark
The increasing popularity of MOOCs, open-education resources such as OpenStax College, and freely available course content on platforms such as iTunes U brings an incredible opportunity for high school teachers and college instructors to collaborate and enhance each other's instruction.
– from Mind the Gap: Connecting K–12 and Higher Education
Educators to Improve the Student Experience –from educause.edu
by Matthew W. Stoltzfus, Ben Scragg, and Cory Tressler