On 05/22/2020, in colleges, community colleges, digital learning, distance education, faculty, higher education, law schools, Michigan, online learning, pedagogy, teachers, teaching & learning, teaching online, United States, universities, writing, by Daniel Christian
Six Practical Approaches for Teaching Writing Online — from facultyfocus.com by Christian Aguiar and Albert Pearsall; with a shoutout to Bill Knapp from GRCC for posting this on Twitter
On 05/12/2020, in adjunct faculty, blended learning, career development, change, changing business models, colleges, community colleges, dangers of the status quo, education technology, face-to-face, faculty, future, future of higher education, game-changing environment, health, higher education, hybrid learning, ideas, innovation, instructional design, internet, IT in HE, law schools, learning, learning ecosystem, Learning from the Living [Class] Room, learning preferences, Michigan, more choice more control, New "Amazon.com" of Higher Education, online learning, online media, online tutoring, teaching & learning, teaching online, United States, universities, web-based collaboration, by Daniel Christian
Fall Scenario #13: A HyFlex Model — from insidehighered.com by Edward Maloney and Joshua Kim
Excerpt:
In a HyFlex course, courses are delivered both in person and online at the same time by the same faculty member. Students can then choose for each and every class meeting whether to show up for class in person or to join it online. The underlying design ethos behind the HyFlex Model is flexibility and student choice.
…
To do it well, then, a lot of things need to line up, including the technology, the course design, the focus on pedagogy and the engagement of the students. Many schools that wish to scale the HyFlex Model across the curriculum for the fall semester will likely need to make a significant investment in classroom technology.
Also see the other scenarios from Kim and Maloney at:
Problems planning for a Post-Pandemic Campus this fall — from bryanalexander.org by Bryan Alexander
How will campuses try to return to face-to-face education?  What does it mean now to plan for a Post-Pandemic Campus this fall?
Excerpt:
In April I published three scenarios for colleges and universities may approach the fall 2020 semester in the wake of COVID-19, based on different ways the pandemic might play out.  I followed that up with real world examples of each scenario, as different institutions subsequently issued announcements about their plans.  To recap, they are:
COVID Fall: today's "remote instruction" continues and develops for the rest of calendar 2020.
Toggle Term: campuses are ready and able to switch between online and in-person instruction as circumstances change.
Post-Pandemic Campus: colleges and universities return in the fall to the traditional face-to-face mode after COVID-19's danger has ebbed to a certain level.
6 ways college might look different in the fall — from npr.com by Elissa Nadworny
Excerpt:
What will happen on college campuses in the fall? It's a big question for families, students and the schools themselves.
A lot of what happens depends on factors outside the control of individual schools: Will there be more testing? Contact tracing? Enough physical space for distancing? Will the coronavirus have a second wave? Will any given state allow campuses to reopen?
For all of these questions, it's really too early to know the answers. But one thing is clear: Life, and learning for the nation's 20 million students in higher education, will be different.
"I don't think there's any scenario under which it's business as usual on American college campuses in the fall," says Nicholas Christakis, a sociologist and physician at Yale University.
If law schools can't offer in-person classes this fall, what will they do instead? — from abajournal.com by Stephanie Francis Ward
On 05/02/2020, in 24x7x365 access, Canada, change, health, ideas, law schools, Legal operations, legal reform, legal technologies, legislatures / government / legal, Michigan, society, United States, by Daniel Christian
Invitation for Comment on Emergency Rulemaking — from uscourts.gov
Request for Input on Possible Emergency Procedures
Excerpt:
The committees seek input on challenges encountered during the COVID pandemic in state and federal courts, by lawyers, judges, parties, or the public, and on solutions developed to deal with those challenges. The committees are particularly interested in hearing about situations that could not be addressed through the existing rules or in which the rules themselves interfered with practical solutions.
And from Canada:
Our civil justice system needs to be brought into the 21st century — from theglobeandmail.com by Rosalie Silberman Abella
Excerpt:
I'm talking of course about access to justice. But I'm not talking about fees, or billings, or legal aid, or even pro bono. Those are our beloved old standards in the "access to justice" repertoire and I'm sure everyone knows those tunes very well.
I have a more fundamental concern: I cannot for the life of me understand why we still resolve civil disputes the way we did more than a century ago.
In a speech to the American Bar Association called The Causes of Popular Dissatisfaction with the Administration of Justice, Roscoe Pound criticized the civil justice system's trials for being overly fixated on procedure, overly adversarial, too expensive, too long and too out of date. The year was 1906.
Any good litigator from 1906 could, with a few hours of coaching, feel perfectly at home in today's courtrooms. 
On 04/29/2020, in change, colleges, community colleges, Daniel S. Christian, higher education, IT in HE, law schools, leadership, Michigan, organizational change, pace of change, technologies for your home, technology (general), telecommunications, telemedicine / telehealth / virtual health, United States, universities, by Daniel Christian
EDUCAUSE COVID-19 QuickPoll Results: The Technology Workforce — from er.educause.edu by Susan Grajek
Excerpts:
Most of the survey respondents are working remotely and getting their work done. Although the work itself hasn't changed much, workloads have increased, especially for IT leaders and people supporting teaching and learning. Most people have the technologies they need to work and to handle sensitive data, but many are struggling to maintain their physical, social, and emotional health. On the other hand, the newfound widespread ability to work productively from home is a silver lining, and respondents hope it can continue after the severe isolation of the pandemic eases.
Higher education institutions have had to change their cultures abruptly. Many respondents observed faster decision-making, greater focus, more collaboration, and more willingness to experiment and innovate.
The toothpaste is out of the tube: remote work works and should continue.
…
Greater compassion and support for work-life balance increases workforce engagement.
…
Values to keep: focus, communication, collaboration, and transparency.
…
The pandemic is accelerating digital transformation.

From DSC:
My health and work/family balance has been impacted, big time. A double whammy for me was that our local YMCA's all closed down while the workloads increased even more. But as someone said, our ancestors had to deal with a lot worse than this with WWI and WWII, other wars/societal impacts, etc.
I, too, hope to be able to work more from home even after our workplaces are no longer off-limits. I get a lot done, my energy is better (not having to commute 2+ hours a day), my productivity to my employer has increased due to not having to commute –> the time I was in the car is time they get productivity-wise.
Why local news outlets may be among this pandemic's victims — from medium.com by Sue Ellen Christian
The healthy functioning of our communities depends on the survival of our local news systems. Here's how to start resuscitating close-to-home journalism, now.
Excerpt:
Just as we thought it couldn't get worse for the survival of local news outlets, it has. Covid-19 is attacking what was left of the advertising base for local news outlets. Local retailers are the foundational advertisers for online news outlets. With shelter-in-place orders enacted throughout the country, retailers are struggling to pay the rent; low on their priorities for financial solvency is buying ads in a local newspaper, online news outlet, local television news show or community magazine.
Furthermore, those same retailers, such as book stores and restaurants, where single-sale print copies of local magazines and newspapers are often available, aren't open, further hurting the already meager revenue streams of local news providers.
New York has the Times. Los Angeles has its Times. The nation's capital has the Post. We in smaller and mid-size communities not only deserve our close-to-home updates and information, our local democracies rely on it.
…
Daily digital and print news outlets in particular offer citizens a public service: News about the schools our children attend, how our taxes are spent, what is happening in court systems and park districts and local elections. They fight for public documents to be released and public meetings to remain open — to be sure, all vital parts to democracy. But these outlets also offer our communities a reflection of ourselves.

On 04/11/2020, in adjunct faculty, colleges, community colleges, instructional design, Michigan, online learning, pedagogy, teachers, teaching & learning, teaching online, United States, universities, by Daniel Christian
Steps toward excellence: The power of learning objectives — from rtalbert.org by Robert Talbert
Making clear and measurable learning objectives for both the course and individual course modules. 
Excerpt:
How to write a clear, measurable learning objective
Allow me to (re-)introduce you to Bloom's Taxonomy: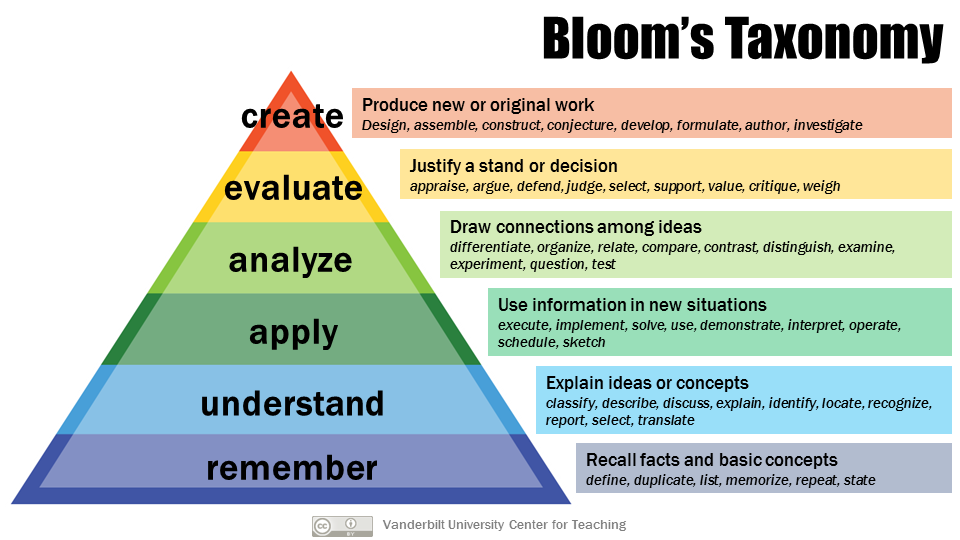 Each of the six levels of the taxonomy corresponds to a category of cognitive tasks, and in most of these diagrams of the taxonomy you will find action verbs attached to each level. The key to writing a clear, measurable learning objective is to focus on two questions at both the macro and micro levels:
What is it that I want students to learn? And,
What action with a measurable outcome can a student perform that will allow me to decide whether they have learned it?
Then it's a matter of expressing that action as a declarative statement anchored to a concrete action verb at the appropriate Bloom level.
Also see Robert's second posting here, entitled:
On 04/03/2020, in 21st century, 24x7x365 access, Access to Justice (A2J), change, changing business models, communications, communities of practice, dangers of the status quo, Daniel S. Christian, entrepreneurship, health, innovation, law schools, legal reform, legal technologies, legislatures / government / legal, Michigan, platforms, society, technologies for your home, telelegal, telemedicine / telehealth / virtual health, telepresence, tools, trends, United States, user experience (UX), videoconferencing, virtual tutoring, web-based collaboration, by Daniel Christian
On 10/16/2019, in 21st century, business side of he, change, changing business models, colleges, community colleges, cost of getting a degree, dangers of the status quo, Daniel S. Christian, education reform, future of higher education, game-changing environment, higher education, law schools, Learning from the Living [Class] Room, liberal arts, Michigan, New "Amazon.com" of Higher Education, United States, universities, by Daniel Christian
In case you missed it, WMU-Cooley's President and Board of Directors took a look at our tuition rates and made the decision to reduce them by 21 percent starting Fall 2020! https://t.co/FjC6hk4vnE pic.twitter.com/NkCMAzoomE

— WMU-Cooley Law School (@WMUcooleylaw) October 16, 2019
From DSC:
Regular readers of this blog will know that for years, I've made it one of my goals to try and raise awareness of the need for institutions of higher education to lower their tuitions! For example, Yohan Na and I designed the graphic below way back in 2009.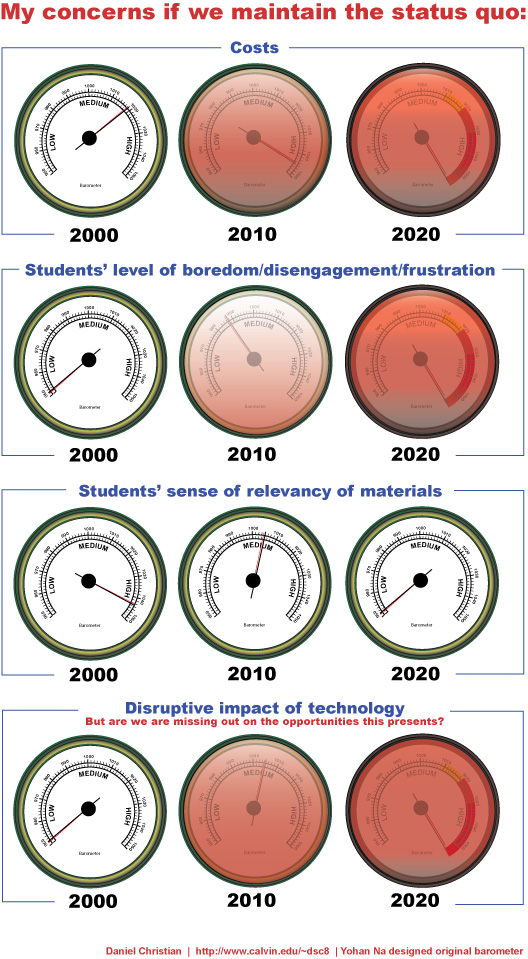 Through those years, I cringed when I kept hearing various Boards say, "We only increased our tuition by ___ % — the lowest percentage increase in our state." The direction was completely wrong! It needed to go down, not up. If you work in higher ed, I encourage you to find a way for that to happen at your own institution.
So I'm very pleased to report that the WMU-Thomas M. Cooley Law School — where I work — was able to reduce tuition by 21%!!! 
Don't get me wrong, some tough decisions were made to pave the way for that to occur. But this will be the case no matter which institution of higher education that you look at. An institution will have to make some tough choices to reduce their tuition. But it HAS to occur. We can't keep this upward trajectory going.
If we don't change this trajectory, we will continue to put enormous gorillas (of debt) on our graduates' backs! Such debt will take our graduates decades to pay off. 
We need to be aware of these invisible gorillas of debt. That is, our students move on…and we don't see them. But their gorillas remain.
---
---
Addendum on 10/18/19:
Victoria Vuletich, the assistant dean at the Grand Rapids, Michigan campus of Western Michigan University Cooley Law School, was interviewed by the State Bar of Michigan's Legal Talk Network to discuss what the law school experience is like for the current generation of students. 
---
---