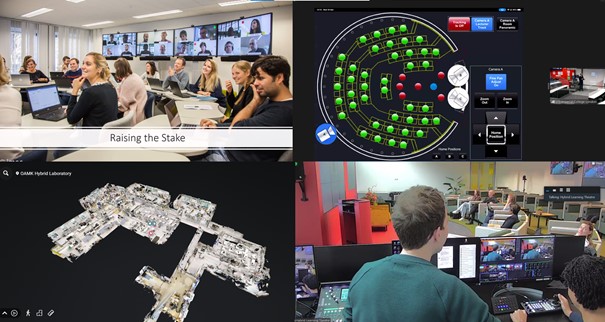 Clockwise from top left (KU Leuven, Imperial College London, University of Amsterdam,
Oulu University of Applied Sciences, Finland
.
A virtual tour of four advanced hybrid learning spaces — from zacwoolfitt.blogspot.com by Zac Woolfitt
Excerpt:
What are the next developments in the Hybrid Virtual Classroom? What kind of spaces might we be teaching in soon?
On March 16th we glimpsed the future. Colleagues from 4 higher education institutes gave virtual tours of their technology rich learning spaces in Belgium, England, Finland and the Netherlands. Media and Learning arranged the session [i]. (Disclosure: Zac is on their advisory panel of Media and Learning).
From DSC:
Here in the U.S., some would promote the use of the word "Hyflex" here instead of hybrid or blended learning — as it sounds like they are simultaneously teaching students in a physical classroom along with online-based learners.