Prudenti: Law schools facing new demands for innovative education — from libn.com by A. Gail Prudenti
Excerpt (emphasis DSC):
Law schools have always taught the law and the practice thereof, but in the 21st century that is not nearly enough to provide students with the tools to succeed.
Clients, particularly business clients, are not only looking for an "attorney" in the customary sense, but a strategic partner equipped to deal with everything from project management to metrics to process enhancement. Those demands present law schools with both an opportunity for and expectation of innovation in legal education.
At Hofstra Law, we are in the process of establishing a new Center for Applied Legal Technology and Innovation where law students will be taught to use current and emerging technology, and to apply those skills and expertise to provide cutting-edge legal services while taking advantage of interdisciplinary opportunities.
Our goal is to teach law students how to use technology to deliver legal services and to yield graduates who combine exceptional legal acumen with the skill and ability to travel comfortably among myriad disciplines. The lawyers of today—and tomorrow—must be more than just conversant with other professionals. Rather, they need to be able to collaborate with experts in other fields to serve the myriad and intertwined interests of the client.
Also see:
Workforce of the future: The competing forces shaping 2030 — from pwc.com
Excerpt (emphasis DSC):
We are living through a fundamental transformation in the way we work. Automation and 'thinking machines' are replacing human tasks and jobs, and changing the skills that organisations are looking for in their people. These momentous changes raise huge organisational, talent and HR challenges – at a time when business leaders are already wrestling with unprecedented risks, disruption and political and societal upheaval.
The pace of change is accelerating.

Graphic by DSC
Competition for the right talent is fierce. And 'talent' no longer means the same as ten years ago; many of the roles, skills and job titles of tomorrow are unknown to us today. How can organisations prepare for a future that few of us can define? How will your talent needs change? How can you attract, keep and motivate the people you need? And what does all this mean for HR?
This isn't a time to sit back and wait for events to unfold. To be prepared for the future you have to understand it. In this report we look in detail at how the workplace might be shaped over the coming decade.
From DSC:
Artificial Intelligence (AI), virtual reality, augmented reality, robotics, drones, automation, bots, machine learning, NLP/voice recognition and personal assistants, the Internet of Things, facial recognition, data mining, and more. How these technologies roll out — and if some of them should be rolling out at all — needs to be discussed and dealt with sooner. This is due to the fact that the pace of change has changed. If you can look at those articles  — with an eye on the last 500-1000 years or so to compare things to — and say that we aren't living in times where the trajectory of technological change is exponential, then either you or I don't know the meaning of that word.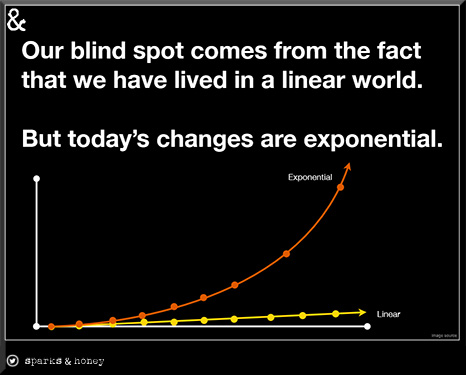 The ABA and law schools need to be much more responsive and innovative — or society will end up suffering the consequences.

Daniel Christian