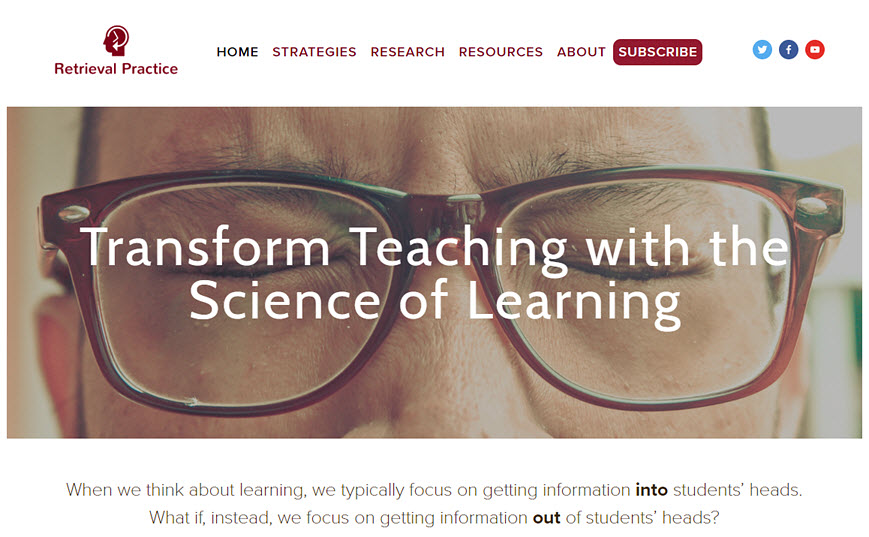 "Retrieval practice" is a learning strategy where we focus on getting information out. Through the act of retrieval, or calling information to mind, our memory for that information is strengthened and forgetting is less likely to occur. Retrieval practice is a powerful tool for improving learning without more technology, money, or class time.
On this website (and in our free Retrieval Practice Guide), we discuss how to use retrieval practice to improve learning. Established by nearly 100 years of research, retrieval practice is a simple and powerful technique to transform teaching and learning.
In order to improve learning, we must approach it through a new lens – let's focus not on getting information "in," but on getting information "out."
What is retrieval practice?
Retrieval practice is a strategy in which bringing information to mind enhances and boosts learning. Deliberately recalling information forces us to pull our knowledge "out" and examine what we know.

For instance, recalling an answer to a science question improves learning to a greater extent than looking up the answer in a textbook. And having to actually recall and write down an answer to a flashcard improves learning more than thinking that you know the answer and flipping the card over prematurely.

Often, we think we've learned some piece of information, but we come to realize we struggle when we try to recall the answer. It's precisely this "struggle" or challenge that improves our memory and learning – by trying to recall information, we exercise or strengthen our memory, and we can also identify gaps in our learning.

Note that cognitive scientists used to refer to retrieval practice as "the testing effect." Prior research examined the fascinating finding that tests (or short quizzes) dramatically improve learning. More recently, researchers have demonstrated that more than simply tests and quizzes improve learning: flashcards, practice problems, writing prompts, etc. are also powerful tools for improving learning. 

Whether this powerful strategy is called retrieval practice or the testing effect, it is important to keep in mind that the act of pulling information "out" from our minds dramatically improves learning, not the tests themselves. In other words retrieval is the active process we engage in to boost learning; tests and quizzes are merely methods to promote retrieval.
Also on that site:
Learn more about this valuable book with our:
Also on that site:
Excerpt from the Interleaved Mathematics Practice guide (on page 8 of 13):
Interleaved practice gives students a chance to choose a strategy.
When practice problems are arranged so that consecutive problems cannot be solved by the same strategy, students are forced to choose a strategy on the basis of the problem itself. This gives students a chance to both choose and use a strategy.

…

Interleaved practice works.
In several randomized control studies, students who received mostly interleaved practice scored higher on a final test than did students who received mostly blocked practice.
---
---
From DSC:
Speaking of resources regarding learning…why don't we have posters in all of our schools, colleges, community colleges, universities, vocational training centers, etc. that talk about the most effective strategies to learn about new things?
---
---