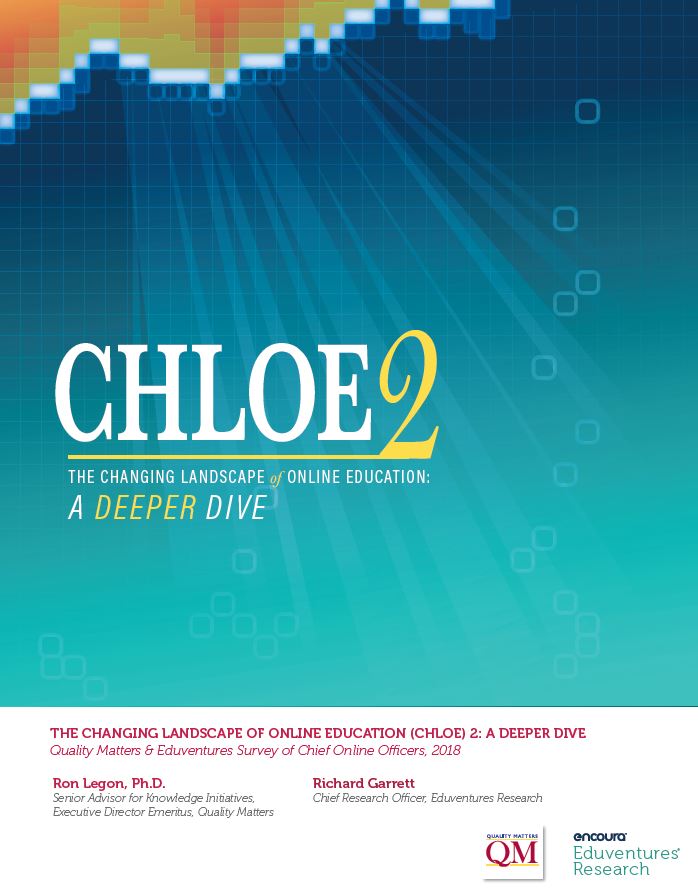 The Changing Landscape of Online Education (CHLOE)
QM and Eduventures have teamed up to conduct a multi-year study to examine the changing landscape of online education, provide results to those who can use them and help those involved with online education place their institution within a broader context and possibly influence strategic decisions and organizational changes. Please complete the form on this page to gain access to the 2018 CHLOE 2 Report.
The third iteration of CHLOE is scheduled for April 2018 and focuses on in-depth coverage of issues such as governance of online programs, blended learning and the influence of subject matter on the design and delivery of online programs. If you are a Chief Online Officer and wish to participate in the next CHLOE Survey, or if you wish to nominate the COO at your institution, please contact QM's Manager of Research & Development Barbra Burch.
Date Published:  Tue, 03/27/2018
Also see:
Online Learning's Complex, Fractured Landscape — from insidehighered.com by Doug Lederman — references new report from Quality Matters & Eduventures Research entitled "The Changing Landscape of Online Education: A Deeper Dive"
Survey of chief online officers shows enormous variation in how colleges define and structure digital education, in terms of pricing, program structure and use of instructional design.
Excerpt:
A new survey of those who oversee online learning programs at their institutions reveals significant diversity in the online education landscape, from differences in colleges' strategic goals in going online to how they structure and price their programs and how much they require/encourage faculty members to work with professional designers to craft their courses.
The report, "The Changing Landscape of Online Education: A Deeper Dive," is the second such report from Quality Matters and Eduventures Research, leading them to dub it CHLOE2. (Inside Higher Ed and "Inside Digital Learning" covered last year's report here and here.) One hundred eighty-two senior officials responsible for online education at their institutions responded to the survey (up from 104 last year), drawn roughly equivalently from four-year private, four-year public and two-year public colleges.
The survey explores a wide range of topics and issues, related to the administrative structure of online offerings, the economics of their programs and the role of instructional designers. Among the most interesting findings: