How to Set Up a VR Pilot — from campustechnology.com by Dian Schaffhauser
As Washington & Lee University has found, there is no best approach for introducing virtual reality into your classrooms — just stages of faculty commitment.
Excerpt:
The work at the IQ Center offers a model for how other institutions might want to approach their own VR experimentation. The secret to success, suggested IQ Center Coordinator David Pfaff, "is to not be afraid to develop your own stuff" — in other words, diving right in. But first, there's dipping a toe.
The IQ Center is a collaborative workspace housed in the science building but providing services to "departments all over campus," said Pfaff. The facilities include three labs: one loaded with high-performance workstations, another decked out for 3D visualization and a third packed with physical/mechanical equipment, including 3D printers, a laser cutter and a motion-capture system.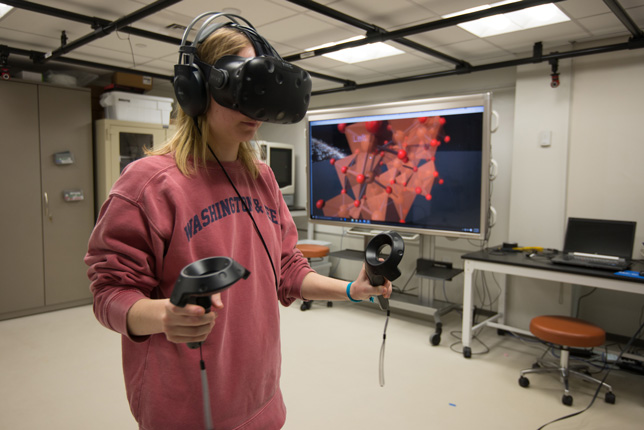 The Future of Language Learning: Augmented Reality vs Virtual Reality — from medium.com by Denis Hurley
Excerpts:
Here, I would like to stick to the challenges and opportunities presented by augmented reality and virtual reality for language learning.
…
While the challenge is a significant one, I am more optimistic than most that wearable AR will be available and popular soon. We don't yet know how Snap Spectacles will evolve, and, of course, there's always Apple.
…
I suspect we will see a flurry of new VR apps from language learning startups soon, especially from Duolingo and in combination with their AI chat bots. I am curious if users will quickly abandon the isolating experiences or become dedicated users.
Bose has a plan to make AR glasses — from cnet.com by David Carnoy
Best known for its speakers and headphones, the company has created a $50 million development fund to back a new AR platform that's all about audio.
Excerpts:
"Unlike other augmented reality products and platforms, Bose AR doesn't change what you see, but knows what you're looking at — without an integrated lens or phone camera," Bose said. "And rather than superimposing visual objects on the real world, Bose AR adds an audible layer of information and experiences, making every day better, easier, more meaningful, and more productive."
…
The secret sauce seems to be the tiny, "wafer-thin" acoustics package developed for the platform. Bose said it represents the future of mobile micro-sound and features "jaw-dropping power and clarity."
Bose adds the technology can "be built into headphones, eyewear, helmets and more and it allows simple head gestures, voice, or a tap on the wearable to control content."
Here are some examples Bose gave for how it might be used:
For travel, the Bose AR could simulate historic events at landmarks as you view them — "so voices and horses are heard charging in from your left, then passing right in front of you before riding off in the direction of their original route, fading as they go." You could hear a statue make a famous speech when you approach it. Or get told which way to turn towards your departure gate while checking in at the airport.
Bose AR could translate a sign you're reading. Or tell you the word or phrase for what you're looking at in any language. Or explain the story behind the painting you've just approached.
With gesture controls, you could choose or change your music with simple head nods indicating yes, no, or next (Bragi headphones already do this).
Bose AR would add useful information based on where you look. Like the forecast when you look up or information about restaurants on the street you look down.
The 10 Best VR Apps for Classrooms Using Merge VR's New Merge Cube — from edsurge.com
Google Lens arrives on iOS — from techcrunch.com by Sarah Perez
Excerpt:
On the heels of last week's rollout on Android, Google's  new AI-powered technology, Google Lens, is now arriving on iOS. The feature is available within the Google Photos iOS application, where it can do things like identify objects, buildings, and landmarks, and tell you more information about them, including helpful details like their phone number, address, or open hours. It can also identify things like books, paintings in museums, plants, and animals. In the case of some objects, it can also take actions.
For example, you can add an event to your calendar from a photo of a flyer or event billboard, or you can snap a photo of a business card to store the person's phone number or address to your Contacts.
The eventual goal is to allow smartphone cameras to understand what it is they're seeing across any type of photo, then helping you take action on that information, if need be – whether that's calling a business, saving contact information, or just learning about the world on the other side of the camera.
15 Top Augmented Reality (AR) Apps Changing Education — from vudream.com by Steven Wesley
CNN VR App Brings News to Oculus Rift — from vrscout.com by Jonathan Nafarrete