What really is the difference between AR / MR / VR / XR? — from medium.com by North of 41
Excerpt:
Extended Reality (XR)
Extended Reality (XR) is a newly added term to the dictionary of the technical words. For now, only a few people are aware of XR. Extended Reality refers to all real-and-virtual combined environments and human-machine interactions generated by computer technology and wearables. Extended Reality includes all its descriptive forms like the Augmented Reality (AR), Virtual Reality (VR), Mixed Reality (MR). In other words, XR can be defined as an umbrella, which brings all three Reality (AR, VR, MR) together under one term, leading to less public confusion. Extended reality provides a wide variety and vast number of levels in the Virtuality of partially sensor inputs to Immersive Virtuality.
Since past few years, we have been talking regarding AR, VR, and MR, and probably in coming years, we will be speaking about XR.
Summary: VR is immersing people into a completely virtual environment ; AR is creating an overlay of virtual content, but can't interact with the environment; MR is a mixed of virtual reality and the reality, it creates virtual objects that can interact with the actual environment. XR brings all three Reality (AR, VR, MR) together under one term.
Audi AR App Brings Advertising Into Your Living Room — from vrscout.com by Joe Durbin
Excerpt:
Audi has released a new AR smartphone application that is triggered by their TV commercials. The app brings the cars from the commercial out of the screen and into your living room or driveway.
According to a release from the company, the Audi quattro coaster AR application "recognizes" specific Audi TV commercials. If the right commercial is playing, it will then trigger a series of AR events.
From DSC:
How might this type of setup be used for learning-related applications?
Will Augmented and Virtual Reality Replace Textbooks? — from centerdigitaled.com by Michael Mathews
Students who are conceptual and visual learners can grasp concepts through AVR, which in turn allows textbooks to make sense.
Excerpt:
This past year, Tulsa TV-2, an NBC News affiliate, did a great story on the transition in education through the eyes of professors and students who are using augmented and virtual reality. As you watch the news report you will notice the following:
Professors will quickly embrace technology that directly impacts student success.
Students are more engaged and learn quicker through visual stimulation.
Grades can be immediately improved with augmented and virtual reality.
An international and global reach is possible with stimulating technology.
How augmented and virtual reality will reshape the food industry — from huffingtonpost.com by Jenny Dorsey
Excerpt (emphasis DSC):
Within the food industry, AR and VR have also begun to make headway. Although development costs are still high, more and more F&B businesses are beginning to realize the potential of AR/VR and see it as a worthwhile investment. Three main areas – human resources, customer experiences, food products – have seen the most concentration of AR/VR development so far and will likely continue to push the envelope on what use cases AR & VR have within the industry.
The Future of Education Can Be Found Within This AR Tablet — from futurism.com
Excerpt:
Hologram-like 3D images offer new ways to study educational models in science and other subjects. zSpace has built a tablet that uses a stylus and glasses to allow students to have interactive learning experiences. Technology like this not only makes education more immersive and captivating, but also can provide more accurate models for students in professional fields like medicine.
Architecture, Engineering and Construction Embrace VR — from avnetwork.com
The Washington Post's latest augmented reality game brings the Winter Olympics into your living room — from journalism.co.uk by Caroline Scott
The publisher hopes the game will help audiences better engage with the different sports while becoming more familiar with AR technology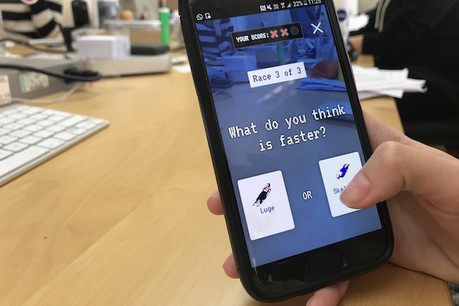 Augmented Reality Skates into New York Times Coverage of Winter Olympics — from mobile-ar.reality.news by Tommy Palladino
Excerpt:
Just days after previewing its augmented reality content strategy, the Times has already delivered on its promise to unveil its first official AR coverage, centered on the 2018 Winter Olympic Games in PyeongChang. When viewed through the NYTimes app for iPhones and iPads, the "Four of the World's Best Olympians, as You've Never Seen Them Before" article displays AR content embedded at regular intervals as readers scroll along.
AR Magic Portal—The Beginning Of Your Next New Adventure — from invisible.toys
Tokyo Government uses VR to Promote Tourism — from vudream.com
Is VR the Next Big Thing in Retail? — from virtualrealitypop.com by Sophia Brooke
Excerpt:
Retail IT is still in its infancy and is yet to become general practice, but given the popularity of video, the immersive experience will undoubtedly catch on. The explanation lies in the fact that the wealth of information and the extensive range of products on offer are overwhelming for consumers. Having the opportunity to try products by touching a button in an environment that feels real is what can make the shopping experience more animated and less stressful. Also, through VR, even regular customers can experience VIP treatment at no additional cost. Sitting in the front row at the Paris Fashion Week without leaving your local mall or, soon, your own house, will become the norm.