Nearly all prospective students want a tech-savvy institution — from campustechnology.com by Joshua Bolkan
Excerpt:
Nearly nine in 10 college students — 87 percent — said it was important to them that the institutions they applied for were technologically savvy, according to a new survey from ed tech provider Ellucian.
The report, "Students Are Looking for Personalized Digital Experiences: Do Colleges Deliver?" is based on responses of 1,000 students, including 265 from two-year institutions and 735 from four-year schools, who were invited to take the survey online via email.
More than half of students surveyed, 58 percent, said that of all the companies and institutions they engage with, their college is the one least likely to have personalized their experience.
Also see:
From DSC:
With our students using Uber, Lyft, AirBnB, and other such personalized services from Amazon.com and others, expectations are now being impacted. That is, what they expect in terms of their learning experiences are being influenced from other areas of their every day lives. This impacts credibility, which impacts enrollments.
As Ellucian asserts: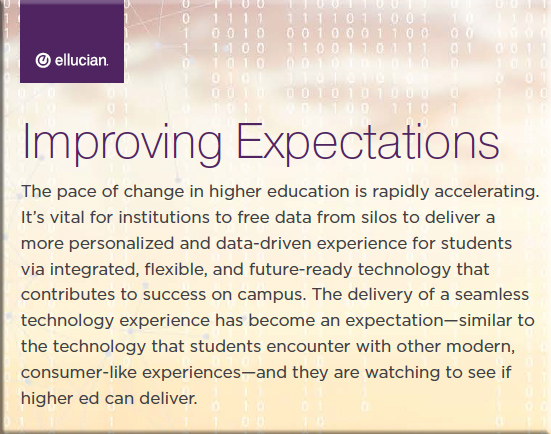 For those who would minimize or outright discard the impacts that technologies have on higher education, or the impacts of — and relevance of — technologies within higher education, how are you going to deal with this tidal wave?