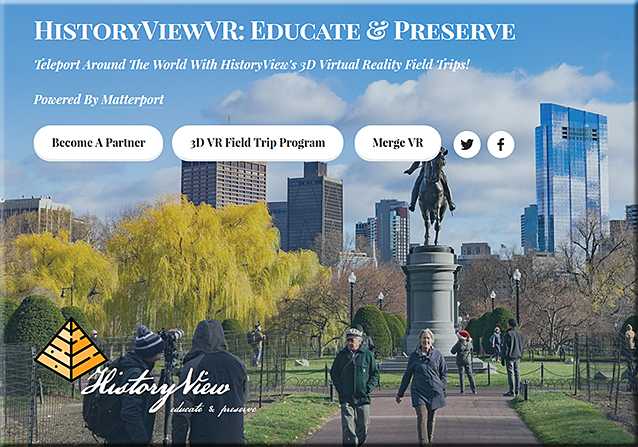 Adobe unveils new Microsoft HoloLens and Amazon Alexa integrations — from geekwire.com by Nat Levy
Introducing the AR Landscape — from medium.com by Super Ventures
Mapping out the augmented reality ecosystem
Alibaba leads $18M investment in car navigation augmented reality outfit WayRay — from siliconangle.com by Kyt Dotson
Excerpt:
WayRay boasts the 2015 launch of Navion, what it calls the "first ever holographic navigator" for cars that uses AR technology to project a Global Positioning System, or GPS, info overlay onto the car's windshield.
Just like a video game, users of the GPS need only follow green arrows projected as if onto the road in front of the car providing visual directions. More importantly, because the system displays on the windscreen, it does not require a cumbersome headset or eyewear worn by the driver. It integrates directly into the dashboard of the car.
The system also recognizes simple voice and gesture commands from the driver — eschewing turning of knobs or pressing buttons. The objective of the system is to allow the driver to spend more time paying attention to the road, with hands on the wheel. Many modern-day onboard GPS systems also recognize voice commands but require the driver to glance over at a screen.
Viro Media Is A Tool For Creating Simple Mobile VR Apps For Businesses — from uploadvr.com by Charles Singletary
Excerpt:
Viro Media is supplying a platform of their own and their hope is to be the simplest experience where companies can code once and have their content available on multiple mobile platforms. We chatted with Viro Media CEO Danny Moon about the tool and what creators can expect to accomplish with it.
Listen to these podcasts to dive into virtual reality — from haptic.al by Deniz Ergürel
We curated some great episodes with our friends at RadioPublic
Excerpt:
Virtual reality can transport us to new places, where we can experience new worlds and people, like no other. It is a whole new medium poised to change the future of gaming, education, health care and enterprise. Today we are starting a new series to help you discover what this new technology promises. With the help of our friends at RadioPublic, we are curating a quick library of podcasts related to virtual reality technology.
Psychologists using virtual reality to help treat PTSD in veterans — from kxan.com by Amanda Brandeis
Excerpt:
AUSTIN (KXAN) — Virtual reality is no longer reserved for entertainment and gamers, its helping solve real-world problems. Some of the latest advancements are being demonstrated at South by Southwest.
Dr. Skip Rizzo directs the Medical Virtual Reality Lab at the University of Southern California's Institute for Creative Technologies. He's helping veterans who suffer from post-traumatic stress disorder (PTSD). He's up teamed with Dell to develop and spread the technology to more people.
NVIDIA Jetson Enables Artec 3D, Live Planet to Create VR Content in Real Time — from blogs.nvidia.com
While VR revolutionizes fields across everyday life — entertainment, medicine, architecture, education and product design — creating VR content remains among its biggest challenges.
Excerpt:
At NVIDIA Jetson TX2 launch [on March 7, 2017], in San Francisco, [NVIDIA] showed how the platform not only accelerates AI computing, graphics and computer vision, but also powers the workflows used to create VR content. Artec 3D debuted at the event the first handheld scanner offering real-time 3D capture, fusion, modeling and visualization on its own display or streamed to phones and tablets.
Project Empathy
A collection of virtual reality experiences that help us see the world through the eyes of another
Excerpt:
Benefit Studio's virtual reality series, Project Empathy is a collection of thoughtful, evocative and surprising experiences by some of the finest creators in entertainment, technology and journalism.
Each film is designed to create empathy through a first-person experience–from being a child inside the U.S. prison system to being a widow cast away from society in India.  Individually, each of the films in this series presents its filmmaker's unique vision, portraying an intimate experience through the eyes of someone whose story has been lost or overlooked and yet is integral to the larger story of our global society. Collectively, these creatively distinct films weave together a colorful tapestry of what it means to be human today.
Work in a high-risk industry? Virtual reality may soon become part of routine training — from ibtimes.cok.uk by Owen Hughes
Immersive training videos could be used to train workers in construction, mining and nuclear power.
At Syracuse University, more students are getting ahold of virtual reality — from dailyorange.com by Haley Kim
As Instructors Experiment With VR, a Shift From 'Looking' to 'Interacting' — from edsurge.com by Marguerite McNeal
Excerpt:
Most introductory geology professors teach students about earthquakes by assigning readings and showing diagrams of tectonic plates and fault lines to the class. But Paul Low is not most instructors.
"You guys can go wherever you like," he tells a group of learners. "I'm going to go over to the epicenter and fly through and just kind of get a feel."
Low is leading a virtual tour of the Earth's bowels, directly beneath New Zealand's south island, where a 7.8 magnitude earthquake struck last November. Outfitted with headsets and hand controllers, the students are "flying" around the seismic hotbed and navigating through layers of the Earth's surface.
Low, who taught undergraduate geology and environmental sciences and is now a research associate at Washington and Lee University, is among a small group of profs-turned-technologists who are experimenting with virtual reality's applications in higher education.
These University Courses Are Teaching Students the Skills to Work in VR — from uploadvr.com
Excerpt:
"As virtual reality moves more towards the mainstream through the development of new, more affordable consumer technologies, a way needs to be found for students to translate what they learn in academic situations into careers within the industry," says Frankie Cavanagh, a lecturer at Northumbria University. He founded a company called Somniator last year with the aim not only of developing VR games, but to provide a bridge between higher education and the technology sector. Over 70 students from Newcastle University, Northumbria University and Gateshead College in the UK have been placed so far through the program, working on real games as part of their degrees and getting paid for additional work commissioned.
Working with VR already translates into an extraordinarily diverse range of possible career paths, and those options are only going to become even broader as the industry matures in the next few years.
Scope AR Brings Live, Interactive AR Video Support to Caterpillar Customers — from augmented.reality.news by Tommy Palladino
Excerpt:
Customer service just got a lot more interesting. Construction equipment manufacturer Caterpillar just announced official availability of what they're calling the CAT LIVESHARE solution to customer support, which builds augmented reality capabilities into the platform. They've partnered with Scope AR, a company who develops technical support and training documentation tools using augmented reality. The CAT LIVESHARE support system uses Scope AR's Remote AR software as the backbone.
New virtual reality tool helps architects create dementia-friendly environments — from dezzen.com by Jessica Mairs
Visual showing appearance of a room without and with the Virtual Reality Empathy Platform headset