Apple iPhone 8 To Get 3D-Sensing Tech For Augmented-Reality Apps — from investors.com by Patrick Seitz
Excerpt:
Apple's (AAPL) upcoming iPhone 8 smartphone will include a 3D-sensing module to enable augmented-reality applications, Rosenblatt Securities analyst Jun Zhang said Wednesday. Apple has included the 3D-sensing module in all three current prototypes of the iPhone 8, which have screen sizes of 4.7, 5.1 and 5.5 inches, he said. "We believe Apple's 3D sensing might provide a better user experience with more applications," Zhang said in a research report. "So far, we think 3D sensing aims to provide an improved smartphone experience with a VR/AR environment."
Apple's iPhone 8 is expected to have 3D-sensing tech like Lenovo's Phab 2 Pro smartphone. (Lenovo)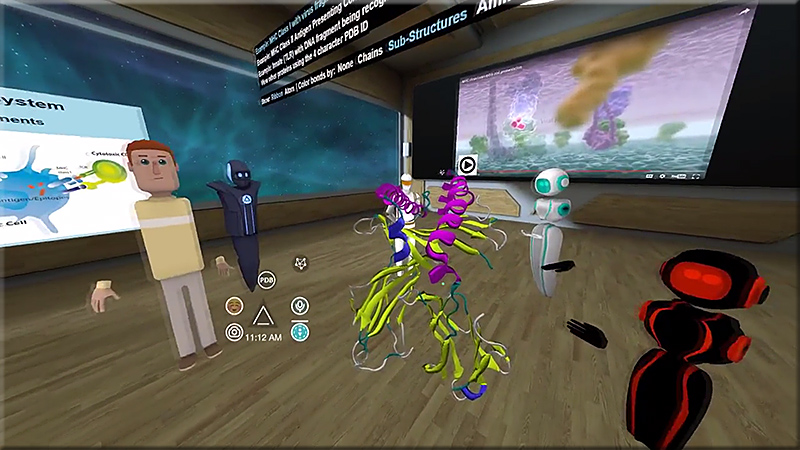 10 Prominent Developers Detail Their 2017 Predictions for The VR/AR Industry — from uploadvr.com by David Jagneaux
Excerpt:
As we look forward to 2017 then, we've reached out to a bunch of industry experts and insiders to get their views on where we're headed over the next 12 months.
2016 provided hints of where Facebook, HTC, Sony, Google, and more will take their headsets in the near future, but where does the industry's best and brightest think we'll end up this time next year? With CES, the year's first major event, now in the books, let's hear from some those that work with VR itself about what happens next.
We asked all of these developers the same four questions:
1) What do you think will happen to the VR/AR market in 2017?
2) What NEEDS to happen to the VR AR market in 2017?
3) What will be the big breakthroughs and innovations of 2017?
4) Will 2017 finally be the "year of VR?"
MEL Lab's Virtual Reality Chemistry Class — from thereisonlyr.com by Grant Greene
An immersive learning startup brings novel experiences to science education.
The MEL app turned my iPhone 6 into a virtual microscope, letting me walk through 360 degree, 3-D representations of the molecules featured in the experiment kits.
Labster releases 'World of Science' Simulation on Google Daydream — from labster.com by Marian Reed
Excerpt:
Labster is exploring new platforms by which students can access its laboratory simulations and is pleased to announce the release of its first Google Daydream-compatible virtual reality (VR) simulation, 'Labster: World of Science'. This new simulation, modeled on Labster's original 'Lab Safety' virtual lab, continues to incorporate scientific learning alongside of a specific context, enriched by story-telling elements. The use of the Google VR platform has enabled Labster to fully immerse the student, or science enthusiast, in a wet lab that can easily be navigated with intuitive usage of Daydream's handheld controller.
The Inside Story of Google's Daydream, Where VR Feels Like Home — from wired.com by David Pierce
Excerpt:
Jessica Brillhart, Google's principle VR filmmaker, has taken to calling people "visitors" rather than "viewers," as a way of reminding herself that in VR, people aren't watching what you've created. They're living it. Which changes things.
Welcoming more devices to the Daydream-ready family — from blog.google.com by Amit Singh
Excerpt:
In November, we launched Daydream with the goal of bringing high quality, mobile VR to everyone. With the Daydream View headset and controller, and a Daydream-ready phone like the Pixel or Moto Z, you can explore new worlds, kick back in your personal VR cinema and play games that put you in the center of the action.
Daydream-ready phones are built for VR with high-resolution displays, ultra smooth graphics, and high-fidelity sensors for precise head tracking. To give you even more choices to enjoy Daydream, today we're welcoming new devices that will soon join the Daydream-ready family.
Kessler Foundation awards virtual reality job interview program — from haptic.al by Deniz Ergürel
Excerpt:
Kessler Foundation, one of the largest public charities in the United States, is awarding a virtual reality training project to support high school students with disabilities. The foundation is providing a two-year, $485,000 Signature Employment Grant to the University of Michigan in Ann Arbor, to launch the Virtual Reality Job Interview Training program. Kessler Foundation says, the VR program will allow for highly personalized role-play, with precise feedback and coaching that may be repeated as often as desired without fear or embarrassment.
Deep-water safety training goes virtual — from shell.com by Soh Chin Ong
How a visit to a shopping centre led to the use of virtual reality safety training for a new oil production project, Malikai, in the deep waters off Sabah in Malaysia.