AI chatbot apps to infiltrate businesses sooner than you think — from searchbusinessanalytics.techtarget.com by Bridget Botelho
Artificial intelligence chatbots aren't the norm yet, but within the next five years, there's a good chance the sales person emailing you won't be a person at all.
Excerpt:
In fact, artificial intelligence has come so far so fast in recent years, Gartner predicts it will be pervasive in all new products by 2020, with technologies including natural language capabilities, deep neural networks and conversational capabilities.
Other analysts share that expectation. Technologies that encompass the umbrella term artificial intelligence — including image recognition, machine learning, AI chatbots and speech recognition — will soon be ubiquitous in business applications as developers gain access to it through platforms such as the IBM Watson Conversation API and the Google Cloud Natural Language API.
3 corporate departments that chatbots will disrupt — from venturebeat.com by Natalie Lambert
Excerpt:
Customer Service
Human Resources
Marketing
Facebook Messenger's 11,000 chatbots are much more interactive — from androidcentral.com by Harish Jonnalagadda
Excerpt:
Facebook introduced chatbots on Messenger three months ago, and the search giant has shared today that over 11,000 bots are active on the messaging service. The Messenger Platform has picked up an update that adds a slew of new features to bots, such as a persistent menu that lists a bot's commands, quick replies, ability to respond with GIFs, audio, video, and other files, and a rating system to provide feedback to bot developers.
Chatbots are coming to take over the world — from telecom.economictimes.indiatimes.com
Excerpts:
In another example, many businesses use interactive voice response (IVR) telephony systems, which have limited functionalities and often provide a poor user experience. Chatbots can replace these applications in future where the user will interact naturally to get relevant information without following certain steps or waiting for a logical sequence to occur.
…
Chatbots are a good starting point, but the future lies in more advanced versions of audio and video bots. Apple's Siri, Amazon's Alexa, Microsoft's Cortana, Google with its voice assistance, are working in the same direction to achieve it. Bot ecosystems will become even more relevant in the phase of IoT mass adoption and improvement of input/output (I/O) technology.
With big players investing heavily in AI, Chatbots are likely to be an increasing feature of social media and other communications platforms.
Everything You Wanted to Know About Chatbots But Were Afraid to Ask — from businessinsider.com by Andrew Meola
Excerpt:
Chatbots are software programs that use messaging platforms as the interface to perform a wide variety of tasks—everything from scheduling a meeting to reporting the weather, to helping a customer buy a sweater.
Because texting is the heart of the mobile experience for smartphone users, chatbots are a natural way to turn something users are very familiar with into a rewarding service or marketing opportunity.
And when you consider that the top 4 messaging apps reach over 3 billion global users (MORE than the top 4 social networks), you can see that the opportunity is huge.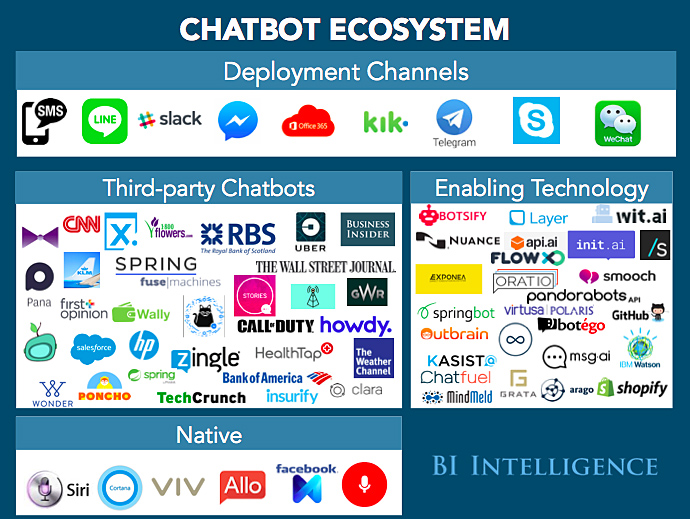 Microsoft taught a computer to make 'chit chat' — and now 40 million people love it — from businessinsider.com by Matt Weinberger
Excerpt:
The Xiaoice chat bot — pronounced "Shao-ice" and translated as "little Bing"  — born as an experiment by Microsoft Research in 2014, reaches 40 million followers in China, who often literally talk with her for hours.
At her most active, Xiaoice is holding down as many 23 conversations a session, says Microsoft Research NExT leader Dr. Peter Lee. It's even evolved to become a nice little sideline business for Microsoft, thanks to a partnership with Chinese e-retailer JD.com that lets users buy products by talking to Xiaoice.
The reason Xiaoice is so successful is she was born of a different kind of philosophical experiment: Instead of building a chat bot that was useful, Microsoft simply tried to make it fun to talk to.