On 08/23/2011, in collaboration, Daniel S. Christian, digital audio, digital learning, digital video, productivity / tips and tricks, tools, vendors, web-based collaboration, by Daniel Christian
From DSC:
Yesterday, one of the organizations within our college hosted a conference call using Wimba Classroom.  For those of you unfamiliar with Wimba Classroom, it's really a set of web-based collaboration tools that offer such functionality as:
Videoconferencing

Audio-conferencing

Interactive whiteboard space

Chat

Application sharing capabilities
(Last summer, Blackboard purchased both Elluminate and Wimba Classroom and have since created Bb Collaborate 11 from these two product lines.)
What I've learned about Wimba Classroom is that it's best used as a Skype-on-steroids type of setup. That is, when one remote person is communicating with other remote persons — and all parties use headphones with attached microphones on them for their audio outputs/inputs. It is best when none of the participants are a group of people sitting in one room.  I say this because when you have a group of people in one location and you want to use VOIP-related technologies (i.e. for "free" communications), then you need to have a set of speakers powerful enough to cover the room.  However, the audio output from the speakers can present some seriously-frustrating issues with the microphone in that room — especially if any participant has the Lock Talk feature turned on (feedback/echoing occur here).
I'm very disappointed with Wimba for not having innovated more here over the last 1-2 decades — they've been in the business quite a while before it was known as Wimba.  Perhaps Blackboard Collaborate 11 will address some of these problems and introduce some noise-cancelling software to eliminate these sorts of communication frustrations.
Now, I've lost another internal customer and I'm forced into the "Have you driven a Ford lately?" mode with these folks; as any experienced Instructional Technologist or ID will tell you, this is a veeeeryyy frustrating and disappointing place to be in.
The bright side to this situation is our Implementations Consultant — who has been in my shoes before and knows what that's like to be there.  He's been a big help through the last 2-3 years. He recommended some different microphones that may help better address some of these issues and I thought that I would pass this information along in case it's helpful to someone else out there: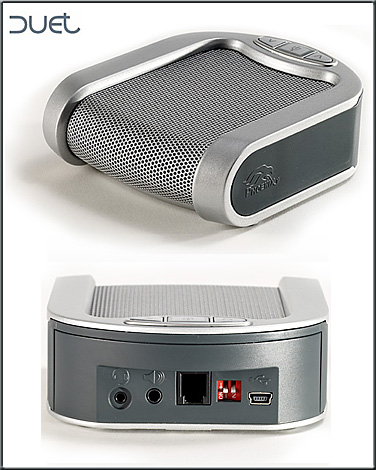 I must be honest though — I'm seriously considering a lobbying effort to move our college away from using Wimba/Bb Collaborate 11 and towards WebEx Meeting Center or Adobe Connect.  (Big Blue button and some others may be on the table as well, but my initial-but-not-completely-up-to-date guess is that other products don't offer the same level of quality as WebEx or Connect.)
In retrospect (hindsight's always 20-20, right?), I should have not been pursuaded by Wimba's pitch that they focus solely on the education space — as that perspective may not be worth bragging rights these days (I'm constantly reminded that the education space doesn't innovate as well as some other sectors/industries do).
Anyway…hopefully, this posting will help someone out there.  Also, it is highly possible that my relevant skillsets need further enhancements here! So feel free to give me some further education — I'm always up for expanding my learning ecosystem! 🙂

On 07/20/2011, in business, communications, corporate / business world, digital audio, digital video, productivity / tips and tricks, telepresence, videoconferencing, web-based collaboration, workplace, by Daniel Christian
Steelcase sets out to discover where HD video links will take the next-generation office — from Crain's Detroit Business by Matthew Gryczan
MATTHEW GRYCZAN/CMB
Ideo Chairman David Kelley (on screen) in Palo Alto, Calif.,
and Steelcase CEO Jim Hackett are constantly connected
from Hackett's office in Grand Rapids.
Some noteworthy items to mention here:
Multi-touch gestures
Full-screen apps
Mission Control (brings together full-screen apps, Dashboard, Exposé, and Spaces in one new feature that gives you a bird's-eye view of everything on your system)
Mac App Store
Launchpad (gives you instant access to all the apps on your Mac)
Resume (apps you close will reopen right where you left off, so you never have to start from scratch again)
Auto save
Versions (charts the history of your documents, taking snapshots in time, and displaying them side by side with the latest versions in an easily browsable timeline)
AirDrop (a fast way to share files with people nearby; send files to anyone around you wirelessly — no Wi-Fi network required)
Lion Server (includes a host of enhancements that give you more control of your Mac server and the users who access it)
4 ways to sync your international teams — from bazaarvoice.com by Jacob Salamon
Excerpt:
However, time zone differences and other barriers to face-to-face communication between offices can make keeping in touch a chore. Here are some tips for working between international offices…
Smart Pens and Learning — from Dartmouth Center for the Advancement of Learning by Thomas Luxon
From DSC:
I'm also pondering if Prezi can be used for long mathematical equations and/or problems… That is, can you zoom into a particular portion of the work being done, but then zoom out to see the entire work?
In other words, how can we capture and present several "chalkboards'" worth of material — with the end user being able to drill down where they want to?
On 06/13/2011, in digital audio, digital video, immersion, interactivity, mobile technologies, productivity / tips and tricks, telepresence, videoconferencing, web-based collaboration, by Daniel Christian
Useful HTML-, CSS- and JavaScript Tools and Libraries –from SmashingMagazine.com
Excerpt:
Front-end development is a tricky beast. It's not difficult to learn, but it's quite difficult to master. There are just too many things that need to be considered; too many tweaks that might be necessary here and there; too many details to make everything just right. Luckily, developers and designers out there keep releasing useful tools and resources for all of us to learn, improve our skills and just get better at what we do. Such tools are valuable and helpful because they save our time, automate mundane tasks and hence help us focus on more important things.
Here at Smashing Magazine, we're continuously searching for time-saving, useful HTML-, CSS- and JavaScript-resources for our readers, to make the search of these ever-growing tools easier. We hope that these tools will help you improve your skills as well as your professional workflow. A sincere thanks to all designers and developers who are featured in this round-up. We respect and appreciate your contributions to the design community.
Schooling past "sell-by" date says Education Fast Forward — from agent4change.net by (emphasis below from DSC)
Bill Hicks sat in on the second gathering of Promethean's influential global education think tank
Jean-Yves Charlier
It was billed as a debate on "Productivity in Education", but the second Education Fast Forward global forum ended with near-consensus on a radical proposition: that, when it comes to maximising the potential of students, schooling as we know it is well past its sell-by date.
The conclusions of the 32 distinguished innovators taking part in the live online debate from 19 locations across six continents, differed only in the degree to which they would change or replace existing structures.
Introducing the event, Promethean's CEO Jean-Yves Charlier underlined the urgency of the issue: "It's obvious the world has profoundly changed with the recession," he said, "and while governments race ahead to fix problems created in the short term, I think we all agree that education has to be a fundamental pillar for economic growth in future. So this debate about the effectiveness and efficiency of education systems is a very important one."
…
"In the past perhaps it was OK for education to move slowly… but the world is changing more quickly than education itself," he said. The recession made change all the more crucial – but at the same time it would be more difficult to convince the decision-makers in government to invest in change: "Yet unless we get that magic way forward, people will say we can't afford it. I'm worried we don't get to the point where we can convince people this is achievable."
Create online surveys: Guide to the best free services –– from MasterNewMedia.org by Good, Bazzano, Lombardi
Originally prepared by Robin Good, Daniele Bazzano and Elia Lombardi for MasterNewMedia. First published on October 5th, 2009 and updated on April 20th, 2011.
On 04/08/2011, in collaboration, content development, digital audio, digital video, graphics, media/film, productivity / tips and tricks, tools, vendors, web design and production, web-based collaboration, by Daniel Christian