On 05/18/2022, in accessibility / UDL, algorithms, Artificial Intelligence / Machine Learning / Deep Learning, assistive technologies, emerging technologies, health, Natural Language Processing (NLP), parents, productivity / tips and tricks, society, tools, vision/possibilities, voice recognition / voice enabled interfaces, by Daniel Christian
From DSC:
Wow…I hadn't heard of voice banking before. This was an interesting item from multiple perspectives.
Providing a creative way for people with Motor Neurone Disease to bank their voices, I Will Always Be Me is a dynamic and heartfelt publication — from itsnicethat.com by Olivia Hingley
Speaking to the project's illustrator and creative director, we discover how the book aims to be a tool for family and loved ones to discuss and come to terms with the diagnosis.
Excerpt:
Whilst voice banking technology is widely available to those suffering from MND, Tal says that the primary problem is "that not enough people are banking their voice because the process is long, boring and solitary. People with MND don't want to sit in a lonely room to record random phrases and sentences; they already have a lot to deal with." Therefore, many people only realise or interact with the importance of voice banking when their voice has already deteriorated. "So," Tal expands, "the brief we got was: turn voice banking into something that people will want to do as soon as they're diagnosed."
On 05/18/2022, in Artificial Intelligence / Machine Learning / Deep Learning, Bias | Diversity Equity & Inclusion (DE&I), career development, change, changing business models, generational differences, health, Legal operations, legal reform, legislatures / government / legal, new business models, tools, vendors, workplace, by Daniel Christian
The Great Resignation: The toll taken on the legal field and what comes next — from abajournal.com by Thomas MacDonald
Excerpt:
The pandemic has reshaped thinking around the value of work. The Thomson Reuters Stellar Performance: Skills and Progression Mid-Year Survey uncovered three specific priorities legal professionals are factoring into their career decisions.
Balance: Young professionals are more in tune with work-life balance and place a higher value on mental well-being, leisure and other activities outside of work than previous generations.
Family: A higher percentage of the professional workforce are mothers. Likewise, men are taking a more active role in child-rearing than previous generations, as younger professionals juggle more domestic responsibilities across the board.
The Long Game: Many Generation X and millennial employees have long since conceded that their retirement will likely come much later in life than their elder counterparts. The prospect of working for an extra decade—or more—has tempered the enthusiasm for grinding away during their formative years.
Also relevant/see the following articles:
8 Legal Experts on the Future of the Billable Hour — from artificiallawyer.com
Excerpt:
Are you still billing by the hour? The reality is that most lawyers are and plenty will still be using it in the year 2032. However, many legal experts agree: the billable hour is under pressure, forcing lawyers to investigate other billing methods as well.
Laura Rosseel, Senior Associate at Cambrian, explains clearly why the billable hour is a topic for discussion: 'There are countless arguments against working with billable hours. Invoicing based on billable hours puts the risk of both unpredictability in the scope of work as well as potential inefficiency on the client, instead of the law firm that is providing the service.
'It does not differentiate based on the value of the task at hand, the urgency, or the time of day (or night), with which the task is carried out. Additionally, it is a performance metric for lawyers that favours working more over working better, and the relentless pressure is causing junior and mid-level lawyers to leave their firms.'
Digital exhaustion: Redefining work-life balance — from enterprisersproject.com by Irvin Bishop Jr.
Is your team suffering from the digital exhaustion that so often comes with remote and hybrid work? Consider these strategies to ease the stress
As workers continue to create and collaborate in digital spaces, one of the best things we can do as leaders is to let go. Let go of preconceived schedules, of always knowing what someone is working on, of dictating when and how a project should be accomplished – in effect, let go of micromanagement. Instead, focus on hiring productive, competent workers and trust them to do their jobs. Don't manage tasks – gauge results. Use benchmarks and deadlines to assess effectiveness and success.
What did we learn at the CLOC Conference? — from zachabramowitz.substack.com by Zach Abramowitz
QR Codes, Outside Counsel Startups Make Great Shirts and Standing Out in a Sea of CLM
Some of the tools/products/vendors Zach mentioned were:
On 05/16/2022, in Artificial Intelligence / Machine Learning / Deep Learning, computer science, emerging technologies, future, health, human-computer interaction (HCI), the downsides of technology, usability, user experience (UX), vendors, by Daniel Christian
Ransomware is already out of control. AI-powered ransomware could be 'terrifying.' — from protocol.com by Kyle Alspach
Hiring AI experts to automate ransomware could be the next step for well-endowed ransomware groups that are seeking to scale up their attacks.
Excerpt:
In the perpetual battle between cybercriminals and defenders, the latter have always had one largely unchallenged advantage: The use of AI and machine learning allows them to automate a lot of what they do, especially around detecting and responding to attacks. This leg-up hasn't been nearly enough to keep ransomware at bay, but it has still been far more than what cybercriminals have ever been able to muster in terms of AI and automation.
That's because deploying AI-powered ransomware would require AI expertise. And the ransomware gangs don't have it. At least not yet.
But given the wealth accumulated by a number of ransomware gangs in recent years, it may not be long before attackers do bring aboard AI experts of their own, prominent cybersecurity authority Mikko Hyppönen said.
Also re: AI, see:
Nuance partners with The Academy to launch The AI Collaborative — from artificialintelligence-news.com by Ryan Daws
Excerpt:
Nuance has partnered with The Health Management Academy (The Academy) to launch The AI Collaborative, an industry group focused on advancing healthcare using artificial intelligence and machine learning.
Nuance became a household name for creating the speech engine recognition engine behind Siri. In recent years, the company has put a strong focus on AI solutions for healthcare and is now a full-service partner of 77 percent of US hospitals and is trusted by over 500,000 physicians daily.
Inflection AI, led by LinkedIn and DeepMind co-founders, raises $225M to transform computer-human interactions — from techcrunch.com by Kyle Wiggers
Excerpts:
Inflection AI, the machine learning startup headed by LinkedIn co-founder Reid Hoffman and founding DeepMind member Mustafa Suleyman, has secured $225 million in equity financing, according to a filing with the U.S. Securities and Exchange Commission.
…
"[Programming languages, mice, and other interfaces] are ways we simplify our ideas and reduce their complexity and in some ways their creativity and their uniqueness in order to get a machine to do something," Suleyman told the publication. "It feels like we're on the cusp of being able to generate language to pretty much human-level performance. It opens up a whole new suite of things that we can do in the product space."
On 05/09/2022, in Alternatives, business side of he, change, changing business models, cloud-based computing / apps / other cloud-related, collaboration, colleges, community colleges, content aggregration, content development, content repositories, cost of getting a degree, credentialing, curriculum, digital learning, experimentation, game-changing environment, health, higher education, learning ecosystem, legislatures / government / legal, MOOCs -- Massive Open Online Courses, online learning, policy, teaching & learning, technology (general), trends, United States, universities, by Daniel Christian
100 Universities established an OPM, Bootcamp or Pathways partnership in Q1 2022 — from holoniq.com
Bootcamps are directing more resources B2B and B2G, OPMs are growing existing partnerships further and evolving their technology and healthcare programs.
Excerpt:
Higher Education, like the broader economy, is awkwardly emerging from an almost exclusively digital, isolated and stimulus fuelled environment into… well it's not clear yet. University Partnerships continued to be established at pace through Q1 2022, albeit at a much slower rate than through 2021.
---
---
Also relevant/see:
College contracts with OPMs need better oversight, watchdog says — from highereddive.com by Natalie Schwartz
Excerpt from Dive Brief:
The U.S. Department of Education should strengthen oversight of colleges' relationships with companies that help them launch and build online programs, according to a new report from the U.S. Government Accountability Office, an auditing agency for Congress.
---
Addendum on 5/11/22:
---
On 05/04/2022, in 21st century, Alternatives, business side of he, change, changing business models, colleges, community colleges, content development, corporate / business world, cost of getting a degree, culture, curriculum, dangers of the status quo, Daniel S. Christian, Emotion, engagement / engaging students, experimentation, faculty, future of higher education, game-changing environment, health, higher education, leadership, learning ecosystem, Learning from the Living [Class] Room, more choice more control, New "Amazon.com" of Higher Education, traditional / tradition, by Daniel Christian
From DSC:
After seeing the item below, I thought, "Hmmm…traditional institutions of higher education better look out if alternatives continue to gain momentum." Perhaps it's wise to double down on efforts to gather feedback from students, families, parents, businesses, and other stakeholders in the workplace regarding what they want and need — vs. what the faculty members of institution ABC want to teach.
---
A Third of U.S. College Students Consider Withdrawing — from news.gallup.com by Stephanie Marken
Excerpt:
Editor's Note: The research below was conducted in partnership between the Lumina Foundation and Gallup.
About a third (32%) of currently enrolled students pursuing a bachelor's degree report they have considered withdrawing from their program for a semester or more in the past six months. A slightly higher percentage of students pursuing their associate degree, 41%, report they have considered stopping out in the past six months. These are similar to 2020 levels when 33% of bachelor's degree students reported they had considered stopping out and 38% of associate degree students said the same.
You Can Now Ask Google to Remove Personal Info From Searches — from lifewire.com by Rob Rich
But that won't remove the information at its source
Excerpt:
Google is taking a more active role in stopping the spread of sensitive and personal information by allowing you to request its removal from searches.
The new policy applies to what Google refers to as personally identifiable information (PII), such as details that could be used for identity theft or more direct harm. Info like bank account or credit card numbers, medical records, personal contact details, social security numbers, and so on. Whether or not it acts on these requests is discretionary, however.
Also relevant/see:
On 05/01/2022, in 21st century, 24x7x365 access, 3D, A/V -- audio/visual, Australia, communications, digital audio, digital storytelling, digital video, Emotion, experimentation, health, history, Holographic comms, ideas, innovation, parents, Uncategorized, United States, Virtual Reality (VR) / worlds / learning, XR - extended reality, by Daniel Christian
Grandpa Creates Hologram Twin For Future Grandkids Using VR — from vrscout.com by Kyle Melnick
Not even death will stop this tech-savvy grandfather from meeting his great-grandchildren.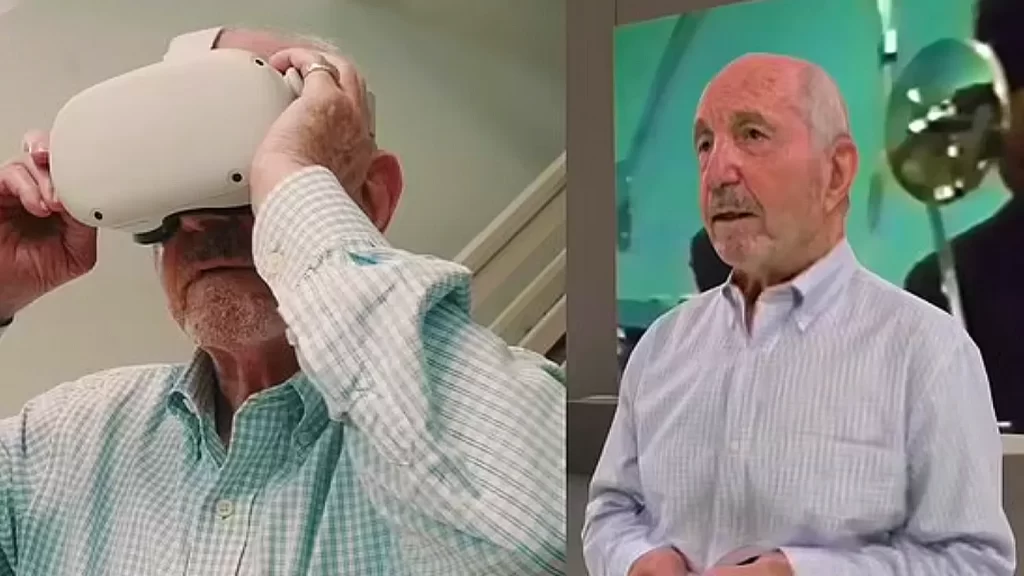 "I think it is a wonderful way to preserve my family's history for future generations," said Jerry while speaking to Jam Press. "To see myself like that, is just mind-blowing — it feels like watching a movie. By not just reading the words as in my memoir but to actually get the chance to see and hear me recalling the stories is just magical."
Also from Kyle Melnick:
How VR/AR Technology Is Being Used To Treat Autism
XRHealth brings its unique VR/AR therapy to the United States.

Excerpt:
Previously available in Australia, the technology has been used to treat the effects of autism, from anxiety and stress to attention, memory, mobility/coordination, and frustration tolerance. XRHealth's healthcare platform offers a variety of professional services. This includes one-on-one meet-ups with XRHealth therapists as well as virtual group sessions, all of which accessible remotely using modern VR headsets.
On 04/26/2022, in Augmented Reality (AR), biology, engagement / engaging students, health, hearts -- matters of the heart, innovation, science, tools, XR - extended reality, by Daniel Christian