From DSC:
Let's put together a nationwide campaign that would provide a website — or a series of websites if an agreement can't be reached amongst the individual states — about learning how to learn. In business, there's a "direct-to-consumer" approach. Well, we could provide a "direct-to-learner" approach — from cradle to grave. Seeing as how everyone is now required to be a lifelong learner, such a campaign would have enormous benefits to all of the United States. This campaign would be located in airports, subway stations, train stations, on billboards along major highways, in libraries, and in many more locations.
We could focus on things such as:
Quizzing yourself / retrieval practice

Spaced retrieval

Interleaving

Elaboration

Chunking

Cognitive load

Learning by doing (active learning)

Journaling

The growth mindset

Metacognition (thinking about one's thinking)

Highlighting doesn't equal learning

There is deeper learning in the struggle

…and more.
---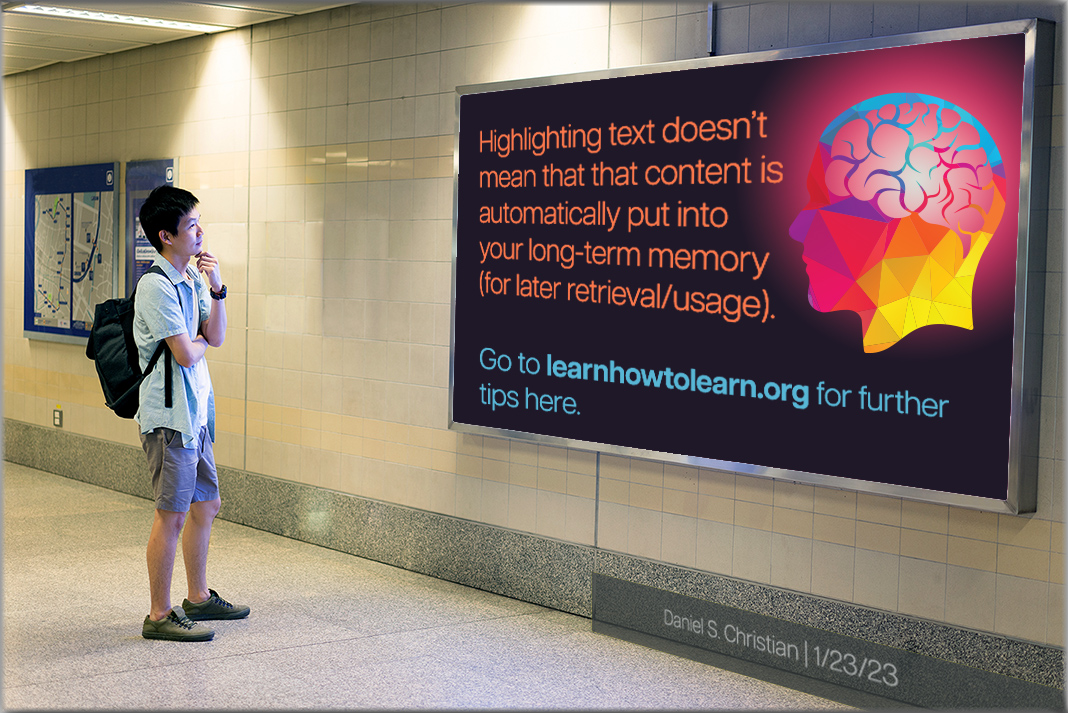 ---
NOTE:
The URL I'm using above doesn't exist, at least not at the time of this posting.
But I'm proposing that it should exist.
---
A group of institutions, organizations, and individuals could contribute to this. For example The Learning Scientists, Daniel Willingham, Donald Clark, James Lang, Derek Bruff, The Learning Agency Lab, Robert Talbert, Pooja Agarwal and Patrice Bain, Eva Keffenheim, Benedict Carey, Ken Bain, and many others.
Perhaps there could be:
discussion forums to provide for social interaction/learning

scheduled/upcoming webinars

how to apply the latest evidence-based research in the classroom

link(s) to learning-related platforms and/or resources