On 05/23/2022, in business, business side of he, career development, change, changing business models, collaboration, colleges, community colleges, corporate / business world, Daniel S. Christian, future of higher education, game-changing environment, generational differences, higher education, learner profiles, learning ecosystem, Learning Experience Design, Learning from the Living [Class] Room, learning preferences, lifelong learning, New "Amazon.com" of Higher Education, new business models, United States, universities, workplace, by Daniel Christian
'Stackable credentials' could be future of higher education in Colorado — from thedenverchannel.com by Nicole Brady; with thanks to Ray Schroeder for this resource out on LinkedIn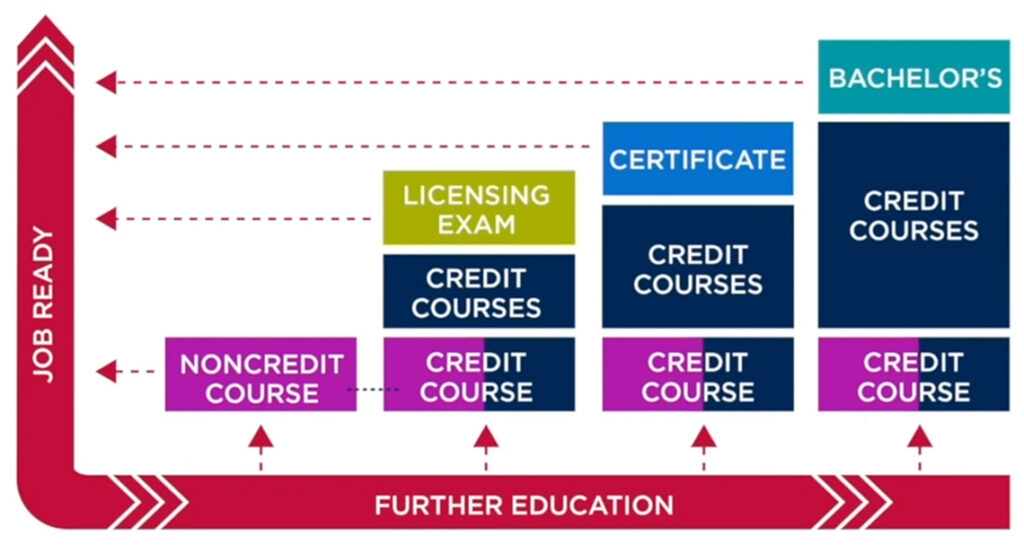 Excerpt (emphasis DSC):
DENVER — Metropolitan State University of Denver is one of Colorado's largest four-year institutions, but some students are spending just months there — not years — before joining the workforce.
They're doing it by "stacking" credentials.
"Stackable credentials are really a convergence of individuals wanting to learn in smaller chunks and industries being willing to accept those chunks," said Terry Bower, associate vice president of Innovative and Lifelong Learning at MSU Denver.
The career launchpad lays out exactly what steps are needed to work in those industries and how much money a person can earn with different credentials.

For students who decide they want to add more credentials or work toward a degree, they can return to MSU with no credits lost.
From DSC:
That part that says "The career launchpad lays out exactly what steps are needed to work in those industries and how much money a person can earn with different credentials" will likely be a part of a next-generation learning platform. Here are the skills in demand. Here are the folks offering you the ability to learn/develop those skills and here's what you can expect to earn at different levels of this type of job. The platform will be able to offer this type of information and these types of opportunities throughout your lifetime.
Cloud-based learner profiles will be part of this new setup — along with recommendation engine-based results based upon one's learning preferences (not learning styles — which don't exist — but upon one's learning preferences).
On 05/13/2022, in active learning, adjunct faculty, change, creativity, Daniel S. Christian, digital learning, education reform, faculty, higher education, innovation, instructional design, learning, Learning Experience Design, multimedia, open courseware and systems, teaching & learning, United States, universities, using teams, vision/possibilities, by Daniel Christian
Why Improving Student Learning is So Hard — from opencontent.org by David Wiley
Excerpt:
2. Student behavior will normally change only in response to changes in faculty behavior – specifically, the assignments faculty give and the support faculty provide.
For many students, the things-they-do-to-learn are all located within the relatively small universe of things their faculty assign them to do – read chapters, complete homework assignments, etc. For a variety of reasons, and many of them perfectly good reasons, "students don't do optional" – they only do what they're going to be graded on.
Therefore, students will likely engage in more effective learning behaviors ONLY IF their faculty assign them more effective learning activities. Faculty can further increase the likelihood of students engaging in more effective learning activities if they support them appropriately throughout the process.
From DSC:
I can put an "Amen" to the above excerpt. For years I managed a Teaching & Learning Digital Studio. Most of the students didn't come into the Studio for help, because most of the faculty members assigned the normal kinds of things (papers, quizzes, and such). Had there been more digitally-created means of showing what students knew, there would have been more usage of the T&L Digital Studio. 
Also, if we want to foster more creativity and innovation — as well as give our learners more choice and more control over their learning — we should occasionally get away from the traditional papers.
Another comment here is that it's hard to change what faculty members do, when Instructional Designers can't even get in the car to help faculty members navigate. We need more team-based efforts in designing our learning experiences.
On 05/04/2022, in 21st century, Alternatives, business side of he, change, changing business models, colleges, community colleges, content development, corporate / business world, cost of getting a degree, culture, curriculum, dangers of the status quo, Daniel S. Christian, Emotion, engagement / engaging students, experimentation, faculty, future of higher education, game-changing environment, health, higher education, leadership, learning ecosystem, Learning from the Living [Class] Room, more choice more control, New "Amazon.com" of Higher Education, traditional / tradition, by Daniel Christian
From DSC:
After seeing the item below, I thought, "Hmmm…traditional institutions of higher education better look out if alternatives continue to gain momentum." Perhaps it's wise to double down on efforts to gather feedback from students, families, parents, businesses, and other stakeholders in the workplace regarding what they want and need — vs. what the faculty members of institution ABC want to teach.
---
A Third of U.S. College Students Consider Withdrawing — from news.gallup.com by Stephanie Marken
Excerpt:
Editor's Note: The research below was conducted in partnership between the Lumina Foundation and Gallup.
About a third (32%) of currently enrolled students pursuing a bachelor's degree report they have considered withdrawing from their program for a semester or more in the past six months. A slightly higher percentage of students pursuing their associate degree, 41%, report they have considered stopping out in the past six months. These are similar to 2020 levels when 33% of bachelor's degree students reported they had considered stopping out and 38% of associate degree students said the same.