Estudio Herreros completes Munch museum on Oslo waterfront — from dezeen.com
University of Technology Jamaica highlights 10 student architecture projects — from dezeen.com
Ten architecture projects from students at the University of Oregon College of Design — from dezeen.com
On 07/05/2021, in Artificial Intelligence / Machine Learning / Deep Learning, collaboration, emerging technologies, entrepreneurship, Europe, languages and translation, United States, vendors, videoconferencing, web-based collaboration, by Daniel Christian
Papercraft Heidelberg Letterpress — from theawesomer.com by Lee Ji-hee
Korean artist Lee Ji-hee created this incredibly intricate papercraft replica of the original Heidelberg Letterpress. She made the sculpture from paper and corrugated cardboard…
On 06/29/2021, in Africa, Asia, Australia, business, Canada, data mining, education technology, entrepreneurship, Europe, experimentation, funding / grants, global / globalization, India, innovation, learning ecosystem, Learning Experience Design, Learning from the Living [Class] Room, learning hubs & pods, learning preferences, learning spaces, lifelong learning, online learning, platforms, training / L&D, trends, UK, United States, vendors, web-based collaboration, by Daniel Christian
Global EdTech Funding 2021 – Half Year Update — from holoniq.com
A record half year in EdTech funding with 568 rounds raising $10B of investment as, ready or not, the world turns to technology to support learning and education delivery.
On 06/16/2021, in 21st century, computer science, Daniel S. Christian, emerging technologies, engineering, Europe, future, global / globalization, platforms, policy, political science, programming, robotics, society, the downsides of technology, by Daniel Christian
Watch a Drone Swarm Fly Through a Fake Forest Without Crashing — from wired.com by Max Levy
Each copter doesn't just track where the others are. It constantly predicts where they'll go.
From DSC:
I'm not too crazy about this drone swarm…in fact, the more I thought about it, I find it quite alarming and nerve-racking. It doesn't take much imagination to think what the militaries of the world are already doing with this kind of thing. And our son is now in the Marines. So forgive me if I'm a bit biased here…but I can't help but wondering what the role/impact of foot soldiers will be in the next war? I hope we don't have one. 
Anway, just because we can…
On 05/15/2021, in Asia, Bias | Diversity Equity & Inclusion (DE&I), culture, distance education, engagement / engaging students, Europe, experimentation, ideas, learning ecosystem, Learning Experience Design, Learning from the Living [Class] Room, learning preferences, online learning, society, by Daniel Christian
Reimagining Online Culture: Project-Based Learning, Inclusion, and Reach in Online Education — from er.educause.edu by Christian Schneider
The pandemic created a unique opportunity for educators to rethink their approach to online learning and explore how this educational environment can expand access while increasing and building on diversity.
Excerpt:
The move to online education during the pandemic has been one of the greatest experiments ever conducted. It was initially met with reluctance and fatigue, but once we moved beyond the attempts to replicate what we do in real life, it brought to light important innovations.
We cut out constraints, categorizations, and biases while concentrating on our faces, voices, and work, and we extended the reach of geographical, cultural, and social access.
During the pandemic, however, when most students were in their home countries, they seemed to be more comfortable as their authentic selves, working on projects that related to their local environments.
…
Teaching online can not only make education available to more people around the globe but also open a space where students can share "a piece of themselves," where different perspectives can interact, where we can learn from each other and our local environments and opportunities. This creates an enormous opportunity for equity and inclusion.
On 05/07/2021, in 21st century, 24x7x365 access, Africa, Alternatives, Asia, Australia, business, business side of he, Canada, career development, change, changing business models, collaboration, computer science, content development, corporate / business world, corporate universities / corporate training, Europe, experimentation, game-changing environment, global / globalization, higher education, India, learning ecosystem, new business models, online learning, programming, real-world assignments, reinvent, technology (general), training / L&D, trends, UK, United States, universities, vendors, by Daniel Christian
109 New University Partnerships with OPMs, Bootcamps and Pathways in Q1 2021 — from holoniq.com
Universities around the world are accelerating their adoption of Academic Public-Private Partnerships.
Excerpt:
Based on the rate of partnership growth in Q1, 2021 may deliver over 400 new academic partnerships if growth continues at the same rate.
---
---
Other key points:
The US led the development and growth of the OPM model, now we are seeing an acceleration in adoption of OPM partnerships in international markets across Australia, Asia and Europe
Bootcamp Partnerships are powering Universities with immersive, short-format programs in technology and new domains in business. Expert curriculum, deep industry relationships and hiring pathways are driving very fast growth in campus-based and online programs.
We expect the Global OPX Market to grow at 19% CAGR, reaching $13.3B by 2025.
On 05/06/2021, in A/V -- audio/visual, Africa, Asia, Daniel S. Christian, Europe, ideas, innovation, learning hubs & pods, learning spaces, society, the downsides of technology, UK, vendors, by Daniel Christian
A couple of items from the May 2021 Inavate edition:
A very sharp learning space right here!
DC: While I think this is really sharp for large events that are held every so often (like large concerts or 4th of July events in the U.S.), I don't want to walk out my front door to see that the skies have become billboards.https://t.co/zv80dO6F5T pic.twitter.com/wVFb7nK2F3

— Daniel Christian (he/him/his) (@dchristian5) May 5, 2021
On 04/19/2021, in 21st century, Africa, algorithms, Artificial Intelligence / Machine Learning / Deep Learning, Asia, Australia, Bias | Diversity Equity & Inclusion (DE&I), Canada, Daniel S. Christian, emerging technologies, ethics, Europe, future, game-changing environment, generational differences, human-computer interaction (HCI), India, intelligent systems, law schools, legislatures / government / legal, Michigan, morals/values, parents, platforms, policy, robotics, science, society, sociology, the downsides of technology, UK, United States, by Daniel Christian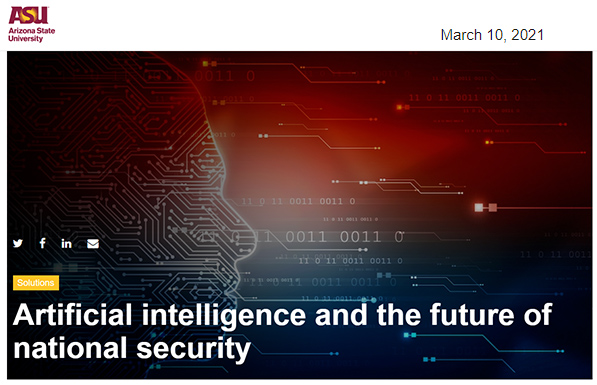 Artificial intelligence and the future of national security — from news.asu.edu
Excerpt:
Artificial intelligence is a "world-altering" technology that represents "the most powerful tools in generations for expanding knowledge, increasing prosperity and enriching the human experience" and will be a source of enormous power for the companies and countries that harness them, according to the recently released Final Report of the National Security Commission on Artificial Intelligence.
This is not hyperbole or a fantastical version of AI's potential impact. This is the assessment of a group of leading technologists and national security professionals charged with offering recommendations to Congress on how to ensure American leadership in AI for national security and defense. Concerningly, the group concluded that the U.S. is not currently prepared to defend American interests or compete in the era of AI.
Also see:
EU Set to Ban Surveillance, Start Fines Under New AI Rules — from bloomberg.com by Natalia Drozdiak
Excerpt:
The European Union is poised to ban artificial intelligence systems used for mass surveillance or for ranking social behavior, while companies developing AI could face fines as high as 4% of global revenue if they fail to comply with new rules governing the software applications.
Also see:
Wrongfully arrested man sues Detroit police over false facial recognition match — from washingtonpost.com by Drew Harwell
The case could fuel criticism of police investigators' use of a controversial technology that has been shown to perform worse on people of color
Excerpts:
A Michigan man has sued Detroit police after he was wrongfully arrested and falsely identified as a shoplifting suspect by the department's facial recognition software in one of the first lawsuits of its kind to call into question the controversial technology's risk of throwing innocent people in jail.
Robert Williams, a 43-year-old father in the Detroit suburb of Farmington Hills, was arrested last year on charges he'd taken watches from a Shinola store after police investigators used a facial recognition search of the store's surveillance-camera footage that identified him as the thief.
Prosecutors dropped the case less than two weeks later, arguing that officers had relied on insufficient evidence. Police Chief James Craig later apologized for what he called "shoddy" investigative work. Williams, who said he had been driving home from work when the 2018 theft had occurred, was interrogated by detectives and held in custody for 30 hours before his release.
Williams's attorneys did not make him available for comment Tuesday. But Williams wrote in The Washington Post last year that the episode had left him deeply shaken, in part because his young daughters had watched him get handcuffed in his driveway and put into a police car after returning home from work.

"How does one explain to two little girls that a computer got it wrong, but the police listened to it anyway?" he wrote. "As any other black man would be, I had to consider what could happen if I asked too many questions or displayed my anger openly — even though I knew I had done nothing wrong."
Addendum on 4/20/21:
The Best of 2020 Drone Photography by SkyPixel — from fubiz.net