On 10/16/2021, in business, change, collaboration, colleges, communities of practice, community colleges, corporate / business world, culture, society, United States, workplace, by Daniel Christian
The college campus is the model for return to office — from by Jiani Zeng Honghao Deng
Using tech to map the spaces we need for the future of work
Excerpt:
Yet while the emergence of new variants continues to frustrate efforts to resume in-person work, the Delta variant alone does not explain why major employers continue to struggle to bring workers back in person. It seems that employees have lost faith in past models of working, which naturally prompts an examination of what a future "ebb and flow" will actually look like.
Well, it's likely we already know what this new office environment will look like: the university campus.
…
College campuses have spaces that foster collaboration, community and culture — labs, open areas, cafes, not to mention auditoriums and arenas for events, sports and other rituals. But these are opt-in — no one forces you to go to the basketball game. You choose to go. So too companies will want to use their space to foster collaboration and culture for employees to opt into.
On 06/28/2021, in career development, change, changing business models, corporate / business world, corporate universities / corporate training, culture, future, game-changing environment, generational differences, society, technologies for your home, trends, United States, workplace, by Daniel Christian
The rise of "third workplaces" — from axios.com by Erica Pandey
Excerpt:
The big picture: As the world begins to move past the pandemic but holds onto remote work, we're seeing the rise of "third workplaces" — teleworking spots in cafes, hotels or co-working spaces.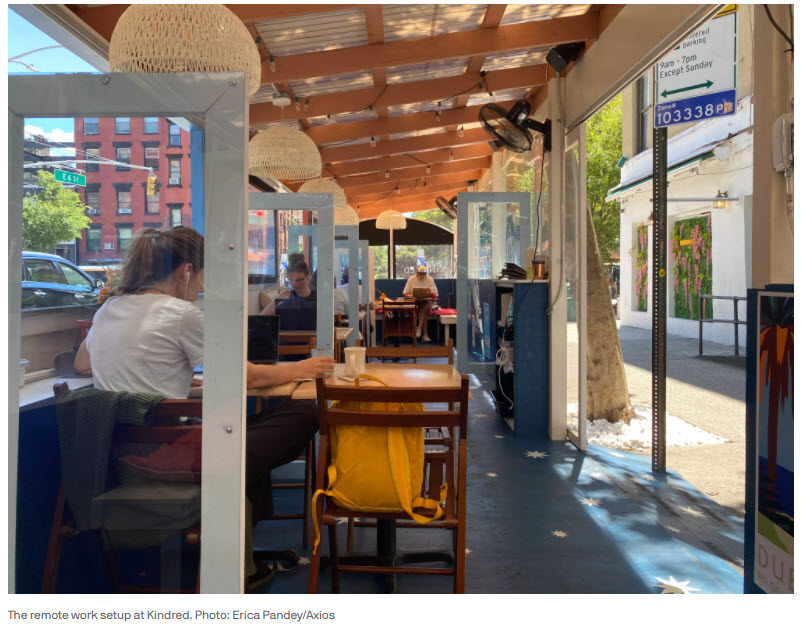 On 06/22/2021, in 21st century, Bias | Diversity Equity & Inclusion (DE&I), business, career development, colleges, community colleges, cost of getting a degree, culture, Daniel S. Christian, legal reform, society, sociology, trends, United States, universities, by Daniel Christian
Black College Grads Borrow 35% More for a Public Education but Earn 22% Less Than Their Peers — from Kamaron McNair with thanks to Frankie Rendón for this resource
Census data shows that Black millennials with a Bachelor's earn 22% less ($44,498 versus $56,731) on average than other degree-holding millennials.
Black millennials outpaced their peers in just three states — Oregon, Maine and Alaska. But only by an average of 2% — or roughly $1,200.

The earnings gap for recent graduates widened in more than half of U.S. states. From 2014 to 2019, the earnings gap for graduates widened in 28 states and the District of Columbia. The gap widened by more than 29 percentage points in Vermont, the most of any state.

The worst wage gap for Black millennials was in Montana, where Black bachelor's degree graduates working full time earn 50.3% less on average than non-Black workers.

North Dakota recorded the smallest earnings gap at 2.7%. Here, Black millennial bachelor's degree-holders earn just $1,400 less on average than non-Black earners.

Black students borrowed more in student loans than their fellow students. At four-year public schools, Black students and their families borrowed 35% more. Non-Black families contributed an average of $14,434 to their student's education, more than double the $5,545 Black families contributed.
Also see:
Design is a particularly white profession. Depending on the poll, only 3% to 4.8% of designers are Black. But a powerful new collective of design companies is looking to change that.

DC: Good deal. Thanks @keesav for the resource.https://t.co/DkEFTGhTi4

— Daniel Christian (he/him/his) (@dchristian5) June 21, 2021
Addendum on 6/23/21:
On 06/07/2021, in 24x7x365 access, Amazon, Artificial Intelligence / Machine Learning / Deep Learning, biology, career development, culture, engineering, health, innovation, law schools, legal reform, legislatures / government / legal, policy, society, the downsides of technology, United States, by Daniel Christian
---
From DSC:
Again, as you can see from the items below…there are various plusses and minuses regarding the use of Artificial Intelligence (AI). Some of the items below are neither positive or negative, but I found them interesting nonetheless.
---
How Amazon is tackling the A.I. talent crunch — from fortune.com by Jonathan Vanian
Excerpt:
"One way Amazon has adapted to the tight labor market is to require potential new programming hires to take classes in machine learning, said Bratin Saha, a vice president and general manager of machine learning services at Amazon. The company's executives believe they can teach these developers machine learning basics over a few weeks so that they can work on more cutting-edge projects after they're hired."
…
"These are not formal college courses, and Saha said the recruits aren't graded like they would be in school. Instead, the courses are intended to give new developers a foundation in machine learning and statistics so they can understand the theoretical underpinnings."
Machine Learning Can Predict Rapid Kidney Function Decline — from sicklecellanemianews.com by Steve Bryson PhD; with thanks to Sam DeBrule for this resource
Excerpt:
Machine learning tools can identify sickle cell disease (SCD) patients at high risk of progressive kidney disease as early as six months in advance, a study shows.  The study, "Using machine learning to predict rapid decline of kidney function in sickle cell anemia," was published in the journal eJHaem.
NYPD's Sprawling Facial Recognition System Now Has More Than 15,000 Cameras — from vice.com by Todd Feathers; with thanks to Sam DeBrule for this resource
The massive camera network is concentrated in predominantly Black and brown neighborhoods, according to a new crowdsourced report.
Excerpt:
The New York City Police Department has built a sprawling facial recognition network that may include more than 15,000 surveillance cameras in Manhattan, Brooklyn, and the Bronx, according to a massive crowdsourced investigation by Amnesty International.
…
"This sprawling network of cameras can be used by police for invasive facial recognition and risk turning New York into an Orwellian surveillance city," Matt Mahmoudi, an artificial intelligence and human rights researcher at Amnesty, wrote in the group's report. "You are never anonymous. Whether you're attending a protest, walking to a particular neighbourhood, or even just grocery shopping—your face can be tracked by facial recognition technology using imagery from thousands of camera points across New York."
Related to that article is this one:
The All-Seeing Eyes of New York's 15,000 Surveillance Cameras — from wired.com by Sidney Fussell
Video from the cameras is often used in facial-recognition searches. A report finds they are most common in neighborhoods with large nonwhite populations.
Excerpt:
A NEW VIDEO from human rights organization Amnesty International maps the locations of more than 15,000 cameras used by the New York Police Department, both for routine surveillance and in facial-recognition searches. A 3D model shows the 200-meter range of a camera, part of a sweeping dragnet capturing the unwitting movements of nearly half of the city's residents, putting them at risk for misidentification. The group says it is the first to map the locations of that many cameras in the city.
Don't End Up on This Artificial Intelligence Hall of Shame — from wired.com by Tom Simonite
A list of incidents that caused, or nearly caused, harm aims to prompt developers to think more carefully about the tech they create.
Excerpt:
The AI Incident Database is hosted by Partnership on AI, a nonprofit founded by large tech companies to research the downsides of the technology. The roll of dishonor was started by Sean McGregor, who works as a machine learning engineer at voice processor startup Syntiant. He says it's needed because AI allows machines to intervene more directly in people's lives, but the culture of software engineering does not encourage safety.
On 05/31/2021, in Artificial Intelligence / Machine Learning / Deep Learning, business, corporate / business world, Critical thinking, culture, Daniel S. Christian, emerging technologies, Emotion, engineering, entrepreneurship, Facebook, Google, hearts -- matters of the heart, history, ideas, relationships, religion, society, surviving, United States, workplace, youth, by Daniel Christian
2 Chronicles 10 (NIV) — from biblegateway.com (emphasis DSC)
Excerpt:
10 Rehoboam went to Shechem, for all Israel had gone there to make him king. 2 When Jeroboam son of Nebat heard this (he was in Egypt, where he had fled from King Solomon), he returned from Egypt. 3 So they sent for Jeroboam, and he and all Israel went to Rehoboam and said to him: 4 "Your father put a heavy yoke on us, but now lighten the harsh labor and the heavy yoke he put on us, and we will serve you."
5 Rehoboam answered, "Come back to me in three days." So the people went away.
6 Then King Rehoboam consulted the elders who had served his father Solomon during his lifetime. "How would you advise me to answer these people?" he asked.
7 They replied, "If you will be kind to these people and please them and give them a favorable answer, they will always be your servants."
8 But Rehoboam rejected the advice the elders gave him and consulted the young men who had grown up with him and were serving him. 9 He asked them, "What is your advice? How should we answer these people who say to me, 'Lighten the yoke your father put on us'?"
10 The young men who had grown up with him replied, "The people have said to you, 'Your father put a heavy yoke on us, but make our yoke lighter.' Now tell them, 'My little finger is thicker than my father's waist. 11 My father laid on you a heavy yoke; I will make it even heavier. My father scourged you with whips; I will scourge you with scorpions.'"
12 Three days later Jeroboam and all the people returned to Rehoboam, as the king had said, "Come back to me in three days." 13 The king answered them harshly. Rejecting the advice of the elders, 14 he followed the advice of the young men and said, "My father made your yoke heavy; I will make it even heavier. My father scourged you with whips; I will scourge you with scorpions."
From DSC:
The new, younger king didn't listen to the older, more experienced people (i.e., the elders) who had worked with King Solomon (a king who reigned over a united Israel for 40 years…and a person whom the Bible says was the wisest king of all time). Instead the younger king sought the counsel of his younger peers and went with that advice. This led to Rehoboam's downfall — at least in terms of keeping a strong, united Israel. He was only a king of a much smaller kingdom due to his decision and actions.
What might the youth of today learn from this? How might entrepreneurs learn from this? What might companies like Google, Facebook, and others learn from this? How might this impact how we go about developing the culture of a company? What's valued and what's not valued?
There are probably different lessons one can learn from 2 Chronicles Chapter 10. But here's one example that comes to my mind…
…just because we can…

…doesn't mean we should.

On 05/18/2021, in business, communications, corporate / business world, corporate universities / corporate training, creativity, culture, digital storytelling, story, storytelling, by Daniel Christian
What I Learned: Great Stories Unlock the WHY — from learningsolutionsmag.com by JD Dillon
Excerpt:
This approach worked because a great story elevates. It helps people find commonalities and amplifies an organization's culture. A great story unlocks the WHYs that are so often hidden behind a company's mission and performance objectives. But impactful storytelling doesn't just happen. It requires intention and effort, especially in large, complex, and distributed workplaces.
Here are four intentional storytelling practices I learned from Disney.
On 05/15/2021, in Asia, Bias | Diversity Equity & Inclusion (DE&I), culture, distance education, engagement / engaging students, Europe, experimentation, ideas, learning ecosystem, Learning Experience Design, Learning from the Living [Class] Room, learning preferences, online learning, society, by Daniel Christian
Reimagining Online Culture: Project-Based Learning, Inclusion, and Reach in Online Education — from er.educause.edu by Christian Schneider
The pandemic created a unique opportunity for educators to rethink their approach to online learning and explore how this educational environment can expand access while increasing and building on diversity.
Excerpt:
The move to online education during the pandemic has been one of the greatest experiments ever conducted. It was initially met with reluctance and fatigue, but once we moved beyond the attempts to replicate what we do in real life, it brought to light important innovations.
We cut out constraints, categorizations, and biases while concentrating on our faces, voices, and work, and we extended the reach of geographical, cultural, and social access.
During the pandemic, however, when most students were in their home countries, they seemed to be more comfortable as their authentic selves, working on projects that related to their local environments.
…
Teaching online can not only make education available to more people around the globe but also open a space where students can share "a piece of themselves," where different perspectives can interact, where we can learn from each other and our local environments and opportunities. This creates an enormous opportunity for equity and inclusion.
On 05/03/2021, in adjunct faculty, business side of he, career development, change, changing business models, collaboration, colleges, community colleges, content development, culture, dangers of the status quo, Daniel S. Christian, experimentation, faculty, higher education, ideas, innovation, instructional design, IT in HE, law schools, leadership, learning ecosystem, Learning Experience Design, United States, universities, using teams, vision/possibilities, by Daniel Christian
Faculty and Staff Often Don't Trust One Another. How Do We Fix That? — from chronicle.com by Jenae Cohn
Three ways to bridge divisions as academe prepares for the post-pandemic era.
Excerpts:
One of the few welcome outcomes of Covid-19, and higher education's rapid move to remote instruction, is that many faculty members are more aware than ever of who the staff members are and what we do.
As Lee Skallerup Bessette wrote in October, staff members — anyone working on a college campus who is not a professor or an administrator — have been on the front lines during the pandemic: "We are the face that faculty members see when they have questions, concerns, or struggles with the technology they have been asked to use. We are the face that students see when they have questions, concerns, or struggles related to distance learning or on-campus policies and procedures."
Yet however much academics and administrators have been turning to us for help now, they still rarely involve and entrust staff members with campus decision-making around teaching, curriculum development, and research.
…
It behooves every college and university to consider what authentic collaboration between the staff and the faculty might look like. How? Here are three concrete steps in that direction.
.
Step 1: Offer incentives for faculty-staff partnerships.
Step 2: Rethink hierarchical traditions.
Step 3: Create shared experiences. 
From DSC:
Although I was an Adjunct Professor for over 5 years and have worked alongside faculty members for 20 years, the majority of my work and efforts have mainly been on the staff side of the house. So I appreciate The Chronicle hosting this article and I thank Jenae for writing it. It's an important topic.
If traditional institutions of higher education are going to survive, there needs to be much broader governance, a much greater use of teams to create and deliver learning experiences, and a much stronger culture of innovating and experimenting with new ideas. At the end of the day, I think that the following two things will be the deciding factors on whether a particular institution survives, merges, shrinks, or closes its doors altogether:
The culture of a particular institution

Whether that institution has visionary leadership or not

(and not just being data-driven…which comes up short again and again)
Also see:
On 04/24/2021, in business, changing business models, corporate / business world, corporate universities / corporate training, culture, learning, learning ecosystem, MBA, new business models, training / L&D, workplace, by Daniel Christian
The art of the pivot — from chieflearningofficer.com by Jay Campbell and Doug Glener
Try these four tactics the next time you have to change direction.
Excerpt:
The "first pancake" metaphor — a test to see if the batter and heat are just right — is an example of framing. The results are informative, but not pretty. Framing an experiment as a first pancake lowers the stress and pressure while simultaneously making the experiment fun and playful. Leaders who successfully frame a situation can shift people's attitudes about even the most intimidating changes.
Supporting healthier minds through learning and development — from chieflearningofficer.com by Elizabeth Loutfi
L&D teams have helped to alleviate some of the stress and anxieties people are feeling as their organizations grapple with pandemic-related changes and challenges.
Meet the CLO Advisory Board: Bob Mosher — from chieflearningofficer.com by Elizabeth Loutfi
Meet longtime CLO advisory board member Bob Mosher, CEO and chief learning evangelist for APPLY Synergies.
CLO: What lessons did you learn back in 2020 that you've taken with you into 2021?
For me, it's the art of listening. As educators, we're supposed to have answers and we're supposed to be the owners of content and the developers of programs. We get help from the business, but we're very locked in our ways. Understandably so, but all of our ways were thrown out last year. My instinct, and many, was to rush to solution, rush to help. That was fairly humbling for me. It was a year to reflect and sit back and examine my commitment to things over doing the right thing. It taught me that — which L&D should do well anyway, but when you get senior like me and you've done it a bunch of times — you guess people's right answer, or think you can. Because there was no normal and we weren't making courses like we always used to, it was a year of reflection and listening for me to kind of rekindle that skill.
5 ways to foster a learning culture — from chieflearningofficer.com by Jonathan Finkelstein
By placing importance on growth at all levels of the organization, you can foster a learning culture that serves your people and helps your business grow.