On 06/27/2023, in Access to Justice (A2J), Artificial Intelligence / Machine Learning / Deep Learning / Algorithms, law schools, Legal operations, legal technologies, legislatures / government / legal, Microsoft, vendors, vision/possibilities, by Daniel Christian
The Rumors Were True: Thomson Reuters Acquires Casetext for $650M Cash — from lawnext.com by Bob Ambrogi
Excerpt:
"The proposed transaction will complement Thomson Reuters existing AI roadmap and builds on its recent initiatives, including a commitment to invest more than $100 million annually on AI capabilities, the development of new generative AI experiences across its product suite, as well as a new plugin with Microsoft and Microsoft 365 Copilot for legal professionals," TR's announcement said.
From DSC:
I post this to show how AI continues to make inroads into the legal realm — and how serious vendors are about it. I believe AI-enabled applications will eventually increase access to justice for the citizens of the United States of America.
---
Below is an addendum on 6/28/23 that further illustrates how serious vendors are about AI:
Databricks picks up MosaicML, an OpenAI competitor, for $1.3B — from techcrunch.com by Ingrid Lunden
Excerpt:
Databricks announced it will pay $1.3 billion to acquire MosaicML, an open source startup with neural networks expertise that has built a platform for organizations to train large language models and deploy generative AI tools based on them.
On 05/09/2023, in 21st century, Amazon, Artificial Intelligence / Machine Learning / Deep Learning / Algorithms, Asia, computer science, corporate / business world, disruption, emerging technologies, engineering, future, game-changing environment, global / globalization, Google, legislatures / government / legal, Microsoft, NVIDIA, United States, vendors, by Daniel Christian
From DSC:
As Rob Toews points out in his recent article out at Forbes.com, we had better hope that the Taiwan Semiconductor Manufacturing Company (TSMC) builds out the capacity to make chips in various countries. Why? Because:
The following statement is utterly ludicrous. It is also true. The world's most important advanced technology is nearly all produced in a single facility.

What's more, that facility is located in one of the most geopolitically fraught areas on earth—an area in which many analysts believe that war is inevitable within the decade.

The future of artificial intelligence hangs in the balance.

The Taiwan Semiconductor Manufacturing Company (TSMC) makes ***all of the world's advanced AI chips.*** Most importantly, this means Nvidia's GPUs; it also includes the AI chips from Google, AMD, Amazon, Microsoft, Cerebras, SambaNova, Untether and every other credible competitor.

— from The Geopolitics Of AI Chips Will Define The Future Of AI
out at Forbes.com by Rob Toews
Little surprise, then, that Time Magazine described TSMC
as "the world's most important company that you've
probably never heard of."
---
From DSC:
If that facility was actually the only one and something happened to it, look at how many things would be impacted as of early May 2023!
---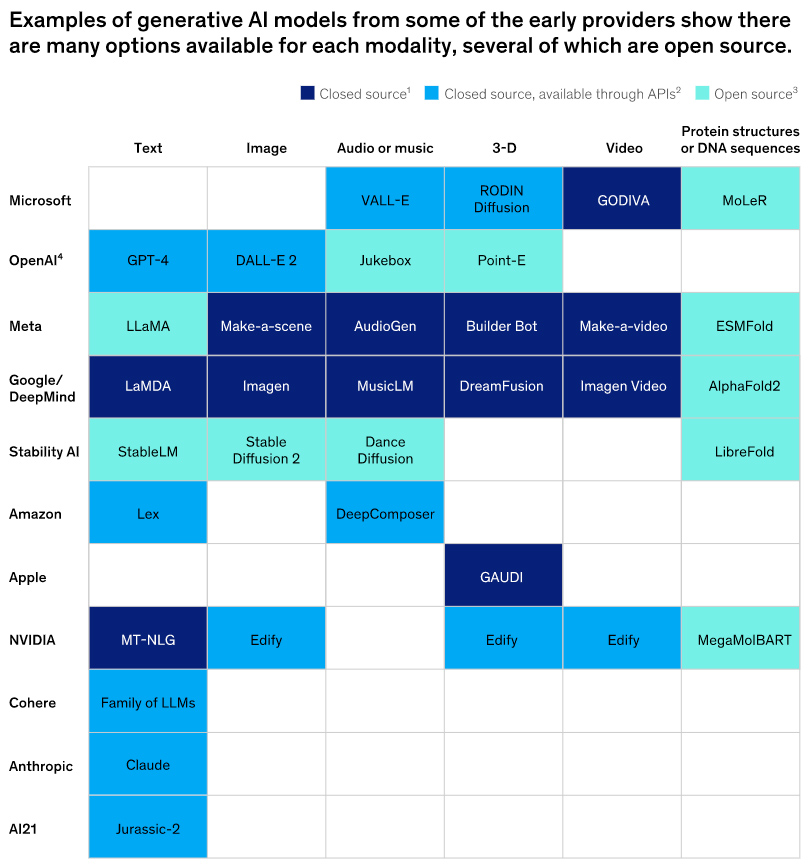 On 05/02/2023, in Amazon, Artificial Intelligence / Machine Learning / Deep Learning / Algorithms, Augmented Reality (AR), computer science, Facebook / Meta Platforms, Google, Microsoft, NVIDIA, platforms, programming, tools, trends, vendors, Virtual Reality (VR) / worlds / learning, web design and production, XR - extended reality, by Daniel Christian
Radar Trends to Watch: May 2023 Developments in Programming, Security, Web, and More — from oreilly.com by Mike Loukides
Excerpt:
Large language models continue to colonize the technology landscape. They've broken out of the AI category, and now are showing up in security, programming, and even the web. That's a natural progression, and not something we should be afraid of: they're not coming for our jobs. But they are remaking the technology industry.
One part of this remaking is the proliferation of "small" large language models. We've noted the appearance of llama.cpp, Alpaca, Vicuna, Dolly 2.0, Koala, and a few others. But that's just the tip of the iceberg. Small LLMs are appearing every day, and some will even run in a web browser. This trend promises to be even more important than the rise of the "large" LLMs, like GPT-4. Only a few organizations can build, train, and run the large LLMs. But almost anyone can train a small LLM that will run on a well-equipped laptop or desktop.
On 04/28/2023, in 21st century, 24x7x365 access, Artificial Intelligence / Machine Learning / Deep Learning / Algorithms, design, emerging technologies, experimentation, future, game-changing environment, graphics, human-computer interaction (HCI), innovation, intelligent systems, intelligent tutoring, interaction design, interactivity, interface design, internet, IT in HE, Microsoft, platforms, tools, United States, usability, user experience (UX), user interface design, vendors, by Daniel Christian
The GPT-4 Browser That Will Change Your Search Game — from noise.beehiiv.com by Alex Banks
Why Microsoft Has The 'Edge' On Google
Excerpts:
Microsoft has launched a GPT-4 enhanced Edge browser.
By integrating OpenAI's GPT-4 technology with Microsoft Edge, you can now use ChatGPT as a copilot in your Bing browser. This delivers superior search results, generates content, and can even transform your copywriting skills (read on to find out how).
Benefits mentioned include: Better Search, Complete Answers, and Creative Spark.
The new interactive chat feature means you can get the complete answer you are looking for by refining your search by asking for more details, clarity, and ideas.
From DSC:
I have to say that since the late 90's, I haven't been a big fan of web browsers from Microsoft. (I don't like how Microsoft unfairly buried Netscape Navigator and the folks who had out-innovated them during that time.) As such, I don't use Edge so I can't fully comment on the above article.
But I do have to say that this is the type of thing that may make me reevaluate my stance regarding Microsoft's browsers. Integrating GPT-4 into their search/chat functionalities seems like it would be a very solid, strategic move — at least as of late April 2023.
---
Speaking of new items coming from Microsoft, also see:
Microsoft makes its AI-powered Designer tool available in preview — from techcrunch.com by Kyle Wiggers
Excerpts:
[On 4/27/23], Microsoft Designer, Microsoft's AI-powered design tool, launched in public preview with an expanded set of features.
Announced in October, Designer is a Canva-like web app that can generate designs for presentations, posters, digital postcards, invitations, graphics and more to share on social media and other channels. It leverages user-created content and DALL-E 2, OpenAI's text-to-image AI, to ideate designs, with drop-downs and text boxes for further customization and personalization.
…
Designer will remain free during the preview period, Microsoft says — it's available via the Designer website and in Microsoft's Edge browser through the sidebar. Once the Designer app is generally available, it'll be included in Microsoft 365 Personal and Family subscriptions and have "some" functionality free to use for non-subscribers, though Microsoft didn't elaborate.
On 04/17/2023, in Artificial Intelligence / Machine Learning / Deep Learning / Algorithms, corporate / business world, emerging technologies, Google, Microsoft, platforms, tools, United States, vendors, by Daniel Christian
Google Devising Radical Search Changes to Beat Back A.I. Rivals — from nytimes.com by Nico Grant
The tech giant is sprinting to protect its core business with a flurry of projects, including updates to its search engine and plans for an all-new one.
Excerpt:
Google's employees were shocked when they learned in March that the South Korean consumer electronics giant Samsung was considering replacing Google with Microsoft's Bing as the default search engine on its devices.
For years, Bing had been a search engine also-ran. But it became a lot more interesting to industry insiders when it recently added new artificial intelligence technology.
…
A.I. competitors like the new Bing are quickly becoming the most serious threat to Google's search business in 25 years, and in response, Google is racing to build an all-new search engine powered by the technology. It is also upgrading the existing one with A.I. features, according to internal documents reviewed by The Times.
P.S. According to The Rundown's take on this:
The bottom line: Google is replacing the old-school method of displaying 10 results per page with an intelligent chatbot that provides instant answers.
---
Also relevant/see:
Google planning new search engine while working on new search features under Project Magi — from searchengineland.com by Barry Schwartz
Project Magi will help searchers complete transactions while incorporating search ads on the page.
---
Also relevant/see:
On 04/11/2023, in Artificial Intelligence / Machine Learning / Deep Learning / Algorithms, business, career development, change, corporate / business world, Microsoft, skills, vendors, workplace, by Daniel Christian
ChatGPT is the hottest new job skill that can help you get hired, according to HR experts — from cnbc.com by Morgan Smith
Excerpt:
The hottest new job qualification could be how well you work with a chatbot.
ChatGPT is the latest in-demand job skill companies are hiring for, according to recent research from the career site Resume Builder.
Since its public unveiling in late 2022, ChatGPT has been quickly adopted by companies like Microsoft and Slack which are incorporating the chatbot into their products or using it to work more efficiently.
"Hiring managers care less about whether or not you use ChatGPT, what's more important is what you can accomplish with it," says Juan Pablo Gonzalez, a senior client partner at the global consulting firm Korn Ferry. 
On 04/03/2023, in 21st century, 24x7x365 access, Artificial Intelligence / Machine Learning / Deep Learning / Algorithms, emerging technologies, experimentation, future, game-changing environment, global / globalization, ideas, innovation, instructional design, intelligent systems, intelligent tutoring, leadership, learning ecosystem, Learning Experience Design, legislatures / government / legal, Microsoft, Natural Language Processing (NLP), personalized/customized learning, platforms, society, the downsides of technology, trends, United States, vendors, vision/possibilities, by Daniel Christian
---
Also relevant/see:
---
Learning Designers will have to adapt or die. 10 ways to UPSKILL to AI…. — from donaldclarkplanb.blogspot.com by Donald Clark
---
From Ethan Mollick on LinkedIn:
Take a look at this simulated negotiation, with grading and feedback. Prompt: "I want to do deliberate practice about how to conduct negotiations. You will be my negotiation teacher. You will simulate a detailed scenario in which I have to engage in a negotiation. You will fill the role of one party, I will fill the role of the other. You will ask for my response to in each step of the scenario and wait until you receive it. After getting my response, you will give me details of what the other party does and says. You will grade my response and give me detailed feedback about what to do better using the science of negotiation. You will give me a harder scenario if I do well, and an easier one if I fail."
Samples from Bing Creative mode and ChatGPT-4 (3.5, the free version, does not work as well)
---
I'm having a blast with ChatGPT – it's testing ME! — from by Mark Mrohs
Using ChatGPT as an agent for asynchronous active learning
I have been experimenting with possible ways to incorporate interactions with ChatGPT into instruction. And I'm blown away. I want to show you some of what I've come up with.
On 03/31/2023, in 21st century, 24x7x365 access, Artificial Intelligence / Machine Learning / Deep Learning / Algorithms, creativity, digital learning, experimentation, Google, ideas, innovation, Microsoft, productivity / tips and tricks, vision/possibilities, by Daniel Christian
How to use AI to do practical stuff: A new guide — from oneusefulthing.substack.com by Ethan Mollick
People often ask me how to use AI. Here's an overview with lots of links.
Excerpts:
We live in an era of practical AI, but many people haven't yet experienced it, or, if they have, they might have wondered what the big deal is. Thus, this guide. It is a modified version of one I put out for my students earlier in the year, but a lot has changed. It is an overview of ways to get AI to do practical things.
…
I want to try to show you some of why AI is powerful, in ways both exciting and anxiety-producing.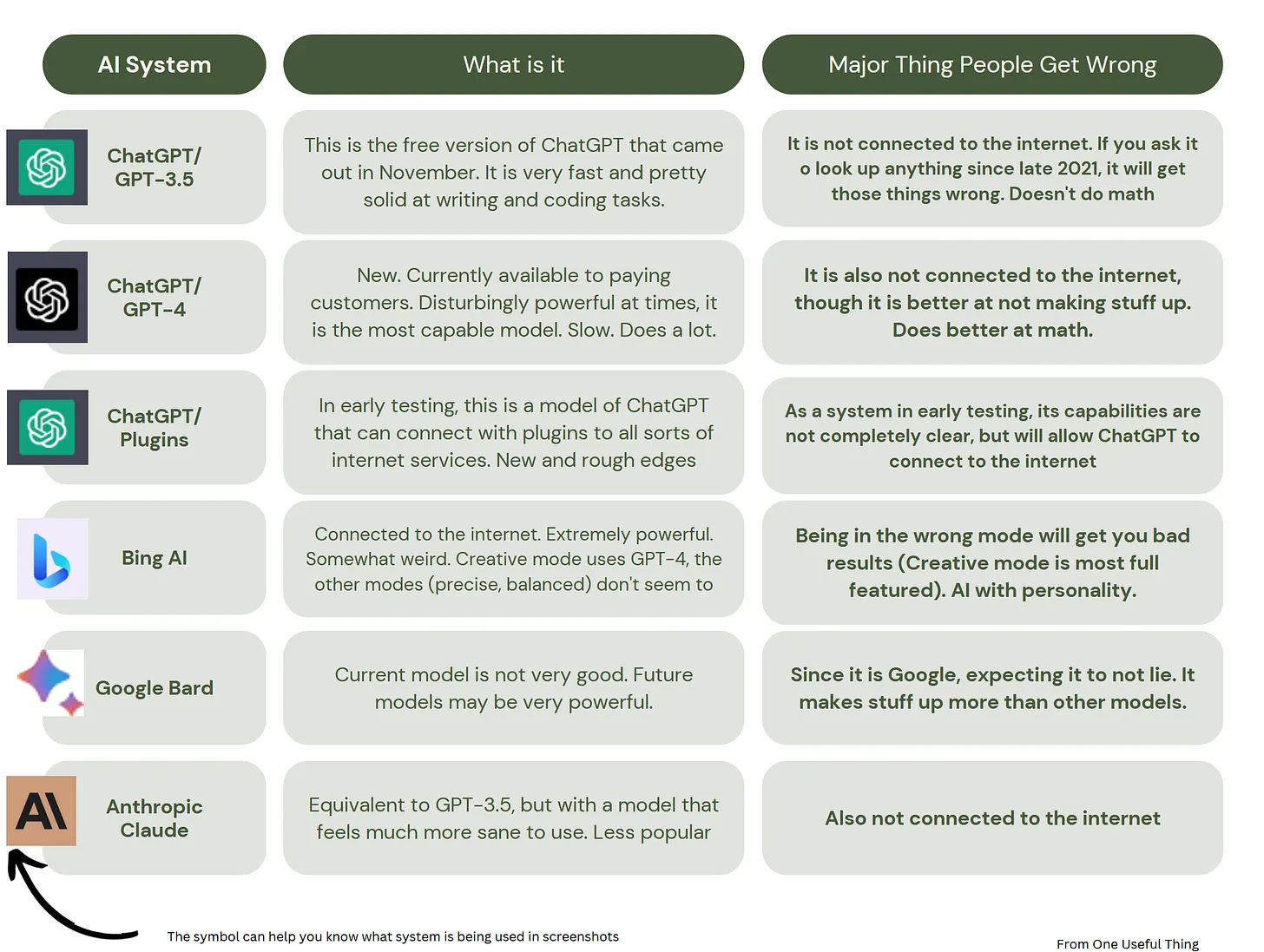 ---
Also see Ethan's posting:
Power and Weirdness: How to Use Bing AI
Bing AI is a huge leap over ChatGPT, but you have to learn its quirks
---
On 03/18/2023, in 24x7x365 access, cloud-based computing / apps / other cloud-related, content development, aggregation, repositories, emerging technologies, experimentation, Google, Microsoft, productivity / tips and tricks, tools, usability, user experience (UX), vendors, writing, by Daniel Christian
Copilot — A whole new way to work — from news.microsoft.com
Copilot in Word writes, edits, summarizes and creates right alongside people as they work.
Copilot in PowerPoint enables the creation process by turning ideas into a designed presentation through natural language commands.
Copilot in Excel helps unlock insights, identify trends or create professional-looking data visualizations in a fraction of the time.
Copilot in Outlook can help synthesize and manage the inbox to allow more time to be spent on actually communicating.
Copilot in Teams makes meetings more productive with real-time summaries and action items directly in the context of the conversation.
Copilot in Power Platform will help developers of all skill levels accelerate and streamline development with low-code tools with the introduction of two new capabilities within Power Apps and Power Virtual Agents.
Business Chat brings together data from across documents, presentations, email, calendar, notes and contacts to help summarize chats, write emails, find key dates or even write a plan based on other project files.
Introducing Microsoft 365 Copilot – your copilot for work — from blogs.microsoft.com by Jared Spataro
"Today marks the next major step in the evolution of how we interact with computing, which will fundamentally change the way we work and unlock a new wave of productivity growth," said Satya Nadella, Chairman and CEO, Microsoft. "With our new copilot for work, we're giving people more agency and making technology more accessible through the most universal interface — natural language."
Introducing Microsoft 365 Copilot — A whole new way to work — from microsoft.com by Colette Stallbaumer
Excerpt:
Copilot is integrated into Microsoft 365 in two ways. It works alongside you, embedded in the Microsoft 365 apps you use every day—Word, Excel, PowerPoint, Outlook, Teams, and more—to unleash creativity, unlock productivity, and uplevel skills. Today, we're also announcing an entirely new experience: Business Chat. Business Chat works across the LLM, the Microsoft 365 apps, and your data—your calendar, emails, chats, documents, meetings, and contacts—to do things you've never been able to do before. You can give it natural language prompts like "tell my team how we updated the product strategy" and it will generate a status update based on the morning's meetings, emails, and chat threads.
---
A new era for AI and Google Workspace — from workspace.google.com by Johanna Voolich Wright
Excerpt:
As we embark on this next journey, we will be bringing these new generative-AI experiences to trusted testers on a rolling basis throughout the year, before making them available publicly.
With these features, you'll be able to:
draft, reply, summarize, and prioritize your Gmail
brainstorm, proofread, write, and rewrite in Docs
bring your creative vision to life with auto-generated images, audio, and video in Slides
go from raw data to insights and analysis via auto-completion, formula generation, and
contextual categorization in Sheets
generate new backgrounds and capture notes in Meet
enable workflows for getting things done in Chat
Here's a look at the first set of AI-powered features, which make writing even easier.
On 03/06/2023, in 21st century, 24x7x365 access, Artificial Intelligence / Machine Learning / Deep Learning / Algorithms, Canada, digital audio, future, innovation, law schools, Legal operations, legal reform, legal technologies, legislatures / government / legal, Microsoft, platforms, productivity / tips and tricks, society, tools, UK, United States, vendors, by Daniel Christian
'ChatGPT Already Outperforms a lot of Junior Lawyers': An Interview With Richard Susskind — from law.com by Laura Beveridge
For the last 20 years, the U.K. author and academic has been predicting that technology will revolutionise the legal industry. With the buzz around generative AI, will his hypothesis now be proven true?
Excerpts:
For this generation of lawyers, their mission and legacy ought to be to build the systems that replace our old ways of working, he said. Moreover, Susskind identified new work for lawyers, such as legal process analyst or legal data scientist, emerging from technological advancement.
"These are the people who will be building the systems that will be solving people's legal problems in the future.
"The question I ask is: imagine when the underpinning large language model is GPT 8.5."
Blue J Legal co-founder Benjamin Alarie on how AI is powering a new generation of legal tech — from canadianlawyermag.com by Tim Wilbur
Excerpts:
We founded Blue J with the idea that we should be able to bring absolute clarity to the law everywhere and on demand. The name that we give to this idea is the legal singularity. I have a book with assistant professor Abdi Aidid called The Legal Singularity coming out soon on this idea.
The book paints the picture of where we think the law will go in the next several decades. Our intuition was not widely shared when we started the book and Blue J.
Since last November, though, many lawyers and journalists have been able to play with ChatGPT and other large language models. They suddenly understand what we have been excited about for the last eight years.
Neat Trick/Tip to Add To Your Bag! — from iltanet.org by Brian Balistreri
Excerpt:
If you need instant transcription of a Audio File, Word Online now allows you to upload a file, and it will transcribe, mark speaker changes, and provide time marks. You can use video files, just make sure they are small or office will kick you out.
Generative AI Is Coming For the Lawyers — from wired.com by Chris Stoken-Walker
Large law firms are using a tool made by OpenAI to research and write legal documents. What could go wrong?
Excerpts:
The rise of AI and its potential to disrupt the legal industry has been forecast multiple times before. But the rise of the latest wave of generative AI tools, with ChatGPT at its forefront, has those within the industry more convinced than ever.
"I think it is the beginning of a paradigm shift," says Wakeling. "I think this technology is very suitable for the legal industry."
…
The technology, which uses large datasets to learn to generate pictures or text that appear natural, could be a good fit for the legal industry, which relies heavily on standardized documents and precedents.
"Legal applications such as contract, conveyancing, or license generation are actually a relatively safe area in which to employ ChatGPT and its cousins," says Lilian Edwards, professor of law, innovation, and society at Newcastle University. "Automated legal document generation has been a growth area for decades, even in rule-based tech days, because law firms can draw on large amounts of highly standardized templates and precedent banks to scaffold document generation, making the results far more predictable than with most free text outputs."
But the problems with current generations of generative AI have already started to show.