Gensler warns as crypto crashes: 'The public is not protected' — from protocol.com by Benjamin Pimentel
The SEC chair had sounded alarms about crypto's risks, and now those risks are in plain sight.
Excerpt:
SEC Chair Gary Gensler warned Congress Wednesday that consumers and investors are vulnerable in an increasingly volatile crypto market now reeling from a sharp downturn.
Citing the recent collapse in the crypto market's value, Gensler said, "This is a field that is now worth $1.2 trillion. Two weeks ago it was supposedly worth $2 trillion."
"The public is not protected," he testified at a House Appropriations Committee hearing on the proposed budget for the SEC and the FTC. "They don't have the disclosures from these entrepreneurs."
From DSC:
A topic for personal finance courses? Economics courses?
Hot Economy, Rising Inflation: The Fed Has Never Successfully Fixed a Problem Like This — from wsj.com on 4/18/22 by Jon Hilsenrath and Nick Timiraos; behind a paywall
Central bank says it is possible, but many factors are out of its control; 'they are strikingly behind'
Excerpt:
The Federal Reserve is setting out to do something it has never accomplished before: reduce inflation a lot without significantly raising unemployment.
Nasdaq slides 2%, Dow falls more than 350 points in sharp reversal as rising rates weigh on stocks — from cnbc.com on 4/20/22 by Fred Imbert Tanaya Macheel Hannah Miao
Excerpt:
The 10-year started the year near 1.5% and has shot up as the Federal Reserve tightens monetary policy to get a hold of soaring prices in the U.S.
"Although we expect inflation to peak very soon, if it hasn't already done so, continued supply chain disruptions and a slow increase in labor force participation due to retirements and continued concerns over Covid, could easily keep the inflation rate more than double the Fed's 2% target," wrote Joseph Kalish, chief global macro strategist at Ned Davis Research.
From DSC:
Hmmm…another interesting item:
Ranking 4,500 Colleges by ROI (2022) — from cew.georgetown.edu
Excerpt:
Using new data from the College Scorecard, we ranked 4,500 colleges and universities by return on investment. The rankings follow the methodology of our 2019 report, A First Try at ROI: Ranking 4,500 Colleges.
The rankings include a new metric that measures the share of students at an institution whose earnings 10 years after enrollment are higher than those of workers with a high school diploma as their highest level of education. An average of 60 percent of college students across institutions earn more than a high school graduate after 10 years. However, at 1,233 postsecondary institutions (30 percent), more than half of their students 10 years after enrollment are earning less than a high school graduate. Our previous research indicates that these low earnings may relate to low graduation rates and disparities in earnings by gender and race and ethnicity.
On 02/14/2022, in 21st century, budgets, business, Daniel S. Christian, economics, faith, global / globalization, parents, productivity / tips and tricks, society, by Daniel Christian
Ecclesiastes 11:1-2 and 6 — Invest in Many Ventures; as written by King Solomon
11 Ship your grain across the sea;
    after many days you may receive a return.
2 Invest in seven ventures, yes, in eight;
    you do not know what disaster may come upon the land.
6 Sow your seed in the morning,
    and at evening let your hands not be idle,
for you do not know which will succeed,
    whether this or that,
    or whether both will do equally well.
---
From DSC:
Perhaps Solomon should get more credit as one of the first wise investment advisors. If he lived today, he would likely support diversification and support the concepts behind using index funds! 
---
The DOJ's $3.6B Bitcoin Seizure Shows How Hard It Is to Launder Crypto — from wired.com by Andy Greenberg
A couple allegedly used a "laundry list" of technical measures to cover their tracks. They didn't work.
Excerpt:
"What was amazing about this case is the laundry list of obfuscation techniques [Lichtenstein and Morgan allegedly] used," says Ari Redbord, the head of legal and government affairs for TRM Labs, a cryptocurrency tracing and forensics firm. Redbord points to the couple's alleged use of "chain-hopping"— transferring funds from one cryptocurrency to another to make them more difficult to follow—including exchanging bitcoins for "privacy coins" like monero and dash, both designed to foil blockchain analysis. Court documents say the couple also allegedly moved their money through the Alphabay dark web market—the biggest of its kind at the time—in an attempt to stymie detectives.
From DSC:
Easy to follow/understand, isn't it!?! Not.
The 4th Largest Crypto Theft Shows DeFi Weakness as Hacker Nets USD 325M in a Wormhole — from cryptonews.com by Linas Kmieliauskas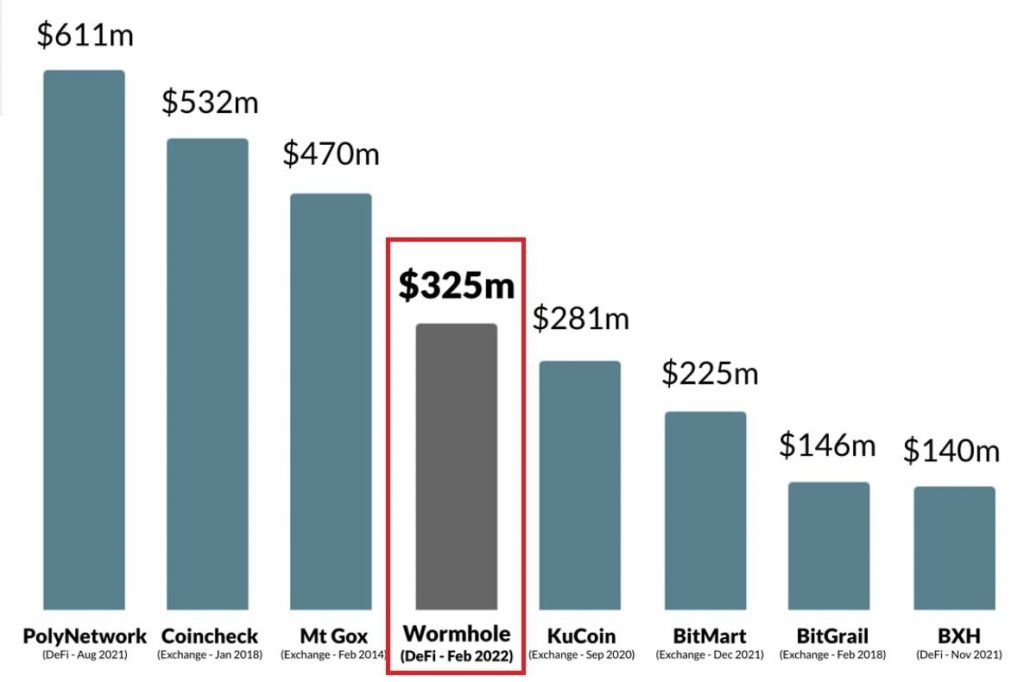 On 01/17/2022, in 21st century, colleges, community colleges, economics, legislatures / government / legal, platforms, policy, political science, United States, by Daniel Christian
---
From DSC:
Should Economics classes be looking at the idea of a digital dollar?
---
The battle for control of the digital dollar — from protocol.com
Excerpt:
After months of delay, the Federal Reserve's much-awaited report on a digital dollar could be out soon. Federal Reserve Chairman Jerome Powell told the Senate Banking Committee Tuesday that the white paper on a planned central bank digital currency (CBDC) is "ready to go," possibly in weeks.
But don't expect a detailed blueprint for an American CBDC. The white paper will be more of "an exercise in asking questions" about how the digital dollar should work, Powell said.
And there are plenty of questions. Some have already sparked a heated debate: How should consumers gain access to the digital dollar? And how much control should the Fed have?
Will a digital dollar lead to "digital authoritarianism"? That's one of the biggest fears about a digital currency: a Big Brother future where the Fed has the power to track how people spend their money.
Bored Ape Yacht Club NFT theft shows the ease of hacking crypto — from protocol.com by Tomio Geron
The blockchain puts power in the hands of individual crypto owners — which also makes them targets for criminals.
Excerpt:
The story of an art gallery owner who had $2.2 million worth of Bored Ape Yacht Club and other NFTs stolen is just the latest example of crypto theft, illustrating the vulnerability of buyers as a broader set of consumers venture into the field.
With NFTs, the issue has grown in importance as the market has transformed from a niche hobby to an active market filled with speculators and investors.
Todd Kramer of New York's Ross+Kramer gallery fell victim to a phishing scam in late December, according to a now-deleted tweet. He stored his NFTs using an internet-connected hot wallet — a less secure method — and a thief made off with 15 digital tokens worth $2.2 million.
From DSC:
How's the legal field doing here? Law enforcement? Governments? The banking systems?