On 07/04/2022, in 21st century, 24x7x365 access, 3D, A/V -- audio/visual, attention, education technology, emerging technologies, engagement / engaging students, history, Virtual Reality (VR) / worlds / learning, XR - extended reality, by Daniel Christian
This VR Bus Takes You On A Tour Of Ancient Rome — from vrscout.com by Bobbie Carlton
Hebrews 9:28 — from biblegateway.com
28 so Christ was sacrificed once to take away the sins of many; and he will appear a second time, not to bear sin, but to bring salvation to those who are waiting for him.
11 Yours, Lord, is the greatness and the power
    and the glory and the majesty and the splendor,
    for everything in heaven and earth is yours.
Yours, Lord, is the kingdom;
    you are exalted as head over all.
On 05/01/2022, in 21st century, 24x7x365 access, 3D, A/V -- audio/visual, Australia, communications, digital audio, digital storytelling, digital video, Emotion, experimentation, health, history, Holographic comms, ideas, innovation, parents, Uncategorized, United States, Virtual Reality (VR) / worlds / learning, XR - extended reality, by Daniel Christian
Grandpa Creates Hologram Twin For Future Grandkids Using VR — from vrscout.com by Kyle Melnick
Not even death will stop this tech-savvy grandfather from meeting his great-grandchildren.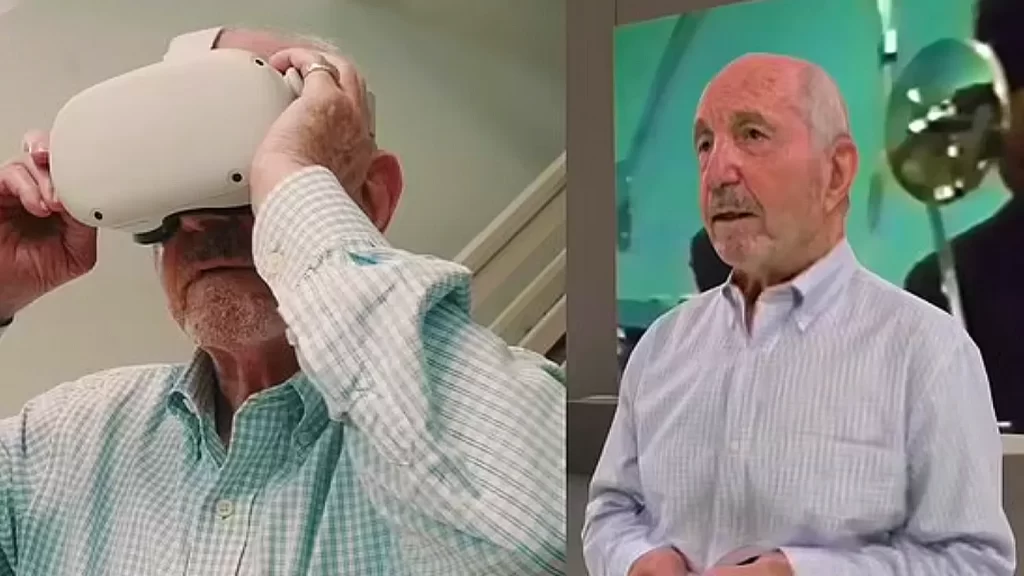 "I think it is a wonderful way to preserve my family's history for future generations," said Jerry while speaking to Jam Press. "To see myself like that, is just mind-blowing — it feels like watching a movie. By not just reading the words as in my memoir but to actually get the chance to see and hear me recalling the stories is just magical."
Also from Kyle Melnick:
How VR/AR Technology Is Being Used To Treat Autism
XRHealth brings its unique VR/AR therapy to the United States.

Excerpt:
Previously available in Australia, the technology has been used to treat the effects of autism, from anxiety and stress to attention, memory, mobility/coordination, and frustration tolerance. XRHealth's healthcare platform offers a variety of professional services. This includes one-on-one meet-ups with XRHealth therapists as well as virtual group sessions, all of which accessible remotely using modern VR headsets.
On 04/11/2022, in art, creativity, culture, Emotion, engagement / engaging students, health, history, psychology, skills, youth, by Daniel Christian
The top 5 benefits of art programs for children — from thetechedvocate.org by Matthew Lynch
Excerpt:
Schools across the country are removing art programs and classes. Some do so due to a lack of funding; others just don't believe it's an essential subject for children. Unfortunately, many schools and learning institutes don't realize the dangers of removing art. You wouldn't question Math or English as core subjects, but many question the importance of art.
Art nurture's a child's inner creativity. So, what benefits does art bring to a child?
Howard University to digitize its archive of thousands of Black newspapers — from nbcnews.com by Curtis Bunn
A $2 million grant will be used to digitize Howard's Black Press Archives, the largest collection of newspapers from the U.S., Africa and the African diaspora.
Excerpt:
Now, with the help of a $2 million grant announced Monday, Howard University's Moorland-Spingarn Research Center will make available countless articles that captured in real-time the impact of historical events on Black people that have long been difficult, if not impossible, to access. By digitizing its extensive Black Press Archives, anyone will be able to access Howard's collection of more than 2,000 newspapers from the United States, Africa and the African diaspora online.
On 12/13/2021, in 21st century, 24x7x365 access, A/V -- audio/visual, art, colleges, community colleges, content development, culture, Daniel S. Christian, digital audio, digital learning, digital video, drama/theater, education technology, engagement / engaging students, experimentation, higher education, history, ideas, instructional design, languages and translation, learning, learning ecosystem, Learning Experience Design, Learning from the Living [Class] Room, learning hubs & pods & microschooling, learning preferences, learning spaces, liberal arts, library / librarians, lifelong learning, love of learning, MOOCs -- Massive Open Online Courses, music, New "Amazon.com" of Higher Education, new business models, online learning, participation, platforms, religion, society, United States, universities, user experience (UX), vendors, videoconferencing, vision/possibilities, web-based collaboration, webinars, writing, by Daniel Christian
The Humanities May Be Declining at Universities — But They're Thriving on Zoom — from edsurge.com by Rebecca Koenig
Excerpt:
Throughout the pandemic, versions of this close-reading conversation have taken place week after week. Organized through new nonprofits and small startups including the Catherine Project, Night School Bar and Premise, they bring together adults who want to spend their free time talking to strangers about literature and philosophy.
It sounds at first like an ambitious book club—except for the fact that many of these seminars are organized and led by college professors, some so eager to participate that they do it for free.
"Mostly it's a way for them to do a kind of teaching they can't do at their regular jobs," explains Zena Hitz, founder of the Catherine Project and a tutor (faculty member) at St. John's College in Annapolis, Maryland.
From DSC:
I've often thought that online-based learning may be the thing that saves the liberal arts (i.e., available throughout one's lifetime and would be far less expensive). It would be ironic though, as many liberal arts institutions have not been proponents of online-based learning.