On 10/06/2021, in accessibility / UDL, assistive technologies, computer science, Michigan, platforms, society, special needs, tools, usability, user experience (UX), user interface design, vendors, by Daniel Christian
Also see:
Making Windows 11 the most inclusively designed version of Windows yet — from blogs.windows.com by Carolina Hernandez
On 09/17/2021, in accessibility / UDL, assistive technologies, Bias | Diversity Equity & Inclusion (DE&I), digital audio, digital equity, digital learning, digital video, education, education reform, engagement / engaging students, homeschooling/homeschoolers, learning, parents, participation, society, special needs, by Daniel Christian
The Beginner's Guide to Web Accessibility — from deque.com
Welcome to the Beginner's Guide to Accessibility! We're glad you're here. This guide is designed to teach you enough about the ins-and-outs of accessibility to get your bearings and to serve as a springboard for deeper investigation into the areas of accessibility that are most relevant to you and your needs.
If you're completely new to accessibility, we recommend starting at the beginning and reading the sections in order. However, if you aren't a complete beginner, are pressed for time, or simply prefer to jump around in order of personal interest, each section was written to stand alone as it's own little module of information.
Table of Contents

On 06/28/2021, in accessibility / UDL, assistive technologies, design, instructional design, interface design, productivity / tips and tricks, special needs, tools, vendors, web design and production, by Daniel Christian
10 Best Accessibility Tools For Designers — from hongkiat.com by Hongkiat Lim
Excerpt:
Today is the world of inclusive technology – websites, apps, and tech gadgets that are made for people with different kinds of abilities and inabilities. So when you're designing a website, you include features that make your design accessible to as many people as possible. And this is where accessibility tools come into play.
Instead of creating everything from scratch, here's a list of cool accessibility tools for designers. From creating color combinations according to WCAG standards to adding different reading modes to your website, these tools are a must-haves for every designer. Take a look at the list to know about each tool in detail.
Apple's latest accessibility features are for those with limb and vocal differences — from techcrunch.com by Devin Coldewey
Excerpt:
Apple announced a batch of accessibility features at WWDC 2021 that cover a wide variety of needs, among them a few for people who can't touch or speak to their devices in the ordinary way. With Assistive Touch, Sound Control and other improvements, these folks have new options for interacting with an iPhone or Apple Watch.
On 06/05/2021, in accessibility / UDL, assistive technologies, collaboration, communications, communities of practice, education, education reform, parents, special needs, by Daniel Christian
Technology Made Special Education Parents Better Advocates During the Pandemic — from edsurge.com by Nadia Tamez-Robledo
Excerpt:
Those are lessons that should stay in place long after our current era of remote learning, says research analyst Lane McKittrick, who focuses on special education and families at the Center on Reinventing Public Education. She recently co-authored a report on how charter schools effectively supported students with disabilities during the pandemic and is blogging about the topic.
McKittrick's disappointment didn't just come from her role as a researcher. She's also a mom to four children, three of whom are deafblind.
The schools that most successfully served their special education groups were those that prioritized communication and learning about families' needs, McKittrick found in her own analysis.
The Basic Accessibility Fundamentals Bootcamp!
Use this table of contents to jump to specific chapters of the video:
00:00 Introduction
16:24 Inclusion and Accessibility
43:11 What is Digital Accessibility
53:31 Accessibility User Persona
1:04:26 Accessibility Statistics
1:20:53 Accessibility Laws and Legal Landscape
1:44:08 Screen Reader Demo
2:03:32 Accessibility Demographics
2:33:57 Wrap Up Reflection
2:35:19 Q&A
GAAD 2021 Fundamentals Bootcamp Slides.pdf
Recommended Accessibility Books:
You'll Soon be Able to Use Your Apple Watch Without Touching the Screen — from wsj.com by Katie Deighton
Companies like Apple and Spotify are making it easier for people with disabilities to use their products. Accessibility advocates hope more follow suit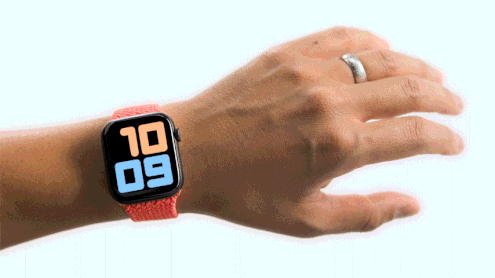 PHOTO: APPLE INC.
Excerpt:
Later this year, Apple Inc. will introduce features that allow users to control an iPad with their eyes, and its smartwatch with gestures like a pinch or a fist clench.
The company announced the moves this week as part of Global Accessibility Awareness Day on May 20, an event established in 2011. Other big tech players revealed initiatives and commitments of their own, from automatic podcast transcriptions by Spotify Technology S.A to the updated design of a specific virtual block in Microsoft Corp.'s "Minecraft" to make it more visible to colorblind players.
Global Accessibility Awareness Day is today!
Help us celebrate the tenth Global Accessibility Awareness Day (GAAD)! The purpose of GAAD is to get everyone talking, thinking and learning about digital access and inclusion, and the more than One Billion people with disabilities/impairments.
Also see:
Also see:
Professional Development for Digital Accessibility: A Needs Assessment — from qualitymatters.org
As the EdTech article, "Improving Accessibility for Students and Faculty with Disabilities," points out, the approach to accommodations for many institutions is still reactive instead of proactive.
So what can institutions do to become more proactive in their approach to digital accessibility? A 2019 survey of Higher Education Quality Matters Coordinators conducted by Barbara Frey, D.Ed., Point Park University, and Rae Mancilla, Ed.D., the University of Pittsburgh, identified the need for more professional development on the topic. Now, in the final white paper from their three-part series on digital accessibility, Drs. Frey and Mancilla provide a summary and analysis of the survey data on digital accessibility professional development needs.
Highlights include:
The key training areas that course developers can focus on to help faculty
How administrators can address common barriers to participation in digital accessibility training
How faculty can contribute to a meaningful accessibility training curriculum
Also see:
Designing Accessible IoT Experiences — from inclusionhub.com by Be My Eyes
While not every IoT product is designed with accessibility in mind, it has the potential to enable people with disabilities to communicate with and through technologies in ways that were previously unavailable
Excerpt:
As we have seen, the proliferation of both devices and tools to make devices smarter can have major benefits for people with disabilities. However, when these users are not considered during the creation of products and apps, these technologies can end up widening the accessibility gap, rather than closing it.
The key to providing accessible experiences for as wide a range of users as possible is to include a variety of stakeholders in the design and testing phases of any device. By inviting people with disabilities–including visual, hearing, cognitive and other–into the process, designers can ensure that their needs are met up front, rather than having to backfill or find work-around solutions post-launch.