On 10/12/2021, in 21st century, 24x7x365 access, 3D, A/V -- audio/visual, art, Augmented Reality (AR), Blockchain, business, career development, creativity, design, emerging technologies, engagement / engaging students, experimentation, future, law schools, legal technologies, legislatures / government / legal, multimedia, music, new business models, user experience (UX), user interface design, vendors, Virtual Reality (VR) / worlds / learning, vision/possibilities, XR - extended reality, by Daniel Christian
The Metaverse is Taking Over the Physical World — from interestingengineering.com by Rupendra Brahambhatt; with thanks to Dan Lejerskar for this resource
The virtual world is expanding with real world avatars and digital economy.
Excerpt:
The advent of AR, blockchain, and VR devices in the last few years has sparked the development of the metaverse. Moreover, the unprecedented growth of highly advanced technologies in the gaming industry, which offer immersive gameplay experiences, not only provides us a glimpse of how the metaverse would look like but also indicates that we are closer than ever to experience a virtual world of our own.
What is the metaverse?
Kelvin Han/Unsplash
A metaverse is a group of persistent, shared 3D virtual environments where you (in the form of your digital avatar) can visit places, shop for products, subscribe to services, work with your colleagues, play games, and even customize the scenes around you to meet your personal tastes and requirements, and the digital assets you own. So essentially, a metaverse is a virtual world or worlds, that would allow you to go inside the digital world — to be in rather than on the digital space.
From DSC:
Again I wonder….on the legal side of things…how will this impact what lawyers, judges, legislators, general counsels, and more need to know? Along these lines see:
To do this well, legal department heads and the lawyers and professionals in the department will have to learn, and practice, some new skills: embracing technology, project management, change management, and adaptability.
…
The first, and likely most obvious, skill an attorney needs in a rapidly evolving business environment is a firm grasp on existing and emerging technology. There are two important categories of technology to consider—the first is legal technology and the second is broader technology trends.
On 03/18/2021, in 21st century, 24x7x365 access, 3D, A/V -- audio/visual, active learning, collaboration, communications, computer science, content development, corporate / business world, corporate universities / corporate training, Daniel S. Christian, digital audio, digital learning, digital storytelling, distance education, drama/theater, education technology, educational games / serious games, emerging technologies, Emotion, engagement / engaging students, entrepreneurship, experimentation, future of higher education, future of legal industry, game-changing environment, higher education, human-computer interaction (HCI), ideas, innovation, interface design, Justice Tech, law schools, learning, learning ecosystem, Learning Experience Design, Learning from the Living [Class] Room, learning hubs & pods, learning spaces, media/film, online learning, online media, online tutoring, participation, platforms, society, storytelling, streams of content, teaching online, telelegal, telemedicine / telehealth / virtual health, tools, training / L&D, user experience (UX), vendors, vision/possibilities, web-based collaboration, webinars, by Daniel Christian
ARHT Media Inc.
Access The Power Of HoloPresence | Hologram Technology | Holographic Displays | Hologram Events
Excerpt:
ARHT Media mounted a holographic display at the event in Vancouver and had Sunlife's executive captured and transmitted live as a hologram to the event from our Toronto studio. He was able to see the audience and interact with them in realtime as if he was attending the event and present in the room.
From DSC:
Will holographic displays change what we mean by web-based collaboration?

Will this be a part of the future learning ecosystems inside of higher education? Inside of the corporate training world? Inside the world of events and webinars?

How will this type of emerging technology impact our communications? Levels of engagement?

Will this type of thing impact telehealth? Telelegal?

How will this impact storytelling? Media? Drama/acting? Games?

Will the price come down to where online and blended learning will use this type of thing?

Will streams of content be offered by holographic displays?
On 02/09/2021, in 3D, Augmented Reality (AR), collaboration, human-computer interaction (HCI), immersion, innovation, platforms, presentations, vendors, web-based collaboration, webinars, by Daniel Christian
Arvizio Brings AR Collaboration to Zoom Meetings with Immerse 3D App for Smartphones, HoloLens & Magic Leap — from next.reality.news by Tommy Palladino
Excerpt:
On Monday, the Canada-based company revealed Immerse 3D, an app for iOS, Android, HoloLens, and Magic Leap (listed as Arvizio Immerse 5.0) that works in conjunction with Arvizio Director PC collaboration software and Arvizio Cloud service to enable video conference participants to interact with the same 3D model simultaneously in AR.
Image via Arvizio
On 12/27/2020, in 3D, animation, art, creativity, design, digital audio, digital photography, digital storytelling, engineering, Europe, graphics, photography, story, storytelling, trends, visualizing information, by Daniel Christian
Mind-Bending 3D Staircase Wins the Best Illusion of the Year Contest — from interestingengineering.com by Loukia Papadopoulos
The winner's work is a mesmerizing take on the classic Schröder Staircase.
Coming Home for Christmas — from 500px.com by Arnd Kolleck
.

Animation Trends in 2021: Popping and Intriguing Animation Ideas — from graphicmama.com by Lyudmil Enchev
Excerpt:
Before we dive in, a quick list of the 9 animation trends in 2021:
1. 3D style
2. Live-Action and Animation Mix
3. Use Textures
4. Don't Underestimate Sound FX
5. Unique Characters and Illustration styles
6. Realistic Expressions
7. Glow and Shine Effects
8. Retro/Vintage Style Animations
9. Storytelling
.
Meet Texas A&M graduate Cheyenne Chapel, a CG artist behind Pixar's new animated film 'Soul' which premieres this Christmas on Disney+ — from victoriaadvocate.com by Joe Friar, with thanks to Keesa V. Johnson for posting this on LinkedIn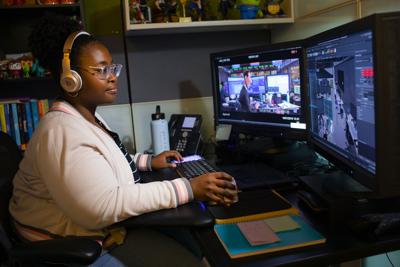 Cheyenne Chapel is photographed on January 21, 2020 at Pixar Animation Studios in Emeryville, Calif. (Photo by Deborah Coleman / Pixar)
Impressive Moving Dunes Optical Illusion — from fubiz.com
On 12/22/2020, in 21st century, 24x7x365 access, 3D, A/V -- audio/visual, collaboration, communications, design, emerging technologies, engineering, future, multimedia, platforms, productivity / tips and tricks, tools, visualizing information, web-based collaboration, by Daniel Christian

Sony to reveal all new Direct-View Display tech in January — from provideocoalition.com by Jose Antunes
Excerpt:
Sony will start 2021 unveiling "the next Sony breakthrough in premium Direct-View Display technology to faithfully bring content to life as the creator intended", announced the company.
Also see:
Sony Spatial Reality Display: 3D without glasses for creatives — from provideocoalition.com by Jose Antunes