On 05/23/2022, in 21st century, 24x7x365 access, A/V -- audio/visual, active learning, cloud-based computing / apps / other cloud-related, collaboration, colleges, community colleges, content development, education technology, engagement / engaging students, experimentation, face-to-face, faculty, graphics, higher education, human-computer interaction (HCI), interactivity, law schools, learning, learning ecosystem, Learning Experience Design, Learning from the Living [Class] Room, learning hubs & pods, learning spaces, liberal arts, mathematics, Michigan, online learning, online media, online tutoring, participation, platforms, productivity / tips and tricks, teaching & learning, tools, training / L&D, United States, universities, by Daniel Christian
On 05/23/2022, in A/V -- audio/visual, business, collaboration, communications, communities of practice, corporate / business world, corporate universities / corporate training, digital audio, digital learning, digital video, face-to-face, future, learning ecosystem, Learning Experience Design, learning hubs & pods, learning spaces, multimedia, participation, podcasting, productivity / tips and tricks, smart classrooms, training / L&D, vendors, videoconferencing, web-based collaboration, workplace, by Daniel Christian
What The Future Of Technology In The Workplace Means For Office Design And Operations — from workdesign.com by Mara Hauser
Excerpt:
Advances in technology continue to influence the workplace as corporate entities and coworking operators are confronted with modern challenges surrounding productivity and collaboration. We lead teams to execute intentional designs that reflect brand vision and produce lively, productive workspaces. With the growing demand from employees for workplace flexibility, these technological advancements must be reflected in both office design and business practices in order to add value and ultimately achieve operational excellence.
.
Podcasting studio at FUSE Workspace in Houston, TX.
On 04/26/2022, in education, homeschooling/homeschoolers, learning, learning ecosystem, Learning from the Living [Class] Room, learning hubs & pods, learning preferences, parents, United States, youth, by Daniel Christian
Homeschooling surge continues despite schools reopening — from apnews.com by Carolyn Thompson
Excerpt:
BUFFALO, N.Y. (AP) — The coronavirus pandemic ushered in what may be the most rapid rise in homeschooling the U.S. has ever seen. Two years later, even after schools reopened and vaccines became widely available, many parents have chosen to continue directing their children's educations themselves.
Homeschooling numbers this year dipped from last year's all-time high, but are still significantly above pre-pandemic levels, according to data obtained and analyzed by The Associated Press.
On 04/21/2022, in A/V -- audio/visual, active learning, collaboration, colleges, community colleges, education technology, experimentation, higher education, instructional design, IT in HE, law schools, learning, learning ecosystem, Learning Experience Design, learning hubs & pods, learning spaces, library / librarians, smart classrooms, United States, universities, user experience (UX), web-based collaboration, by Daniel Christian
EDUCAUSE QuickPoll Results: Learning Spaces Transformation — from er.educause.edu by Jenay Robert
Excerpts:
With an eye toward the future, IT units can help institutions create inclusive, flexible spaces that support a variety of learning activities and modalities. Appropriate technology infrastructure, strategic support from institutional leaders, and financial resources are among the most essential elements for transforming learning spaces.
.
Figure 1. Types of Learning Spaces Being Transformed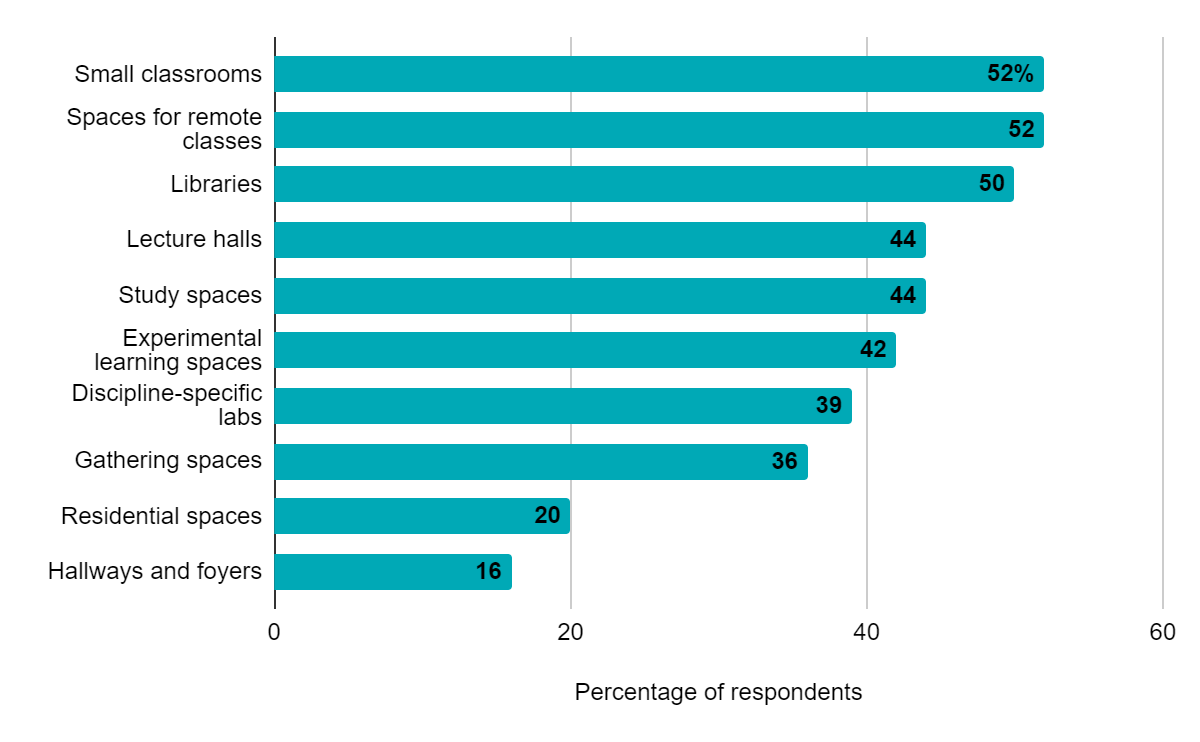 On 04/21/2022, in Access to Justice (A2J), adult learning, change, collaboration, colleges, communities of practice, community colleges, education, education reform, Emotion, hearts -- matters of the heart, higher education, law schools, learning ecosystem, learning hubs & pods, learning spaces, legal reform, legislatures / government / legal, lifelong learning, motivation, participation, reinvent, skills, society, sociology, by Daniel Christian
I Grew Up Believing I Was Dumb. A College Education Behind Bars Healed That Wound https://t.co/PsUZ2LyOxa via @MarshallProj

— Paul Czarapata (@pczarapata) April 21, 2022
Seeing the possibilities, I finally took a chance. I studied English, political science and finite math, and each class I passed deepened my confidence and self-love.

This growing self-love was key to my academic development. Growing up, I didn't experience much real love, outside of my mother and a few family members. I most often encountered the kind of false love expressed through violence and monetary possessions. College changed the way I thought about myself and others. I worked hand-in-hand with men from all backgrounds to complete assignments, and even taught other students. Before I knew it, I was getting A's on my essays and solving quadratic equations in math class.
…
When people question why it's important to educate prisoners, I remind them that to see change, we must support change. We must give individuals the opportunity to see themselves as more than the harm they've caused, more than what was once broken within them.


Christopher Blackwell
Also relevant/see:
On 03/27/2022, in A/V -- audio/visual, blended learning, colleges, community colleges, distance education, drama/theater, education technology, Europe, face-to-face, higher education, hybrid learning, Hyflex learning, instructional design, law schools, learning, learning ecosystem, Learning from the Living [Class] Room, learning hubs & pods, learning spaces, multimedia, new media literacies, smart classrooms, teaching & learning, universities, vendors, videoconferencing, Virtual Reality (VR) / worlds / learning, by Daniel Christian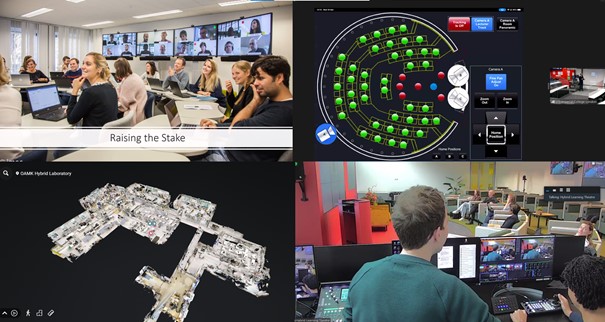 Clockwise from top left (KU Leuven, Imperial College London, University of Amsterdam,
Oulu University of Applied Sciences, Finland
.
A virtual tour of four advanced hybrid learning spaces — from zacwoolfitt.blogspot.com by Zac Woolfitt
Excerpt:
What are the next developments in the Hybrid Virtual Classroom? What kind of spaces might we be teaching in soon?
On March 16th we glimpsed the future. Colleagues from 4 higher education institutes gave virtual tours of their technology rich learning spaces in Belgium, England, Finland and the Netherlands. Media and Learning arranged the session [i]. (Disclosure: Zac is on their advisory panel of Media and Learning).
From DSC:
Here in the U.S., some would promote the use of the word "Hyflex" here instead of hybrid or blended learning — as it sounds like they are simultaneously teaching students in a physical classroom along with online-based learners.