"We must invest in building the new policies, practices, and infrastructure that drive transformational
change toward aligned, lifelong learning ecosystems w/personalized + #CBE pathways. In learning ecosystems, learning is organized around individuals…" https://t.co/xWCIngcEV5

— Emily Liebtag, Ed.D. (@EmilyLiebtag) July 21, 2022
Aurora Institute: Federal Policy Priorities and Recommendations 2022 — from aurora-institute.org
Introduction:
It is critically important for our country to reimagine education and focus on investing in our future, not our past. The current K-12 education system has not produced equitable outcomes for all students. We must change policies and invest in innovation to transform our education systems. Student-centered policies are needed for true systems change and innovations for equity. We must challenge frames and investments that perpetuate tinkering with the existing system, rather than reimagining it. The time is ripe to redesign education to align with future needs and purposes to achieve human flourishing.
To ensure all learners are prepared for life's uncertainties, as well as a more knowledge-driven workforce and economy, we must restructure the education system to universally recognize anytime, anywhere learning. Many states and districts have taken steps to move in new and improved directions, but more work must be done to meet students where they are and accelerate them to successful futures and prosperity. We must question the fundamental purposes of our education system, align our goals to that purpose, and expand learning to anytime and anyplace, with greater opportunities for next generation learning.
Aurora Institute's latest Federal Policy Priorities represent an equity-oriented and future-focused set of recommendations designed to ensure that the nation's education system moves from its current state to a system capable of preparing all learners with the knowledge and skills necessary to achieve lifelong success.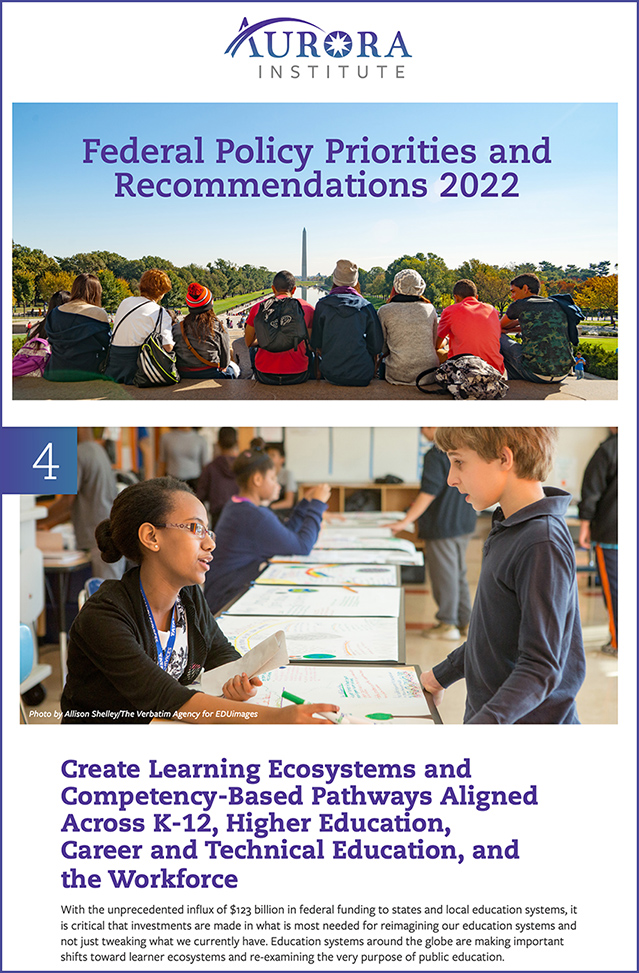 ---
From DSC:
I post this because I like the design thinking exhibited herein. I love the idea of greater collaboration between K-12, higher education, vocational training, and the workforce/workplace. We should consider eliminating — or at least building much better bridges between the — existing silos. These silos seem to be easier to put up than they are to take down.
---