From DSC:
Thanks to Mr. Andrew Vanden Heuvel (one of the early explorers), I was able to briefly try Google Glass out today
I can see numerous applications involving augmented reality, journalism, videography, medicine, and other disciplines/areas.  However, I can also see how this sort of thing comes with concerns re: privacy and security. But as with any technology, the technology itself is neither good nor bad — it's how we use it.
On 05/07/2013, in A/V -- audio/visual, Adobe, Bring your own device (BYOD), cloud-based computing / apps / other cloud-related, collaboration, creativity, Daniel S. Christian, emerging technologies, experimentation, future, future of higher education, innovation, interactivity, journalism, learning ecosystem, Learning from the Living [Class] Room, learning spaces, MOOCs -- Massive Open Online Courses, multi-touch, multimedia, publishing, smart classrooms, tools, web-based collaboration, workplace, by Daniel Christian
From DSC: re: Adobe's Project Context:
This is the type of hardware/software combination that I've been hoping for and envisioning! Excellent!
It appears to be the type of setup whereby students could quickly and easily collaborate with one another — in a face-to-face setting (and ideally in remote locations as well) — by not just displaying files but also being able to share files with one another.  Files can be sent up to the interactive, multi-touch displays as well as to an interactive table. So it's not just displaying files, but actually sharing files and being able to collaboratively work on a project.
Eventually, I see this being able to be done in your living room.  What if MOOCs could integrate this type of web-based collaboration into their projects?
But for now, this is a HUGE step forward in this vision. Great work Adobe! This is innovative! Very helpful!
Example screenshots: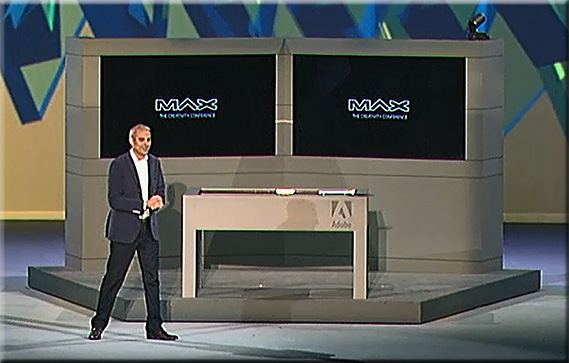 .
.
.
..
Also see:
Adobe's hardware experiments are more than just hobbies: Hands-on with Project Context –– from techcrunch.com by Frederic Lardinois
Excerpt (

emphasis DSC

):
At its MAX conference in Los Angeles [on 5/6/13], Adobe showed  quite a few products that will soon be available to its customers, but it also highlighted a number of hardware experiments, including Project Context, a totally re-imagined way for creating magazine layouts, as well as an advanced stylus and a ruler for touchscreens.
.
On 04/11/2013, in 21st century, Daniel S. Christian, emerging technologies, faith, global / globalization, hearts -- matters of the heart, relationships, society, the downsides of technology, by Daniel Christian
I will give you a new heart and put a new spirit in you; I will remove from you your heart of stone and give you a heart of flesh.
.

Looking at a sampling (below) of the emerging technologies starting to hit the landscapes…
I am struck with the thought that, we need as many hearts of flesh out there as possible! 
I hope that these types of very powerful technologies are used by people who care about each other and who respect the dignity of others; those who lift up and value life.
---
Are we paying enough attention to information technology's dark side?
Excerpt:
Technological power is not new, of course, but information technology's exponential pace and declining cost is changing how the global game is played and who the players are. Control of technology is passing from the richest states and governments to smaller groups and individuals, and the results are both inspiring and terrifying. As Goodman says, "The ability of one to affect many is scaling exponentially—and it's scaling for good and it's scaling for evil."
The future of surveillance will turn society into a massive online game (Quick comment from DSC: While I dislike the title of this article, it's very relevant to this posting.)
A search engine for The Internet of Things (IoT)
Shodan, a little-known search engine, is the go-to site to find out about nuclear power plants control centers, gas stations, and highway signs connected to the internet.
The terrifying future is 3D printed weapons <– the dark side of 3D printing
and/or
This item on the DoD's PETMAN project
For some, Google Glasses raise privacy concerns
As the launch of the latest interactive technology creeps closer, discussions about how the public will adapt have started to surface.
Also I just saw/missed this:
…and:
Internet of Everything Economy HD — video by Cisco
Published on Feb 28, 2013
Discover the value of connections when people, process, data and things converge on the Internet of Everything. It's estimated those connections will yield $14.4 trillion for businesses over the next decade in the Internet of Everything economy. Learn more: http://cs.co/jlbYTioee.  It's hard to put a value on increased connectedness, but when it comes to business, we've done exactly that. Read the report: http://cs.co/jlbYThg5.
On 04/04/2013, in A/V -- audio/visual, Bring your own device (BYOD), Daniel S. Christian, digital learning, education technology, educational games / serious games, elearning, emerging technologies, innovation, interactivity, learning ecosystem, Learning from the Living [Class] Room, learning spaces, MOOCs -- Massive Open Online Courses, second screen apps, smart classrooms, smart/connected TV, streams of content, by Daniel Christian
Dual screen: The evolution of the second screen — from blog.brightcove.com by Albert Lai
Excerpt (emphasis DSC):
Educational Gamification
In a previous post, we asked readers to suggest their ideas for dual screen applications. One of the more intriguing responses was the suggestion to create companion educational games to accompany associated video content.
In a dual screen experience, as video content is displayed on the television, the application can engage the viewer with relevant and education activities, from content reinforcement to spelling to trivia to memory "games." One can imagine an interactive amalgamation of Dora the Explorer, Where in the World Is Carmen Sandiego?, and Schoolhouse Rock!
.
.
Addendum on 4/8/13:
On 04/04/2013, in 21st century, business, change, economics, emerging technologies, global / globalization, innovation, internet, machine-to-machine communications, trends, by Daniel Christian
The Internet of Things: When GE sees a $ trillion opportunity, you might want to take it seriously. — from thebln.com by Mark Littlewood
.
— The link/posting above is from March 12, 2013
— The item below is from November 26, 2012
Some sample images:
On 04/03/2013, in 21st century, A/V -- audio/visual, emerging technologies, engagement / engaging students, learning ecosystem, learning spaces, multi-touch, multimedia, second screen apps, smart classrooms, user experience (UX), user interface design, by Daniel Christian
Everything you need to know about the new Internet — The 'Internet Of Things' — from businessinsider.com by Julie Bort
Excerpt:
On June 6, 2012, a brand-new version of the Internet was turned on.
Chances are you didn't notice anything different that day, as we switched over to Internet Protocol Version 6, or IPv6. Engineers worked for years so the new Internet could be turned on without causing problems.
But in the coming years, this new Internet will change your life dramatically. It will lead to the realization of a concept called "The Internet of Things," where everything—not just computers—gets connected.