On 05/11/2022, in 21st century, Canada, change, changing business models, India, Legal operations, legal reform, legal technologies, legislatures / government / legal, policy, society, United States, Virtual courts, by Daniel Christian
Is the virtual courtroom the future of the justice system? — from deseret.com by Zakary Sonntag
Video proceedings have increased court access but raised questions of rights amid case backlog
Excerpt:
The justice system in Utah is straining under the weight of an immense backlog of criminal cases, especially serious felony cases, leaving many defendants to languish in custody as additional filings continue to accumulate.
The buildup began in 2020 after the Utah Supreme Court ordered the shutdown of in-person proceedings in response to the coronavirus, which left attorneys and judges to hash out settlements through a remote, Webex court process.
The pandemic's impact on the legal sector and what emerging lawyers need to know — from timesofindia.indiatimes.com by Roma Priya
Excerpt:
For aspiring lawyers and law school graduates who have commenced practice recently, one of the best ways to stay relevant is to upskill yourself. Apart from the legal industry-related skills as a lawyer, such as in-depth knowledge about clients, the law, and other subjects, communication skills, problem solving and analytical skills, and tech skills are crucial. 
Today, digitally-savvy lawyers are in high demand as technology continues to evolve and progress. And as the Indian Judiciary System gradually acquaints itself with cutting-edge technologies, emerging lawyers must do the same.
About one-fifth of lawyers and staffers considered suicide at some point in their careers, new survey says — from abajournal.com by Debra Cassens Weiss
A new survey of lawyers and staff members hailing mostly from BigLaw has found that anxiety, depression and isolation remain at concerning levels, despite a slight decrease in the percentages since the survey last year.
When is a legal department ready to transform? — from advisory.kpmg.us by Eric Gorman, Kimberly Majure, and Jeff Ikejiri
Explore the catalysts for change
…legal departments that identify and agree on a motive to change, and then are alert for opportunities to act, are legal departments that are ready to transform.
---
From DSC:
I saw the link to LitSoftware at the posting entitled, Three Lessons In Persuasive Trial Technology (from legaltechmonitor.com by Stephen Embry)..  I thought it offered some interesting software: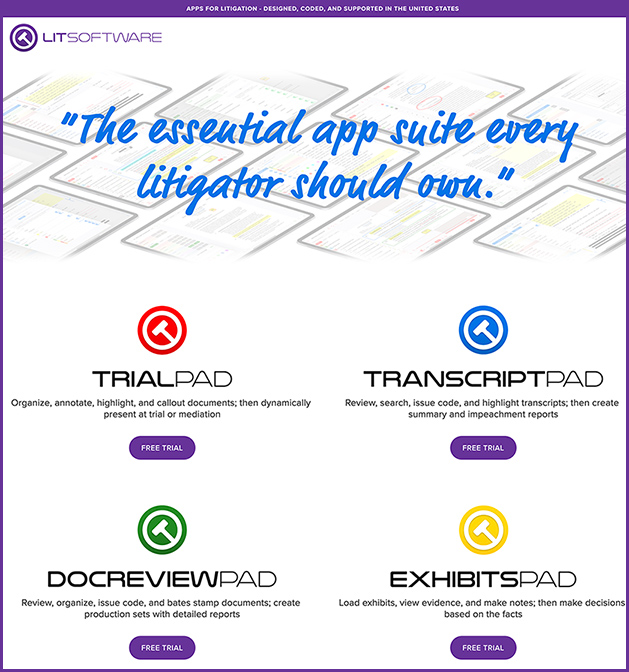 ---
The Top 3 Legal Technology Trends of 2022 — from lexology.com by Sean Heck
Excerpts:
Web-Based Contract Management Tools for Remote Legal Operations
Online, Web-Based Document Editing
Contract AI With Machine Learning for Intelligent CLM
Litera legal survey shows that technology is driving change in all aspects of M&A practice — from canadianlawyermag.com by Annabel Oromoni
Excerpt:
The global pandemic and the increasing reliance on technology to facilitate remote legal work and collaboration have accelerated the legal profession's interest in technology-based solutions. A recent survey by Litera, a legal tech company, revealed that technology significantly impacts M&A practices in law firms.
Litera's survey included insights from over 200 lawyers whose practices focus on M&A in the United States, the United Kingdom, and Canada.
David Curle, legal content and research lead at Litera, says the legal profession is fragmented, and Litera sought to receive responses about technology use, adoption, and spending from M&A lawyers specifically.
6 Types of Software for Your In-House Legal Team Needs — from jdsupra.com
Excerpt:
Most legal teams rely heavily on documents and communication for their work, and handling all the related operations may not be as simple as you would like it to be. Unless you change your approach to document management and start exploring tech solutions that improve team efficiency.
Automation software has helped many businesses and departments streamline all or most of their operations and improve their efficiency. The same can be done for a legal team.
In this article, let's focus on the types of automation software for in-house counsel along with some of the top examples.
---
Addendum later on 5/11/22:
ANALYSIS: Lawyers' Top Legal Tech Tools—And Biggest Blind Spots — from news.bloomberglaw.com by Racheal Pikulski, Princess Onyiri, and Lida Ouyang
---
Addendum later on 5/11/22:
On 05/09/2022, in Alternatives, business side of he, change, changing business models, cloud-based computing / apps / other cloud-related, collaboration, colleges, community colleges, content aggregration, content development, content repositories, cost of getting a degree, credentialing, curriculum, digital learning, experimentation, game-changing environment, health, higher education, learning ecosystem, legislatures / government / legal, MOOCs -- Massive Open Online Courses, online learning, policy, teaching & learning, technology (general), trends, United States, universities, by Daniel Christian
100 Universities established an OPM, Bootcamp or Pathways partnership in Q1 2022 — from holoniq.com
Bootcamps are directing more resources B2B and B2G, OPMs are growing existing partnerships further and evolving their technology and healthcare programs.
Excerpt:
Higher Education, like the broader economy, is awkwardly emerging from an almost exclusively digital, isolated and stimulus fuelled environment into… well it's not clear yet. University Partnerships continued to be established at pace through Q1 2022, albeit at a much slower rate than through 2021.
---
---
Also relevant/see:
College contracts with OPMs need better oversight, watchdog says — from highereddive.com by Natalie Schwartz
Excerpt from Dive Brief:
The U.S. Department of Education should strengthen oversight of colleges' relationships with companies that help them launch and build online programs, according to a new report from the U.S. Government Accountability Office, an auditing agency for Congress.
---
Addendum on 5/11/22:
---
On 03/28/2022, in 21st century, 3D, analytics, Artificial Intelligence / Machine Learning / Deep Learning, business, computer science, corporate / business world, emerging technologies, ethics, future, game-changing environment, law schools, legislatures / government / legal, morals/values, NVIDIA, policy, technology (general), United States, universities, workplace, by Daniel Christian
Announcing the 2022 AI Index Report — from hai.stanford.edu by Stanford University
Excerpt/description:
Welcome to the Fifth Edition of the AI Index
The AI Index is an independent initiative at the Stanford Institute for Human-Centered Artificial Intelligence (HAI), led by the AI Index Steering Committee, an interdisciplinary group of experts from across academia and industry. The annual report tracks, collates, distills, and visualizes data relating to artificial intelligence, enabling decision-makers to take meaningful action to advance AI responsibly and ethically with humans in mind.
The 2022 AI Index report measures and evaluates the rapid rate of AI advancement from research and development to technical performance and ethics, the economy and education, AI policy and governance, and more. The latest edition includes data from a broad set of academic, private, and non-profit organizations as well as more self-collected data and original analysis than any previous editions.
Also relevant/see:
Nvidia believes Instant NeRF could generate virtual worlds, capture video conferences in 3D, and reconstruct scenes for 3D maps.
On 02/25/2022, in algorithms, Artificial Intelligence / Machine Learning / Deep Learning, Asia, emerging technologies, ethics, future, game-changing environment, law schools, legislatures / government / legal, morals/values, platforms, policy, political science, privacy, society, the downsides of technology, by Daniel Christian
China Is About to Regulate AI—and the World Is Watching — from wired.com by Jennifer Conrad
Sweeping rules will cover algorithms that set prices, control search results, recommend videos, and filter content.
Excerpt:
On March 1, China will outlaw this kind of algorithmic discrimination as part of what may be the world's most ambitious effort to regulate artificial intelligence. Under the rules, companies will be prohibited from using personal information to offer users different prices for a product or service.
The sweeping rules cover algorithms that set prices, control search results, recommend videos, and filter content. They will impose new curbs on major ride-hailing, ecommerce, streaming, and social media companies.
On 02/24/2022, in change, education, leadership, learning ecosystem, policy, psychology, society, United States, youth, by Daniel Christian
Rebalancing: Children first — from brookings.edu by Natasha Cabrera, David Deming, Veronique de Rugy, Lisa A. Gennetian, Ron Haskins, Dayna Bowen Matthew, Richard V. Reeves, Isabel V. Sawhill, Diane Whitmore Schanzenbach, Kosali Simon, Katharine B. Stevens, Michael R. Strain, Ryan Streeter, James Sullivan, W. Bradford Wilcox, and Lauren Bauer
A report of the AEI-Brookings Working Group on Childhood in the United States
Excerpts (emphasis DSC):
The future of America rests in part on how the country prepares the next generation to live and to lead. Childhood is a consequential and cost-effective time to make investments that last a lifetime. Yet, many children in the United States do not have the resources or relationships they need to build a strong foundation for their future.
…
Yet, one area of resounding agreement among this diverse group is the need to rebalance national investments toward children. What follows is a consensus report on our conclusions, laying out actionable policies across a range of policy areas to improve the life of every child in the United States.
Along these lines, also see:
On 02/12/2022, in colleges, community colleges, future of higher education, game-changing environment, higher education, legislatures / government / legal, policy, trends, United States, universities, by Daniel Christian
Higher Ed Dive's 2022 Outlooks — from highereddive.com by Higher Ed Dive Staff
Here are the trends and questions facing higher education that we're watching, from enrollment pressures to key court cases and for-profit colleges' future.
Excerpt:
In the first few weeks of the new year, we looked ahead at important trends to watch and questions to ask for college administrators — and any other leaders who care deeply about the higher education sector.
These 2022 outlooks offer a chance to step back and take stock of issues that will be with us through the year. We gathered them here for you in once place.