On 09/24/2021, in 21st century, Artificial Intelligence / Machine Learning / Deep Learning, career development, collaboration, corporate / business world, corporate universities / corporate training, engineering, entrepreneurship, ethics, game-changing environment, generational differences, health, ideas, innovation, morals/values, platforms, productivity / tips and tricks, professional development, science, society, workplace, by Daniel Christian
Artificial Intelligence: Should You Teach It To Your Employees?— from forbes.com by Tom Taulli
Excerpt:
"If more people are AI literate and can start to participate and contribute to the process, more problems–both big and small–across the organization can be tackled," said David Sweenor, who is the Senior Director of Product Marketing at Alteryx. "We call this the 'Democratization of AI and Analytics.' A team of 100, 1,000, or 5,000 working on different problems in their areas of expertise certainly will have a bigger impact than if left in the hands of a few."
New Artificial Intelligence Tool Accelerates Discovery of Truly New Materials — from scitechdaily.com
The new artificial intelligence tool has already led to the discovery of four new materials.
Excerpt:
Researchers at the University of Liverpool have created a collaborative artificial intelligence tool that reduces the time and effort required to discover truly new materials.
AI development must be guided by ethics, human wellbeing and responsible innovation — from healthcareitnews.com by Bill Siwicki
An expert in emerging technology from the IEEE Standards Association describes the elements that must be considered as artificial intelligence proliferates across healthcare.
Need to Fit Billions of Transistors on a Chip? Let AI Do It — from wired.com by Will Knight
Excerpt:
ARTIFICIAL INTELLIGENCE IS now helping to design computer chips—including the very ones needed to run the most powerful AI code.
Sketching out a computer chip is both complex and intricate, requiring designers to arrange billions of components on a surface smaller than a fingernail. Decisions at each step can affect a chip's eventual performance and reliability, so the best chip designers rely on years of experience and hard-won know-how to lay out circuits that squeeze the best performance and power efficiency from nanoscopic devices. Previous efforts to automate chip design over several decades have come to little.
But recent advances in AI have made it possible for algorithms to learn some of the dark arts involved in chip design. This should help companies draw up more powerful and efficient blueprints in much less time. Importantly, the approach may also help engineers co-design AI software, experimenting with different tweaks to the code along with different circuit layouts to find the optimal configuration of both.
On 07/05/2021, in Amazon, business, corporate / business world, dangers of the status quo, Daniel S. Christian, engineering, geography / geology, health, society, UK, United States, workplace, by Daniel Christian
Amazon Contractors Are Revolting, Here Are Their Demands — from interestingengineering.com by Loukia Papadopoulos
Two major delivery partners announced they chose to shut down rather than keep sating Amazon's draconian demands.
Excerpt:
The firms essentially offered Amazon an ultimatum to either agree to a set of conditions that they said would improve driver safety, or they would shut down — well, Amazon is their only client. Amazon refused, and the two companies actually followed through with their ultimatum.
From DSC:
Our son, who is college age, worked at an Amazon distribution center last summer. He is typically a healthy person. But his back and knees did not do well over the summer. After just a few weeks of having to meet an aggressive (and constant) quota of items being shipped, pains and issues started appearing. I don't know how some of their employees keep up the pace that they are required to maintain…hour after hour after hour after hour…day after day, month after month.
Also see:
Amazon is destroying millions of unsold goods, from smart TVs to laptops — from fastcompany.com by Lucy Wishart
An Amazon warehouse exposé in the UK underscores a larger problem with how goods are treated as disposable.
Excerpt:
A recent undercover investigation in an Amazon warehouse in Dunfermline, Scotland, reported the disposal of more than 130,000 "new or lightly used" objects in a single week in just that one location. Public outrage was clear. Questions were asked about how Amazon could be so wasteful and why weren't the usable objects sent to those in need?
Exclusive: Amazon is destroying millions of items of unsold stock in one of its UK warehouses every year, an ITV News investigation has uncovered.

Many of the products – including smart TVs and laptops – are often new and unused. https://t.co/OJjexB0YQd#AmazonWaste pic.twitter.com/UR7XrLWvIM

— ITV News (@itvnews) June 21, 2021
Papercraft Heidelberg Letterpress — from theawesomer.com by Lee Ji-hee
Korean artist Lee Ji-hee created this incredibly intricate papercraft replica of the original Heidelberg Letterpress. She made the sculpture from paper and corrugated cardboard…
On 06/28/2021, in animation, architecture, communications, creativity, digital learning, digital storytelling, digital textbooks, digital video, distance education, education technology, engagement / engaging students, engineering, homeschooling/homeschoolers, instructional design, learning, learning ecosystem, Learning Experience Design, Learning from the Living [Class] Room, media/film, multimedia, by Daniel Christian
On 06/19/2021, in computer science, creativity, design, digital audio, digital learning, digital video, engineering, programming, technologies for your home, tools, vendors, by Daniel Christian
60 Cool Home Offices and Workstations Setup, Vol. 4 — fromhongkiat.com
On 06/16/2021, in 21st century, computer science, Daniel S. Christian, emerging technologies, engineering, Europe, future, global / globalization, platforms, policy, political science, programming, robotics, society, the downsides of technology, by Daniel Christian
Watch a Drone Swarm Fly Through a Fake Forest Without Crashing — from wired.com by Max Levy
Each copter doesn't just track where the others are. It constantly predicts where they'll go.
From DSC:
I'm not too crazy about this drone swarm…in fact, the more I thought about it, I find it quite alarming and nerve-racking. It doesn't take much imagination to think what the militaries of the world are already doing with this kind of thing. And our son is now in the Marines. So forgive me if I'm a bit biased here…but I can't help but wondering what the role/impact of foot soldiers will be in the next war? I hope we don't have one. 
Anway, just because we can…
On 06/07/2021, in 24x7x365 access, Amazon, Artificial Intelligence / Machine Learning / Deep Learning, biology, career development, culture, engineering, health, innovation, law schools, legal reform, legislatures / government / legal, policy, society, the downsides of technology, United States, by Daniel Christian
---
From DSC:
Again, as you can see from the items below…there are various plusses and minuses regarding the use of Artificial Intelligence (AI). Some of the items below are neither positive or negative, but I found them interesting nonetheless.
---
How Amazon is tackling the A.I. talent crunch — from fortune.com by Jonathan Vanian
Excerpt:
"One way Amazon has adapted to the tight labor market is to require potential new programming hires to take classes in machine learning, said Bratin Saha, a vice president and general manager of machine learning services at Amazon. The company's executives believe they can teach these developers machine learning basics over a few weeks so that they can work on more cutting-edge projects after they're hired."
…
"These are not formal college courses, and Saha said the recruits aren't graded like they would be in school. Instead, the courses are intended to give new developers a foundation in machine learning and statistics so they can understand the theoretical underpinnings."
Machine Learning Can Predict Rapid Kidney Function Decline — from sicklecellanemianews.com by Steve Bryson PhD; with thanks to Sam DeBrule for this resource
Excerpt:
Machine learning tools can identify sickle cell disease (SCD) patients at high risk of progressive kidney disease as early as six months in advance, a study shows.  The study, "Using machine learning to predict rapid decline of kidney function in sickle cell anemia," was published in the journal eJHaem.
NYPD's Sprawling Facial Recognition System Now Has More Than 15,000 Cameras — from vice.com by Todd Feathers; with thanks to Sam DeBrule for this resource
The massive camera network is concentrated in predominantly Black and brown neighborhoods, according to a new crowdsourced report.
Excerpt:
The New York City Police Department has built a sprawling facial recognition network that may include more than 15,000 surveillance cameras in Manhattan, Brooklyn, and the Bronx, according to a massive crowdsourced investigation by Amnesty International.
…
"This sprawling network of cameras can be used by police for invasive facial recognition and risk turning New York into an Orwellian surveillance city," Matt Mahmoudi, an artificial intelligence and human rights researcher at Amnesty, wrote in the group's report. "You are never anonymous. Whether you're attending a protest, walking to a particular neighbourhood, or even just grocery shopping—your face can be tracked by facial recognition technology using imagery from thousands of camera points across New York."
Related to that article is this one:
The All-Seeing Eyes of New York's 15,000 Surveillance Cameras — from wired.com by Sidney Fussell
Video from the cameras is often used in facial-recognition searches. A report finds they are most common in neighborhoods with large nonwhite populations.
Excerpt:
A NEW VIDEO from human rights organization Amnesty International maps the locations of more than 15,000 cameras used by the New York Police Department, both for routine surveillance and in facial-recognition searches. A 3D model shows the 200-meter range of a camera, part of a sweeping dragnet capturing the unwitting movements of nearly half of the city's residents, putting them at risk for misidentification. The group says it is the first to map the locations of that many cameras in the city.
Don't End Up on This Artificial Intelligence Hall of Shame — from wired.com by Tom Simonite
A list of incidents that caused, or nearly caused, harm aims to prompt developers to think more carefully about the tech they create.
Excerpt:
The AI Incident Database is hosted by Partnership on AI, a nonprofit founded by large tech companies to research the downsides of the technology. The roll of dishonor was started by Sean McGregor, who works as a machine learning engineer at voice processor startup Syntiant. He says it's needed because AI allows machines to intervene more directly in people's lives, but the culture of software engineering does not encourage safety.
On 05/31/2021, in Artificial Intelligence / Machine Learning / Deep Learning, business, corporate / business world, Critical thinking, culture, Daniel S. Christian, emerging technologies, Emotion, engineering, entrepreneurship, Facebook, Google, hearts -- matters of the heart, history, ideas, relationships, religion, society, surviving, United States, workplace, youth, by Daniel Christian
2 Chronicles 10 (NIV) — from biblegateway.com (emphasis DSC)
Excerpt:
10 Rehoboam went to Shechem, for all Israel had gone there to make him king. 2 When Jeroboam son of Nebat heard this (he was in Egypt, where he had fled from King Solomon), he returned from Egypt. 3 So they sent for Jeroboam, and he and all Israel went to Rehoboam and said to him: 4 "Your father put a heavy yoke on us, but now lighten the harsh labor and the heavy yoke he put on us, and we will serve you."
5 Rehoboam answered, "Come back to me in three days." So the people went away.
6 Then King Rehoboam consulted the elders who had served his father Solomon during his lifetime. "How would you advise me to answer these people?" he asked.
7 They replied, "If you will be kind to these people and please them and give them a favorable answer, they will always be your servants."
8 But Rehoboam rejected the advice the elders gave him and consulted the young men who had grown up with him and were serving him. 9 He asked them, "What is your advice? How should we answer these people who say to me, 'Lighten the yoke your father put on us'?"
10 The young men who had grown up with him replied, "The people have said to you, 'Your father put a heavy yoke on us, but make our yoke lighter.' Now tell them, 'My little finger is thicker than my father's waist. 11 My father laid on you a heavy yoke; I will make it even heavier. My father scourged you with whips; I will scourge you with scorpions.'"
12 Three days later Jeroboam and all the people returned to Rehoboam, as the king had said, "Come back to me in three days." 13 The king answered them harshly. Rejecting the advice of the elders, 14 he followed the advice of the young men and said, "My father made your yoke heavy; I will make it even heavier. My father scourged you with whips; I will scourge you with scorpions."
From DSC:
The new, younger king didn't listen to the older, more experienced people (i.e., the elders) who had worked with King Solomon (a king who reigned over a united Israel for 40 years…and a person whom the Bible says was the wisest king of all time). Instead the younger king sought the counsel of his younger peers and went with that advice. This led to Rehoboam's downfall — at least in terms of keeping a strong, united Israel. He was only a king of a much smaller kingdom due to his decision and actions.
What might the youth of today learn from this? How might entrepreneurs learn from this? What might companies like Google, Facebook, and others learn from this? How might this impact how we go about developing the culture of a company? What's valued and what's not valued?
There are probably different lessons one can learn from 2 Chronicles Chapter 10. But here's one example that comes to my mind…
…just because we can…

…doesn't mean we should.

On 05/31/2021, in algorithms, Artificial Intelligence / Machine Learning / Deep Learning, Augmented Reality (AR), Bias | Diversity Equity & Inclusion (DE&I), career development, change, data mining, economics, emerging technologies, engineering, ethics, future, game-changing environment, memory, physics, political science, society, sociology, workplace, youth, by Daniel Christian
21 jobs of the future: A guide to getting — and staying — employed over the next 10 years — from cognizant.com and  the Center for The Future of Work
Excerpt:
WHAT THE NEXT 10 YEARS WILL BRING: NEW JOBS
In this report, we propose 21 new jobs that will emerge over the next 10 years and will become cornerstones of the future of work. In producing this report, we imagined hundreds of jobs that could emerge within the major macroeconomic, political, demographic, societal, cultural, business and technology trends observable today, e.g., growing populations, aging populations, populism, environmentalism, migration, automation, arbitrage, quantum physics, AI, biotechnology, space exploration, cybersecurity, virtual reality.
Among the jobs we considered, some seemed further out on the horizon and are not covered here: carbon farmers, 3-D printing engineers, avatar designers, cryptocurrency arbitrageurs, drone jockeys, human organ developers, teachers of English as a foreign language for robots, robot spa owners, algae farmers, autonomous fleet valets, Snapchat addiction therapists, urban vertical farmers and Hyperloop construction managers. These are jobs that younger generations may do in the further off future.
Also see:
Here are the top 10 jobs of the future — from bigthink.com by Robert Brown
Say hello to your new colleague, the Workplace Environment Architect.
Excerpt:
6. Algorithm Bias Auditor – "All online, all the time" lifestyles for work and leisure accelerated the competitive advantage derived from algorithms by digital firms everywhere. But from Brussels to Washington, given the increasing statutory scrutiny on data, it's a near certainty that when it comes to how they're built, verification through audits will help ensure the future workforce is also the fair workforce.
Walmart is pulling plug on more robots — from wsj.com by Sarah Nassauer
Retailer has been phasing out automated pickup towers as curbside services have become popular
Excerpt:
At Walmart Inc., the robots are losing their jobs.
The retailer is phasing out the hulking automated pickup towers that were erected in more than 1,500 stores to dispense online orders. The decision reflects a growing focus on curbside pickup services that have become more popular during the Covid-19 pandemic and continues a broader retreat from some initiatives to use highly visible automation in stores.
The World's Most Powerful Tidal Turbine Is Almost Complete — from interestingengineering.com by Christopher McFadden
Allegedly the world's most powerful turbine, the O2 is almost complete.
Excerpt:
Once operational, the turbine will kick out nearly 2 megawatts of power. That is enough to power at least 2,000 homes in the UK every year. The turbine will be connected to the European Marine Energy Centre off the Orkney Islands.
Genesis Breaks World Record by Flying 3,281 Drones Over Shanghai — from interestingengineering.com by Fabienne Lang
The impressive stunt now holds the record of Most Unmanned Aerial Vehicles (UAVs) Airborne Simultaneously in the Guinness World Record book.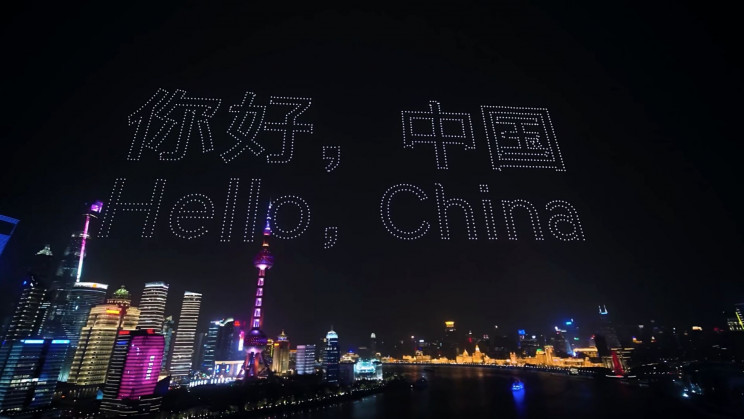 On 04/21/2021, in 21st century, Artificial Intelligence / Machine Learning / Deep Learning, Australia, Blockchain, computer science, Daniel S. Christian, emerging technologies, engineering, ideas, innovation, internet, law schools, legislatures / government / legal, policy, programming, society, by Daniel Christian
A reasonable robot in the eyes of the law — from innovationaus.com by Stuart Corner
Excerpts:
"But what happens when an autonomous vehicle kills someone? A robot is not subject to the law. So is the car manufacturer liable, or the developer of the software? And how do you pinpoint the cause of such an accident?"
You can't tax a robot worker
"If my employer, the University of Surrey could get a robot to automate my job, which they will someday, they would save money doing that, even if we were both equally good, because they have to make National Insurance contributions [a UK earnings tax that funds state pensions and other benefits] for my work and a host of other reasons, but the machine is taxed more favourably.