On 04/26/2023, in 21st century, 24x7x365 access, Artificial Intelligence / Machine Learning / Deep Learning / Algorithms, change, colleges, community colleges, content development, aggregation, repositories, copyright/ownership/NFTs, corporate / business world, corporate universities / corporate training, disruption, education, education technology, elearning, emerging technologies, experimentation, future, game-changing environment, higher education, innovation, instructional design, intelligent systems, intelligent tutoring, law schools, learner profiles, learning, learning agents, learning ecosystem, Learning Experience Design, Learning from the Living [Class] Room, legislatures / government / legal, music, online learning, online media, online tutoring, pace of change, personalized/customized learning, professional development, teachers, teaching & learning, tools, training / L&D, United States, universities, usability, user experience (UX), user interface design, vendors, vision/possibilities, by Daniel Christian
EdTech Is Going Crazy For AI — from joshbersin.com by Josh Bersin
Excerpts:
This week I spent a few days at the ASU/GSV conference and ran into 7,000 educators, entrepreneurs, and corporate training people who had gone CRAZY for AI.
No, I'm not kidding. This community, which makes up people like training managers, community college leaders, educators, and policymakers is absolutely freaked out about ChatGPT, Large Language Models, and all sorts of issues with AI. Now don't get me wrong: I'm a huge fan of this. But the frenzy is unprecedented: this is bigger than the excitement at the launch of the i-Phone.
Second, the L&D market is about to get disrupted like never before. I had two interactive sessions with about 200 L&D leaders and I essentially heard the same thing over and over. What is going to happen to our jobs when these Generative AI tools start automatically building content, assessments, teaching guides, rubrics, videos, and simulations in seconds?

The answer is pretty clear: you're going to get disrupted. I'm not saying that L&D teams need to worry about their careers, but it's very clear to me they're going to have to swim upstream in a big hurry. As with all new technologies, it's time for learning leaders to get to know these tools, understand how they work, and start to experiment with them as fast as you can.
---
Speaking of the ASU+GSV Summit, see this posting from Michael Moe:
EIEIO…Brave New World
By: Michael Moe, CFA, Brent Peus, Owen Ritz
Excerpt:
Last week, the 14th annual ASU+GSV Summit hosted over 7,000 leaders from 70+ companies well as over 900 of the world's most innovative EdTech companies. Below are some of our favorite speeches from this year's Summit…
***
Also see:
Imagining what's possible in lifelong learning: Six insights from Stanford scholars at ASU+GSV — from acceleratelearning.stanford.edu by Isabel Sacks
Excerpt:
High-quality tutoring is one of the most effective educational interventions we have – but we need both humans and technology for it to work. In a standing-room-only session, GSE Professor Susanna Loeb, a faculty lead at the Stanford Accelerator for Learning, spoke alongside school district superintendents on the value of high-impact tutoring. The most important factors in effective tutoring, she said, are (1) the tutor has data on specific areas where the student needs support, (2) the tutor has high-quality materials and training, and (3) there is a positive, trusting relationship between the tutor and student. New technologies, including AI, can make the first and second elements much easier – but they will never be able to replace human adults in the relational piece, which is crucial to student engagement and motivation.
---
ChatGPT, Bing Chat, Google's Bard—AI is infiltrating the lives of billions.

The 1% who understand it will run the world.

Here's a list of key terms to jumpstart your learning:

— Misha (@mishadavinci) April 23, 2023
---
A guide to prompting AI (for what it is worth) — from oneusefulthing.org by Ethan Mollick
A little bit of magic, but mostly just practice
Excerpt (emphasis DSC):
Being "good at prompting" is a temporary state of affairs. The current AI systems are already very good at figuring out your intent, and they are getting better. Prompting is not going to be that important for that much longer. In fact, it already isn't in GPT-4 and Bing. If you want to do something with AI, just ask it to help you do the thing. "I want to write a novel, what do you need to know to help me?" will get you surprisingly far.
…
The best way to use AI systems is not to craft the perfect prompt, but rather to use it interactively. Try asking for something. Then ask the AI to modify or adjust its output. Work with the AI, rather than trying to issue a single command that does everything you want. The more you experiment, the better off you are. Just use the AI a lot, and it will make a big difference – a lesson my class learned as they worked with the AI to create essays.
From DSC:
Agreed –> "Being "good at prompting" is a temporary state of affairs." The User Interfaces that are/will be appearing will help greatly in this regard.
---
From DSC:
Bizarre…at least for me in late April of 2023:
FaceTiming live with AI… This app came across the @ElunaAI Discord and I was very impressed with its responsiveness, natural expression and language, etc…

Feels like the beginning of another massive wave in consumer AI products.

…who's seen the movie HER? pic.twitter.com/By3dsew91Z

— Roberto Nickson (@rpnickson) April 26, 2023
---
Excerpt from Lore Issue #28: Drake, Grimes, and The Future of AI Music — from lore.com
Here's a summary of what you need to know:
The rise of AI-generated music has ignited legal and ethical debates, with record labels invoking copyright law to remove AI-generated songs from platforms like YouTube.
Tech companies like Google face a conundrum: should they take down AI-generated content, and if so, on what grounds?
Some artists, like Grimes, are embracing the change, proposing new revenue-sharing models and utilizing blockchain-based smart contracts for royalties.
The future of AI-generated music presents both challenges and opportunities, with the potential to create new platforms and genres, democratize the industry, and redefine artist compensation.
---
The Need for AI PD — from techlearning.com by Erik Ofgang
Educators need training on how to effectively incorporate artificial intelligence into their teaching practice, says Lance Key, an award-winning educator.
"School never was fun for me," he says, hoping that as an educator he could change that with his students. "I wanted to make learning fun."  This 'learning should be fun' philosophy is at the heart of the approach he advises educators take when it comes to AI. 
---
Coursera Adds ChatGPT-Powered Learning Tools — from campustechnology.com by Kate Lucariello
Excerpt:
At its 11th annual conference in 2023, educational company Coursera announced it is adding ChatGPT-powered interactive ed tech tools to its learning platform, including a generative AI coach for students and an AI course-building tool for teachers. It will also add machine learning-powered translation, expanded VR immersive learning experiences, and more.
Coursera Coach will give learners a ChatGPT virtual coach to answer questions, give feedback, summarize video lectures and other materials, give career advice, and prepare them for job interviews. This feature will be available in the coming months.
From DSC:
Yes…it will be very interesting to see how tools and platforms interact from this time forth. The term "integration" will take a massive step forward, at least in my mind.
---
On 04/11/2023, in 21st century, A/V -- audio/visual, art, creativity, digital audio, digital photography, digital storytelling, digital video, Europe, multimedia, new media literacies, online media, platforms, presentations, society, streams of content, transmedia, vendors, by Daniel Christian
A museum without screens: The Media Museum of Sound and Vision in Hilversum — from inavateonthenet.net
Excerpt:
Re-opened to the public last month after five years of planning and two-and-a-half years of renovations, The Media Museum of Sound and Vision in Hilversum in the Netherlands, is an immersive experience exploring modern media. It's become a museum that continuously adapts to the actions of its visitors in order to reflect the ever-changing face of media culture.
How we consume media is revealed in five zones in the building: Share, Inform, Sell, Tell and Play. The Media Museum includes more than 50 interactives, with hundreds of hours of AV material and objects from history. The experience uses facial recognition and the user's own smartphone to make it a personalised museum journey for everyone.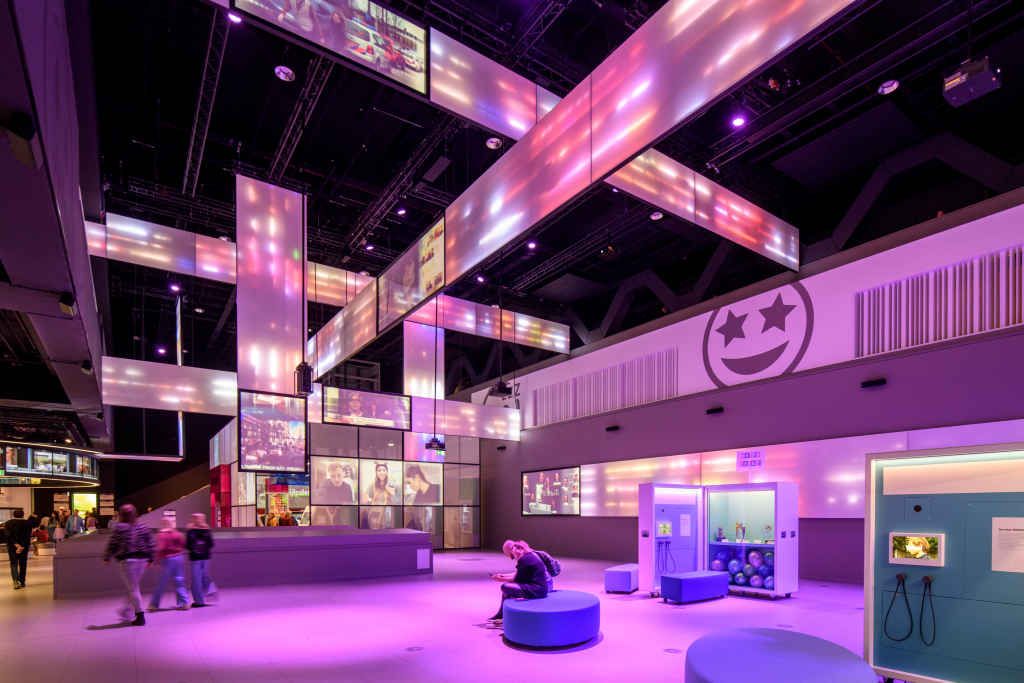 Photo from Mike Bink
From DSC:
Wow! There is some serious AV work and creativity in the Media Museum of Sound and Vision!
On 12/14/2022, in adjunct faculty, Artificial Intelligence / Machine Learning / Deep Learning / Algorithms, colleges, community colleges, computer science, content development, aggregation, repositories, digital learning, education, education technology, emerging technologies, experimentation, faculty, future, future of higher education, game-changing environment, higher education, human-computer interaction (HCI), ideas, instructional design, IT in HE, law schools, learning ecosystem, Learning Experience Design, Microsoft, online media, open courseware and systems, platforms, productivity / tips and tricks, programming, the downsides of technology, tools, UK, United States, universities, vendors, writing, by Daniel Christian
AI bot ChatGPT stuns academics with essay-writing skills and usability — from theguardian.com by Alex Hern
Latest chatbot from Elon Musk-founded OpenAI can identify incorrect premises and refuse to answer inappropriate requests
Excerpt:
Professors, programmers and journalists could all be out of a job in just a few years, after the latest chatbot from the Elon Musk-founded OpenAI foundation stunned onlookers with its writing ability, proficiency at complex tasks, and ease of use.
The system, called ChatGPT, is the latest evolution of the GPT family of text-generating AIs. Two years ago, the team's previous AI, GPT3, was able to generate an opinion piece for the Guardian, and ChatGPT has significant further capabilities.
In the days since it was released, academics have generated responses to exam queries that they say would result in full marks if submitted by an undergraduate, and programmers have used the tool to solve coding challenges in obscure programming languages in a matter of seconds – before writing limericks explaining the functionality.
---
Also related/see:
---
AI and the future of undergraduate writing — from chronicle.com by Beth McMurtrie
Excerpts:
Is the college essay dead? Are hordes of students going to use artificial intelligence to cheat on their writing assignments? Has machine learning reached the point where auto-generated text looks like what a typical first-year student might produce?
And what does it mean for professors if the answer to those questions is "yes"?
…
Scholars of teaching, writing, and digital literacy say there's no doubt that tools like ChatGPT will, in some shape or form, become part of everyday writing, the way calculators and computers have become integral to math and science. It is critical, they say, to begin conversations with students and colleagues about how to shape and harness these AI tools as an aide, rather than a substitute, for learning.
"Academia really has to look at itself in the mirror and decide what it's going to be," said Josh Eyler, director of the Center for Excellence in Teaching and Learning at the University of Mississippi, who has criticized the "moral panic" he has seen in response to ChatGPT. "Is it going to be more concerned with compliance and policing behaviors and trying to get out in front of cheating, without any evidence to support whether or not that's actually going to happen? Or does it want to think about trust in students as its first reaction and building that trust into its response and its pedagogy?"
ChatGPT is incredibly limited, but good enough at some things to create a misleading impression of greatness.

it's a mistake to be relying on it for anything important right now. it's a preview of progress; we have lots of work to do on robustness and truthfulness.

— Sam Altman (@sama) December 11, 2022
fun creative inspiration; great! reliance for factual queries; not such a good idea.

we will work hard to improve!

— Sam Altman (@sama) December 11, 2022
1/Large language models like Galactica and ChatGPT can spout nonsense in a confident, authoritative tone. This overconfidence – which reflects the data they're trained on – makes them more likely to mislead.

— Andrew Ng (@AndrewYNg) December 13, 2022
ChatGPT Could Be AI's iPhone Moment — from bloomberg.com by Vlad Savov; with thanks to Dany DeGrave for his Tweet on this
Excerpt:
The thing is, a good toy has a huge advantage: People love to play with it, and the more they do, the quicker its designers can make it into something more. People are documenting their experiences with ChatGPT on Twitter, looking like giddy kids experimenting with something they're not even sure they should be allowed to have. There's humor, discovery and a game of figuring out the limitations of the system.
---
And on the legal side of things:
---
In the legal education context, I've been playing around with generating fact patterns and short documents to use in exercises.

— Rebecca Fordon (@theFordon) December 9, 2022
On 12/05/2022, in 21st century, Alternatives, career development, change, changing business models, content development, aggregation, repositories, credentialing, new business models, online learning, online media, platforms, by Daniel Christian
The Job: Online Certifications #85? DEC 1, 2022 — from getrevue.co by Paul Fain
Growing interest in online training for medical certifications and a private university that's offering credit for MedCerts and other microcredentials.
Excerpt:
'Train and Hire' in Healthcare
The nation's healthcare system continues to strain amid a severe staffing crisis. And the mounting desperation is prodding some employers to get more creative about how they hire, train, and retain healthcare workers.
MedCerts has seen growing demand for its online certification training, with strong interest in the 28-week medical assistant and 12-week phlebotomy technician programs.
The company has enrolled 55K students and roughly doubled its offerings during the last two years. Its fastest-growing segment is the train-and-hire model, where employers cover the full tuition and training costs for students.
"We are now helping several hundred people every month move from education to high-demand careers, and our pace and scale are still growing," says Rafael Castaneda, MedCerts' vice president of workforce development.
Stride Inc., a large online K-12 education provider, acquired MedCerts in 2020 for roughly $80M. The company's 50+ self-paced career training programs in healthcare, IT, and professional development typically cost $4K in tuition and other fees. Most can be completed in six months, and the company offers on-demand support to all students for a year regardless of their program's length.
On 11/20/2022, in Asia, Australia, Canada, colleges, community colleges, corporate universities / corporate training, experimentation, faculty, higher education, innovation, instructional design, learning ecosystem, Learning Experience Design, learning hubs & pods & microschooling, microlearning, online learning, online media, teaching & learning, UK, United States, universities, by Daniel Christian
edX Announces 2022 edX Prize Finalists for Innovation in Online Teaching — from prnewswire.com by 2U, Inc.
Excerpt:
The 2022 finalists include (sorted alphabetically by institution):
Other recent items from GSV:
"The reason TikTok is so popular is because it's short-form and engaging; the opposite to the usual two-hour training course.

"Spacing out micro-learning chunks across the course of a year gives you a much better chance of retaining it and actually acting on it. That's why GoodCourse is built to engage a Gen Z workforce."