.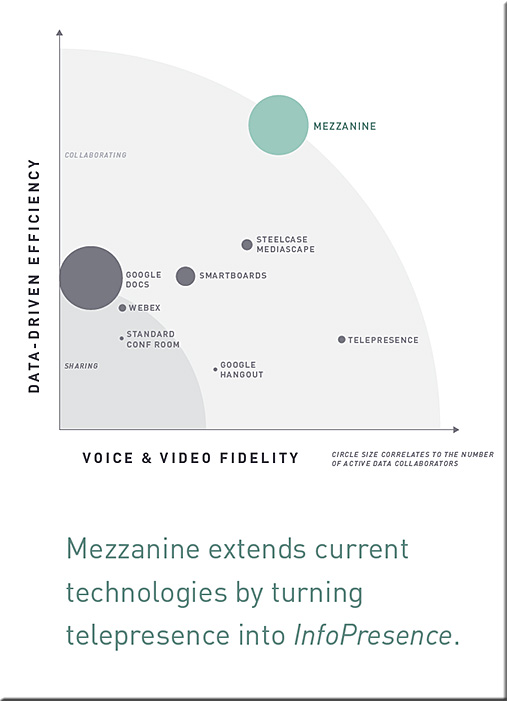 .
.
From the Oblong.com website:
Mezzanine™ is a collaborative conference room solution that introduces multi-user, multi-screen, multi-device collaboration. This is next-generation communication: share any content from any device with anyone, anywhere.
Mezzanine transforms creative teamwork, executive meetings, and sales presentations into real-time, collaborative work sessions. Mezzanine expands on existing telepresence technology by providing what we call InfoPresence™—the incorporation of multiple users, multiple devices, and multiple streams of information in the collaboration environment. The future of conference room collaboration is here.
A Mezzanine workspace lets any person on a network bring their own device and share content and applications with any colleague, anywhere in the world, interactively. Mezzanine is a collaborative conference room solution combining presentation design and delivery, application sharing, whiteboard capture, and video conferencing, all within a framework of multi-participant control.
.
Also see:
Oblong at OME
Oblong Industries recently participated at OME, a summit hosted by UC San Francisco.  The two-day summit focused on charting the future of precision medicine—an emerging field combining big data with clinical research and patient care to deliver insights and advances in treatment that is more targeted and enables improved patient outcomes.