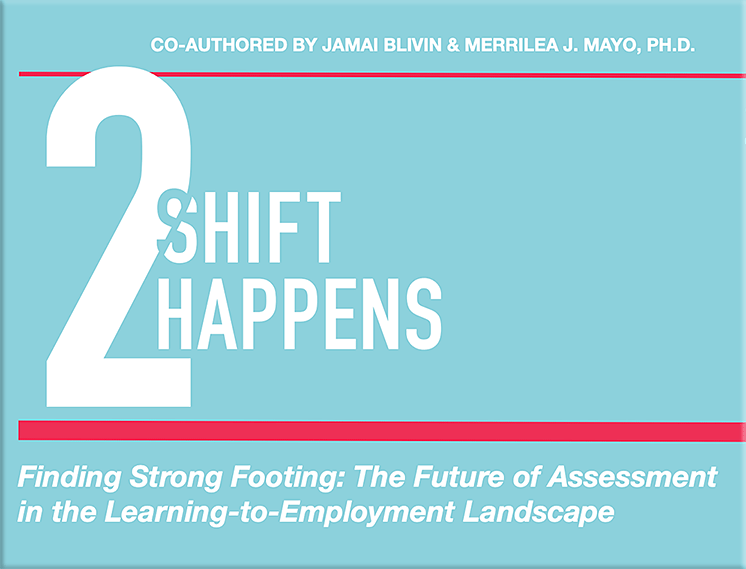 Excerpt:
CONCLUSION
This paper has outlined the plethora of new credential types, uses, and modes of delivery. It also has highlighted advancements in assessment. In terms of assessment content, the progression of mastery-based assessments is a distinct departure from the traditional knowledge-based assessment approaches. New assessments are likely to enter the market, as companies see the tremendous growth of competency-based assessments that will be critical and necessary in the future ecosystem described.
Assessments are no longer just a source of grades for gradebooks. They have forged two meaningful bypass routes to seat time in higher education. In the first, competency-based education assessments gate the pace of student progress through the curriculum. In the second, certification by an exam delivers not a grade, but a degree-like credential in a relevant occupation, indicating skill and expertise. For some occupations, this exam-as-credential has already been market validated by employers' willingness to require it, hire by it, and pay a salary premium for it.
All of these innovations are driving towards a common end. The future learning-to employment ecosystem will be heavily reliant on credentials and assessments. We see:
A future in which credentials will no longer be limited to degrees, but will come in varying shapes and sizes, offered by many organizations, training providers, and employers;
A future in which credentials will, however, be able to articulate a set of underlying "know" knowledge and "do" performance skill competencies;
A future in which a credential's scope will be described by the set of competencies it covers, and measured via assessment;
A future in which a credential's quality will be indicated by evidence of mastery within each competency before it is awarded;
A future in which quality metrics, such as consumer reviews or employer use of credentials will come into play, bringing the best and most usable credentials and assessments to the forefront.
And, finally, the future ecosystem will depend heavily on online and technology-enabled strategies and solutions. The working learner will turn away from those stringent solutions that require seat time and offer little flexibility. They will drive the market hard for innovations that will lead to consumer-facing marketplaces that allow them a "one-stop shop" approach for working, learning, and living.
The massive market of the working learner/the learning worker is here to stay. The future is that learner. Credentials and assessment will find their own strong footing to help successfully meet both the learners' needs and the employers' needs. We applaud this SHIFT. For, it will be an ecosystem that services many more learners than today's education to employment system serves.
Most coherent report I have read on the erosion of degrees and the rise of assessing-for-work and amassing certifications as the competencies for the modern workplace. Jamai Blivin, of www.innovate-educate.org, and Merrilea Mayo, of Mayo Enterprises, have put in one report the history, current trends and the illogic for many people of paying for a retail bachelor's degree when abundant certifications are beginning to prove themselves. Workforce and community colleges, this is a must-read. Kudos!