The year ahead: ten amazing science and technology innovations coming up in 2014 — from telegraph.co.uk by Paul Kendall and Chris Bell
From the world's largest underground hotel to Star Wars-style holographic communication, the coming year is set to unveil an array of incredible advances in science and technology
Former Windows leader Steven Sinofsky presents 10 Mega Trends in Tech for 2014 — from businessinsider.com by Jay Yarow; via Graeme Codrington (@FuturistGraeme) and Laura Goodrich (@LauraGoodrich)
Top Technology Trends for 2014  — from computer.org
Excerpt:
Supporting New Learning Styles
Online courses demand seamless, ubiquitous approach.
These days, students from all corners of the world can sign up for online classes to study everything from computer science, digital signal processing, and machine learning to European history, psychology, and astronomy–and all for free. As interest in Massive Open Online Courses (MOOCs) continues to explode, there will be a corresponding need for technology to support these new learning systems and styles. Platforms such as Coursera, with more than 3 million users and 107 partners; and edX, a partnership between Massachusetts Institute of Technology and Harvard University with 1.7 million users; are hosting classes with thousands of online enrollees each. And although lectures are still the mainstay of MOOCs, the classes require web forums, online meetups, and keystroke loggers to check identities, as well as powerful servers to handle the volumes. MOOCs and other new online classes are creating a demand for learning that is seamless—happening continuously via different technologies; ubiquitous—drawing from pervasive and embedded technologies; and contextual—drawing awareness from location-based and other sensor-based technologies.
5 Higher-Education Trends for 2014 — from theatlantic.com by Sophie Quinton
Expect an increased emphasis on teacher effectiveness, technical education, and more.
Headings include:
Earning College Credit for What You Know
Career and Technical Education
Student-Loan Outrage
Data-Privacy Concerns
Teacher Effectiveness
Special Report: 2014 Top Tech to Watch — from spectrum.ieee.org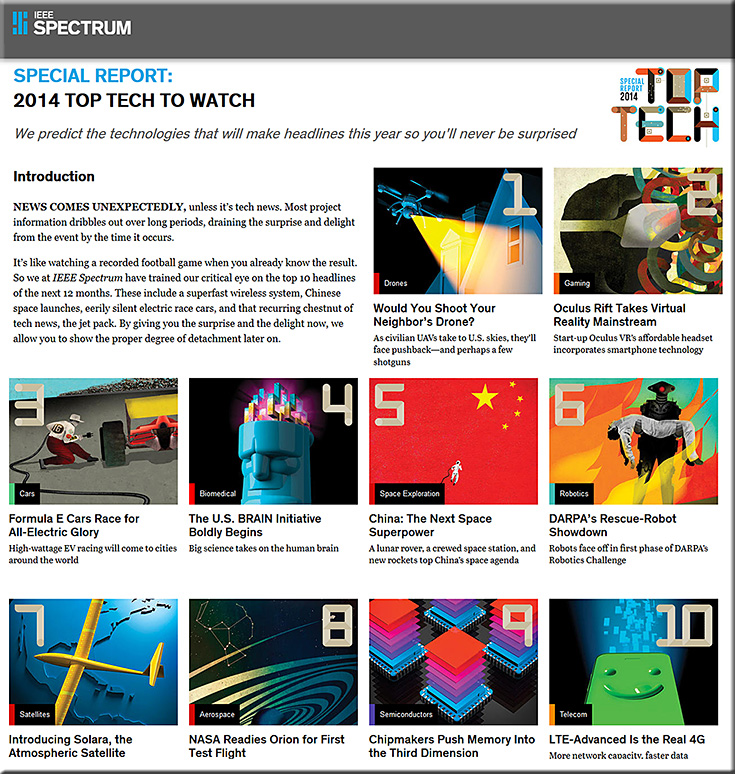 NMC Horizon Report — 2014 Higher Education Preview
JWT's 100 things to watch in 2014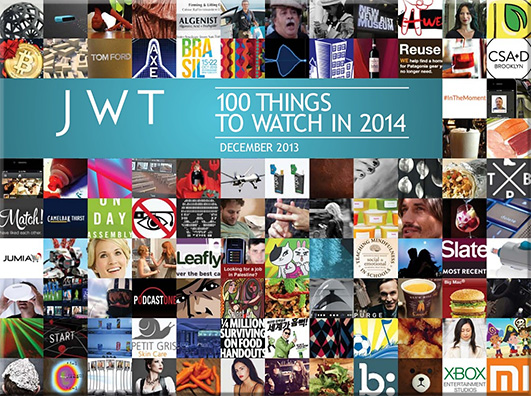 IBM internal experts club together to offer 2014 predictions — from siliconangle.com by  Bert Latamore
Headings include:
Analytics
Cloud
Mobile
Skills
2014 Technology Predictions Series: RadiumOne on Mobile — from siliconangle.com by Suzanne Kattau
Internet of Things may strangle enterprise bandwidth — from informationweek.comby Deepak Kumar
The Internet of Things is poised to bring a flood of WAN traffic and new Internet-enabled devices to enterprise WANs. Be sure your corporate network is ready for it.
7 things you should expect from your leaders in 2014 — from forbes.com by Glenn Llopis
10 Jobs for tomorrow that barely exist today (Infographic) — from jobmarketmonitor.com by Michel Cournoyer and Thomas Frey
Addendum on 1/4/14: