On 09/02/2011, in Artificial Intelligence / Machine Learning / Deep Learning, education technology, elearning, future, ideas, innovation, internet, IT in HE, learning ecosystem, learning theories, memory, online learning, online media, real-world assignments, social learning / networks, streams of content, by Daniel Christian
Ignite Great Lakes – Maria Andersen: Where's the "Learn This" Button? — my thanks to Mr. Paul Simbeck-Hampson for this resource
Dr. Maria H. Andersen is the Learning Futurist for the LIFT Institute and a Math Professor at Muskegon Community College, where she organizes Ignite MCC. She writes the "Teaching with Tech" column for MAA Focus and has recently published articles in Educause Review and The Futurist. Lately she has been spending a lot of time building games for teaching math and musing about the future of learning and higher education. You can find Maria blogging on the Internet at TeachingCollegeMath.com or on Twitter at @busynessgirl.
SOCRAIT — a new learning layer on the Internet:
SOC for social
AI for artificial intelligence
IT for information technology
On 08/25/2011, in 21st century, 24x7x365 access, A/V -- audio/visual, adjunct faculty, analytics, art, Artificial Intelligence / Machine Learning / Deep Learning, attention, Augmented Reality (AR), blogs / blogging, change, cloud-based computing / apps / other cloud-related, colleges, communities of practice, community colleges, computer science, convergence, creativity, dangers of the status quo, Daniel S. Christian, digital audio, digital learning, digital storytelling, digital textbooks, digital video, disruption, drama/theater, e-books, e-publishing related items (EPUB and more), economics, education, education reform, education technology, educational games / serious games, elearning, emerging technologies, engagement / engaging students, engineering, expectations, faculty, game-changing environment, generational differences, global / globalization, higher education, human-computer interaction (HCI), ideas, innovation, intelligent tutoring, internet, K-12 related, learning ecosystem, Learning from the Living [Class] Room, learning theories, liberal arts, lifelong learning, machine-to-machine communications, memory, mirroring and/or multiple devices, mobile learning, mobile technologies, multi-touch, multimedia, music, Near Field Communication (NFC), New "Amazon.com" of Higher Education, new media literacies, online learning, online media, pace of change, passions, pedagogy, Personal Learning Networks (PLNs), presentations, productivity / tips and tricks, publishing, reading, reinvent, robotics, RSS, social learning / networks, social media, society, staying relevant, storytelling, strategy, streams of content, student teaching/teacher education, student-related, surviving, tablets, teachers, teaching & learning, teaching online, technologies for your home, technology (general), telepresence, television, textbooks, tools, transmedia, trends, ubiquitous learning, United States, universities, videoconferencing, virtual K-12 schools, virtual tutoring, vision/possibilities, visualizing information, web-based collaboration, writing, by Daniel Christian
---
From DSC:
Immediately below is a presentation that I did for the Title II Conference at Calvin College back on August 11, 2011
It is aimed at K-12 audiences.
---
---
From DSC:
Immediately below is a presentation that I did today for the Calvin College Fall 2011 Conference.
It is aimed at higher education audiences.
---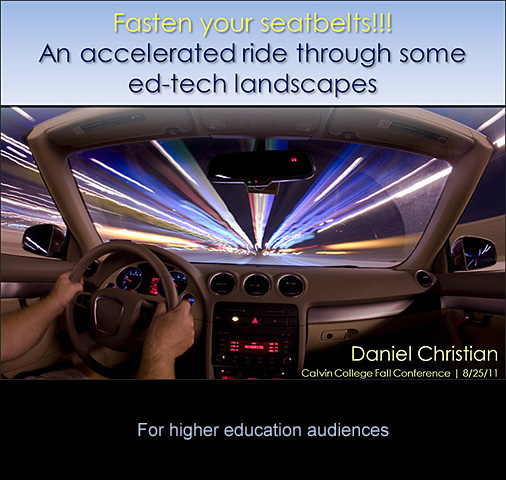 ---
Note from DSC:
There is a great deal of overlap here, as many of the same technologies are (or will be) hitting the K-12 and higher ed spaces at the same time. However, there are some differences in the two presentations and what I stressed depended upon my audience.
Pending time, I may put some audio to accompany these presentations so that folks can hear a bit more about what I was trying to relay within these two presentations.
---
On 08/17/2011, in 3D, chemistry, emerging technologies, engineering, future, learning agents, love of learning, Near Field Communication (NFC), social learning / networks, streams of content, by Daniel Christian
The Singularity: Five technologies that will change the world (and one that won't) — from MaximumPC.com by David Gerrold; originally saw this in Steve Knode's July 2011 Newsletter
Excerpt I want to comment on:
Now, let's try a thought experiment. If we apply Moore's law and assume that the rate of scientific advancement doubles at the same rate as the computer power that we apply to research, then we can project that we will likely accomplish a whole 20th century's worth of scientific advancement in 5 years—by 2015. As the rate continues to double, we'll accomplish a century's work in 2.5 years, then 1.25 years, 7.5 months, 3 months and 3 weeks, then a smidge less than two months, one month, two weeks, one week, then 3.5 days, 1.75 days, and if you ignore Zeno's paradox, by the end of 2020 we will be accomplishing a century's worth of research every day, and two weeks later, every second. And after that…?
From DSC:
This is why it is critical that all of us are tapping into streams of content. We can't be dealing with damned up "water" — but we need to access ever-flowing-streams of content. We need to learn how to learn — and like learning! We'll also need to know how to manage learning agents in order to sort through the information overload coming at us.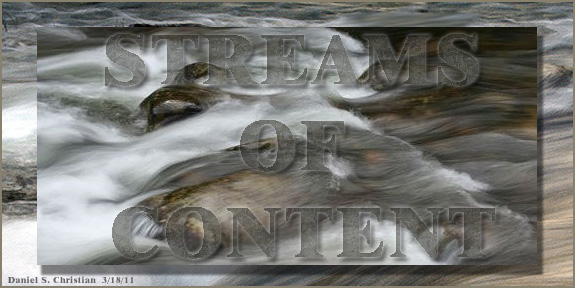 Also mentioned in the above article:
Graphene
Robots
Bio-Fabbing
Universal Smart Tech
Also from Steve Knode:
On 06/10/2011, in cloud-based computing / apps / other cloud-related, computer science, education technology, emerging technologies, future, higher education, human-computer interaction (HCI), learning spaces, open courseware and systems, platforms, programming, smart classrooms, streams of content, technology (general), trends, UK, by Daniel Christian
Widgets and mashups for personal and institutional technologies — by Scott Wilson
Sample slides/excerpt:
On 06/07/2011, in 24x7x365 access, content aggregration, content development, content repositories, corporate universities / corporate training, formal learning, informal learning, instructional design, social learning / networks, strategy, streams of content, training / L&D, by Daniel Christian
Why we need less instruction — from Clive on Learning by Clive Sheperd
Excerpt:
Another reason you might back away from instruction as a strategy is because it is more efficient to provide how-to materials at the point-of-need – it isn't learning that's required, it's performance support:
From DSC:
From my perspective and ways of tapping into

streams of content,

if you don't have an easy/readily available way to subscribe to an RSS feed — or to enable one to follow your stream on Twitter, Facebook, etc — you have not created a stream of content, but rather a dam. Information and updates are not flowing — they're stuck. And, most likely, I won't be coming back.