From DSC:
With thanks to Jamie Forshey for Scooping this content/resource
Also see:
On 01/24/2013, in adjunct faculty, Bring your own device (BYOD), digital learning, faculty, generational differences, higher education, innovation, IT in HE, leadership, MOOCs -- Massive Open Online Courses, new business models, strategy, teaching & learning, by Daniel Christian
A seat at the table at last — from campustechnology.com by Andrew Barbour
One result of the Year of the MOOC is that IT is finally getting a say in the strategic direction of the institution.
Excerpt:
It's interesting that it took an external force to propel IT into this inner circle. I can't recall how many stories CT has run proposing strategies for how CIOs could win a place at the table. At the end of the day, though, changing an institution as hidebound as the average college is not easily tackled from within. In contrast, there's nothing like a little existential angst to shake things up.
But MOOCs aren't the only drivers of this change. We often think of BYOD as stripping IT of control but–on the broader stage–it may be playing its own part in elevating IT's profile on campus. For years, faculty resisted IT recommendations on how technology could improve teaching and learning. Saying no was easy–preserving the status quo always is. That's changing now. BYOD is a force that faculty can't resist. It is, after all, their customers bringing the devices to school. Suddenly, faculty are faced with demands for new styles of teaching that accommodate student preferences for technology and much more. Enter IT and a host of others who see the potential of tech in education.
Also relevant/see:
The University's Dilemma–– from strategy-business.com by Tim Laseter; with thanks to Ross Dawson for the recent tweet on this
On 01/11/2013, in career development, collaboration, corporate / business world, future, game-changing environment, generational differences, internet, marketplaces, using teams, videoconferencing, workplace, by Daniel Christian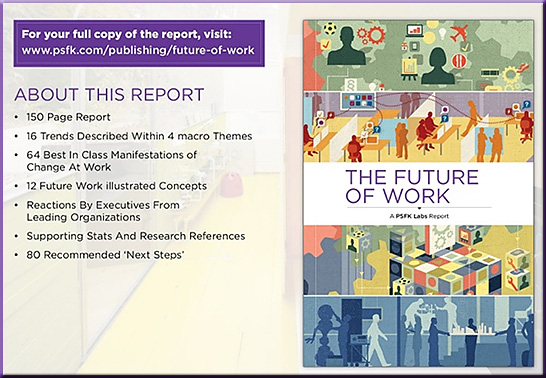 .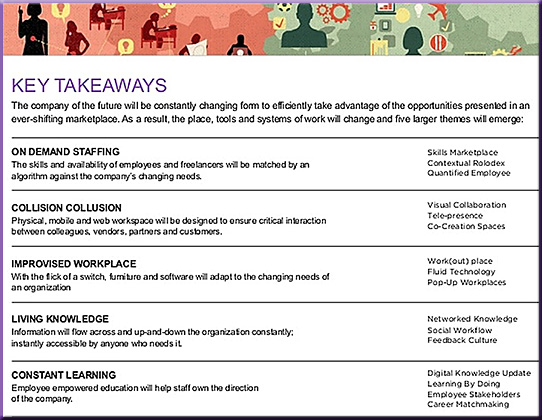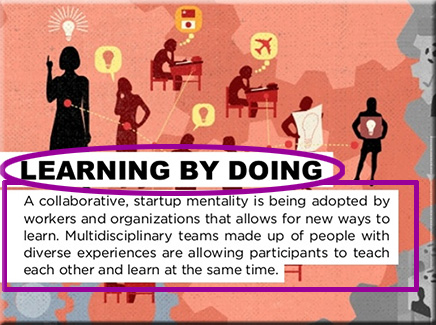 .
From DSC:
Note the need for being tech-savvy here — the more familiarity our students have with videoconferencing, web-based collaborating tools, tapping into streams of content, etc., the better things will go for them in their future careers.


.



Note also the need for constant, lifelong learning.
Note the possibility that we might be heading more towards online-based exchanges and marketplaces — and that includes teaching and learning.
.
Re: the idea of exchanges:
On 12/07/2012, in collaboration, communications, digital storytelling, entrepreneurship, future, generational differences, innovation, society, story, storytelling, by Daniel Christian
All Together Now:
Bring two powerful generations together: change the story to change the world!
Excerpt of email I rec'd:
Whatever future we face, it's going to require all of our stories. All Together Now was created to bridge two generations that aren't often in dialogue. With our partners, The Future Project (high school students based on the East Coast) and Osher Lifelong Learning Institute (active elders based on the West Coast), participants will portray their own journeys out of silence, standing to lift their voices in community. Please donate today. There's a great list of perks for contributors, but the best one of all is knowing that when we ask some urgent questions—Whose story counts? Whose story gets heard?—The answer has to be everyone. Your support for All Together Now will put that answer into practice.
Exploring the field of tech for engagement — from knightfoundation.org by Damian Thorman; with a special thanks going out to Sue Ellen Christian for this find/resource
Excerpt:
Knight Foundation launched its Tech for Engagement Initiative two years ago because we believe technology has the power to transform our democracy.
In big and small ways, we see the potential for reinventing citizens' relationships with their neighbors, leaders and governments, as a way to build the informed and engaged communities where we all want to live.
Since then, Knight has invested $10 million in two dozen projects, with some early successes. I think most readily of Community PlanIt, which helped the Boston Public Schools involve more people, more deeply in planning efforts.
Also see:
WorkTech11 West Coast: A report from the trenches — from thefutureofwork.net by Jim Ware
Headings/excerpt:
Randy Knox
Nokia Silicon Valley
Hamid Shirvani, President California State University, Stanislaus
Urban Design: Panel Debate
Kevin Kelly, author, "What Technology Wants"
Nathan Waterhouse, Ideo
Marie Puybaraud, Johnson Controls, and Sudhakar Lahade, Steelcase
Vwork: Michael Leone, Regus, and Philip Ross, CEO Unwired and the Cordless Group
Rational Mobility:  Kevin Kelly, GSA (The "Other" Kevin Kelly)
Going Mobile: Dawn Birkett, Salesforce.com and Bryant Rice, DEGW
Mobility and Virtual Work:  Panel Debate