Envisioning the future of education — from envisioningtech.com by Michell Zappa
Excerpt:
Models of teaching worldwide are being revolutionized and reconsidered in real-time, and it seems everybody is looking for the holy grail of how to future-proof their classrooms. Advancing technology is leaving old schools of thought in their wake, and teachers are waking up to the fact that things will only speed up further in the foreseeable future.
Having spent time with the wonderful people at TFE Research in Dublin earlier this year, our new visualization is a concise overview of technologies that have the potential to disrupt and improve teaching on all levels.
Along with a few dozen emerging techs, we identified six key trends that link and contextualize said technologies, including classroom digitization, gamification and disintermediation.
.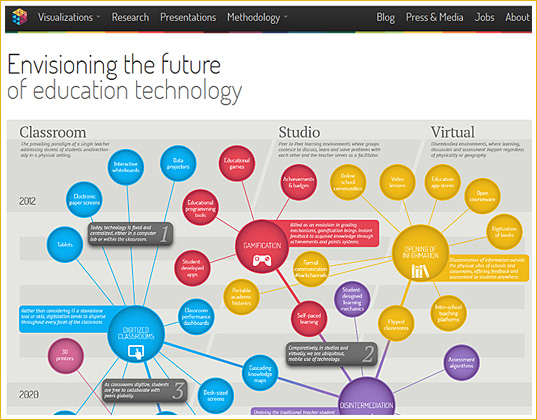 On 06/08/2012, in 21st century, Artificial Intelligence / Machine Learning / Deep Learning, disruption, emerging technologies, future, gesture / gesturing, human-computer interaction (HCI), machine-to-machine communications, multi-touch, personalized/customized learning, UK, user experience (UX), user interface design, virtual field trips, virtual K-12 schools, Virtual Reality (VR) / worlds / learning, virtual tutoring, by Daniel Christian
Contents
Virtual assistants: four generations in 20 years
The evolving VA technology landscape
The VA Competitive landscape
VA business models: Revenue share rather than paid app downloads
Leaders and challengers in the VA value chain
Beyond Siri: What's in store in the VA market
Behind this report
Lead researcher: Marlène Sellebråten
Project lead: Michael Vakulenko
Marketing lead: Matos Kapetanakis
Editorial: Andreas Constantinou
Ocean Blue launches world's first digital TV calendar and diary at ANGA 2012 — from virtual-strategy.com
Ocean Blue Software, a leading innovator of digital TV middleware software, has developed an interactive assistive living TV calendar and diary that will help people organise their lives via their TVs and enable doctors to interact with patients at home.
Excerpt:
With IP connectivity the Timewatch Calendar can be linked to, for example, Google calendar, health care system servers or medical clinic online calendars. Examples of such interaction would include family and friends being able to post reminders on to the calendar. Doctors and other health care professionals will also be able to interact with patients and manage medical appointments through the calendar.
Also see:
On 03/26/2012, in Africa, Asia, Australia, budgets, business side of he, Canada, cost of getting a degree, Europe, funding / grants, global / globalization, UK, United States, by Daniel Christian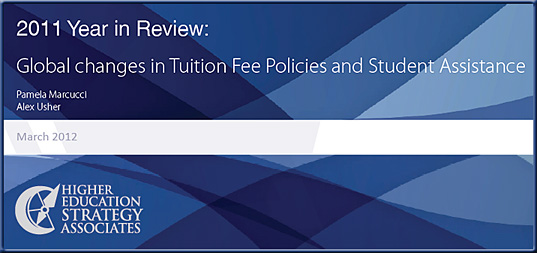 Excerpt:
All around the world, the pace of change in higher education is accelerating. In the face of continued increases in participation, demographic change and – in the west at least – profound fiscal crises, higher education institutions are increasingly being required to raise funds from students as opposed to relying on transfers from governments. Indeed, the pace of policy change is coming so quickly that it is difficult to keep track of all the relevant developments in different parts of the world.
In this, the second edition of Year in Review: Tuition Fees and Student Assistance, we outline the major changes related to higher education affordability around the world in 2011. In order to keep our sample manageable, we have kept our inquiries to a selection of 40 countries that collectively best represent the global situation:
The G-40 consists of: Argentina, Australia, Brazil, Canada, Chile, China, Colombia, Egypt, Finland, France, Germany, Hong Kong, India, Indonesia, Iran, Israel, Italy, Japan, Korea (Republic of), Malaysia, Mexico, the Netherlands, Nigeria, Pakistan, Philippines, Poland, Russian Federation, Saudi Arabia, Singapore, South Africa, Spain, Sweden, Switzerland, Taiwan, Thailand, Turkey, Ukraine, United Kingdom, United States, Vietnam.
Marcucci, Pamela and Usher, Alex (2012). 2011 Year in Review:
Global Changes in Tuition Fee Policies and Student Financial Assistance.
Toronto: Higher Education Strategy Associates.
On 03/16/2012, in Canada, disruption, education, emerging technologies, future of higher education, game-changing environment, higher education, India, learning ecosystem, open courseware and systems, UK, United States, by Daniel Christian
Learning Without Frontiers (LWF) hosted its annual conference at London's Olympia on January 25th-26th creating a unique environment to present a compelling exploration into our learning futures.
On 11/30/2011, in 21st century, A/V -- audio/visual, analytics, Artificial Intelligence / Machine Learning / Deep Learning, cloud-based computing / apps / other cloud-related, convergence, data mining, digital storytelling, emerging technologies, engagement / engaging students, game-changing environment, learner profiles, Learning from the Living [Class] Room, television, transmedia, UK, by Daniel Christian
Next on TV: Data driven programming — from wired.co.uk by Matt Locke
Excerpt:
Quiz shows such as The Million Pound Drop Live on Channel 4 use real-time data from hundreds of thousands of online players to feed interesting stats and observations to host Davina McCall. [From DSC: What if this related to an online-based learning exercise/class/module/training session?]
…
This is the real revolution that is about to hit TV production — data is moving off the servers and in front of the cameras. With this comes a new generation of creative talent — data storytellers for whom the spreadsheet is as important as a script when it comes to content. TV is no longer stuck behind the screen — around 60 per cent of people in the UK watch with a "second screen" (a mobile or laptop) at the same time, and a lot of them are talking online about what they're watching. TV is now back in the crowd, and if you make, commission or distribute content right now, you'd better learn to love data, and fast.
Also see:
What comes after Siri? A web that talks back — from gigaom.com by Stacey Higginbotham
Siri may be the hottest personal assistant since I Dream of Jeannie, but Apple's artificial intelligence is only the tip of the iceberg as we combine ubiquitous connectivity, sensor networks, big data and new methods of AI and programming into a truly connected network.
Ball State University Center for Media Design to Host Workshop Session — from thetvoftomorrowshow.com
Entitled "Researching the Second Screen and Social Viewing: Two Recent Studies," the workshop will see CMD researchers summarizing the findings from: 1) an eye-tracking study of viewers' distribution of visual attention between the TV and second screen during use of two commercially released second-screen apps; and 2) a study of show-specific Twitter traffic rates during programming and ad pods for multiple episodes of three shows from different genres.
British Library digitizes 300 years worth of newspaper archives, brings 65 million articles online — from engadget.com by Amar Toor