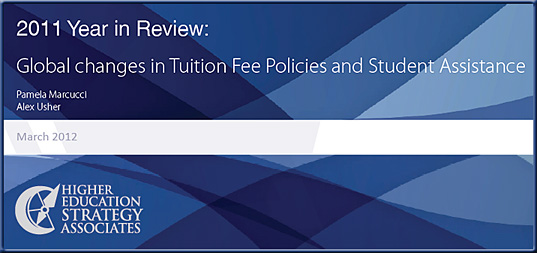 Excerpt:
All around the world, the pace of change in higher education is accelerating. In the face of continued increases in participation, demographic change and – in the west at least – profound fiscal crises, higher education institutions are increasingly being required to raise funds from students as opposed to relying on transfers from governments. Indeed, the pace of policy change is coming so quickly that it is difficult to keep track of all the relevant developments in different parts of the world.
In this, the second edition of Year in Review: Tuition Fees and Student Assistance, we outline the major changes related to higher education affordability around the world in 2011. In order to keep our sample manageable, we have kept our inquiries to a selection of 40 countries that collectively best represent the global situation:
The G-40 consists of: Argentina, Australia, Brazil, Canada, Chile, China, Colombia, Egypt, Finland, France, Germany, Hong Kong, India, Indonesia, Iran, Israel, Italy, Japan, Korea (Republic of), Malaysia, Mexico, the Netherlands, Nigeria, Pakistan, Philippines, Poland, Russian Federation, Saudi Arabia, Singapore, South Africa, Spain, Sweden, Switzerland, Taiwan, Thailand, Turkey, Ukraine, United Kingdom, United States, Vietnam.
Marcucci, Pamela and Usher, Alex (2012). 2011 Year in Review:
Global Changes in Tuition Fee Policies and Student Financial Assistance.
Toronto: Higher Education Strategy Associates.