On 03/03/2011, in 21st century, 24x7x365 access, accessibility / UDL, Apple, convergence, digital audio, digital learning, digital photography, digital storytelling, digital textbooks, digital video, disruption, e-books, e-readers, education technology, educational games / serious games, elearning, emerging technologies, engagement / engaging students, mobile learning, mobile technologies, online learning, online media, tablets, transmedia, videoconferencing, by Daniel Christian
iTunes U downloads top 300 million — press release from Apple.com
CUPERTINO, California—August 24, 2010—In just over three years, iTunes® U downloads have topped 300 million and it has become one of the world's most popular online educational catalogs. Over 800 universities throughout the world have active iTunes U sites, and nearly half of these institutions distribute their content publicly on the iTunes Store®. New content has just been added from universities in China, Hong Kong, Japan, Mexico and Singapore, and iTunes users now have access to over 350,000 audio and video files from educational institutions around the globe.
"iTunes U makes it easy for people to discover and learn with content from many of the world's top institutions," said Eddy Cue, Apple's vice president of Internet Services. "With such a wide selection of educational material, we're providing iTunes users with an incredible way to learn on their computer, iPhone, iPod or iPad."
Created in collaboration with colleges and universities, iTunes U makes it easy to extend learning, explore interests or learn more about a school. A dedicated area within the iTunes Store (www.iTunes.com), iTunes U offers users public access to content from world class institutions such as Harvard, MIT, Cambridge, Oxford, University of Melbourne and Université de Montréal. iTunes U gives anyone the chance to experience university courses, lab demonstrations, sports highlights, campus tours and special lectures. All iTunes U content is free and can be enjoyed on a Mac® or PC, or wirelessly downloaded directly onto an iPhone®, iPod touch® and iPad™.
.
Also see the following graphic (from http://tech.fortune.cnn.com/2010/08/24/itunes-u-enrollment-soars/)
Digital Storytelling with the iPad — by Apple Distinguished Educators Cindy Huson, Karen Bosch, Sherri Clemens, Jerome Burg, Jim Harmon, Paul Devoto
Digital Storytelling can transform your students' writing into a visual masterpiece that is filled with voice and emotion, while enhancing critical thinking skills. The iPad takes digital storytelling to a new level by making the process easier, and even more engaging for students of all grade levels as well as for their teachers. This site will help guide you in what you need for success in the iPad Digital Storytelling classroom.
Resources
Storytelling Articles:
Web 2.0 Resources
Miscellaneous Resources
General Digital Storytelling Sites

Digital Storytelling and iTunes U
On 07/21/2010, in 24x7x365 access, business, business side of he, career development, change, changing business models, colleges, community colleges, competency-based learning/education, corporate / business world, cost of getting a degree, dangers of the status quo, disruption, education reform, education technology, elearning, emerging technologies, engagement / engaging students, face-to-face, faculty, future of higher education, game-changing environment, global / globalization, higher education, innovation, leadership, learning ecosystem, lifelong learning, more choice more control, New "Amazon.com" of Higher Education, new business models, online learning, online tutoring, open courseware and systems, pace of change, personalized/customized learning, strategy, teaching & learning, traditional / tradition, universities, using teams, workplace, by Daniel Christian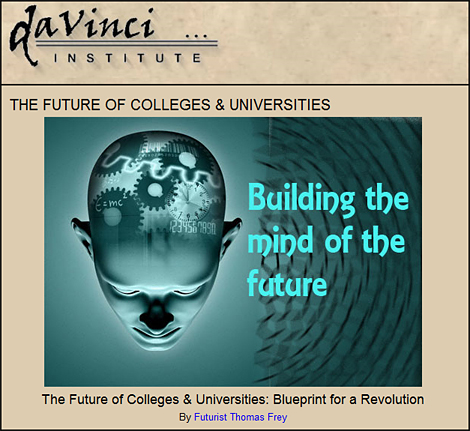 From Spring 2010
…
From DSC:
If you are even remotely connected to higher education, then you *need* to read this one!
Most certainly, not everything that Thomas Frey says will take place…but I'll bet you he's right on a number of accounts. Whether he's right or not, the potential scenarios he brings up ought to give us pause to reflect on ways to respond to these situations…on ways to spot and take advantage of the various opportunities that arise (which will only happen to those organizations who are alert and looking for them).
opencastproject.org
The Opencast community is a collaboration of individuals, higher education institutions and organizations working together to explore, develop, define and document best practices and technologies for management of audiovisual content in academia. Through the mailing list, website and collaboration among its members, the community will strive to offer guidance and information to help others choose the best approach for the delivery and usage of rich media online.
Matterhorn is an open source project working within the Opencast Community to develop an end-to-end, open source platform that supports the scheduling, capture, managing, encoding and delivery of educational audio and video content.
Also see:
Harvard opens classes to all, online — from The Boston Herald
Ever think about dropping in on a Harvard University lecture on law, loss or metaphysics?
Now you can, for free, and from your couch.
Harvard University yesterday launched its own version of iTunes U, on a dedicated portion of iTunes.
The new portal allows students, faculty and curious Bostonians to attend the Ivy League school virtually.
Perry Hewitt, the university's director of digital communications, said the online, accessible-from-anywhere database illustrates the school's plans to provide "the highest-caliber digital experience to showcase our excellence in teaching and research."
Open University UK major provider on iTunes U — Tony Bates