Dawn of the Age of Digital Learning — from medium.com by Michael Moe and Vignesh Rajendran
An Acceleration of Trends That Have Been Building for Years
Excerpts:
Some of these new online learners will sink. Some will crawl out of the pool and never go back in. But we believe most will get the hang of it, like it, and will no longer be confined to the shore. Effectively, the genie is not going back in the bottle… digital learning has come of age. We have a B.C. (Before Coronavirus) world transitioning to A.D. (After Disease).
…
The Coronavirus has brought forth the Dawn of the Age of Digital Learning — a time for builders to create the platforms, tools, and technology to propel society forward.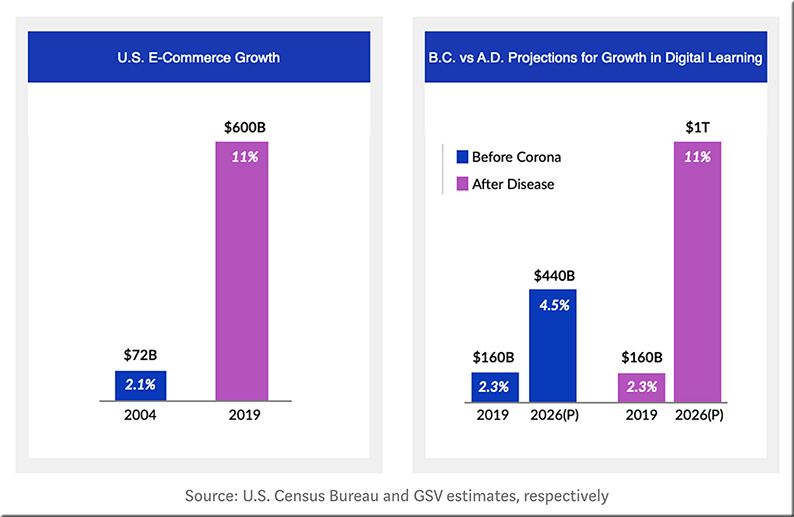 From DSC:
So many of the things in this article reminded me of the things, developments, trends, needs, and possibilities that I have been tracking for years in this vision of a next-generation, global learning platform that I have entitled:
My guess is that the large, primarily online institutions/organizations will come out of this ordeal in much better shape than the majority of the traditional institutions of higher education. It won't matter what faculty members at liberal arts institutions think about online learning. And as much as some faculty members won't like to see or hear about it, students will no longer need for such faculty members to be sold on it. Students will come to realize that it was under those faculty members watch that their own enormous gorillas of debt were created. And they are beginning to witness and hear that it's taking (or will take) older family members decades to pay down their debt.
So, I think that the market will decide the fate of many traditional institutions of higher education. Lifelong learners will vote with their feet — and fingers actually, by typing in a new URL — and simply move to the SNHU's, ASU's, UMass Online's, WGU's, and Liberty University's of the world. After 5-10 years of investments in online learning, there will likely be some pretty amazing learning experiences out there.