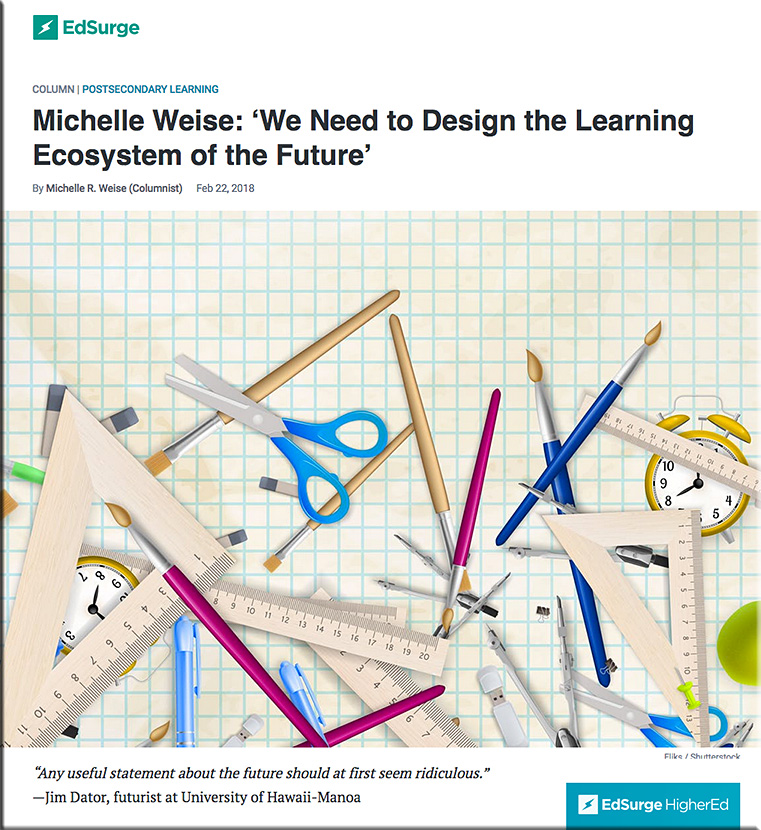 Michelle Weise: 'We Need to Design the Learning Ecosystem of the Future' — from edsurge.com  by Michelle Weise
Excerpts:
These days, education reformers, evangelists and foundations pay a lot of lip service to the notion of lifelong learning, but we do little to invest in the systems, architecture and infrastructure needed to facilitate seamless movements in and out of learning and work.
Talk of lifelong learning doesn't translate into action. In fact, resources and funding are often geared toward the traditional 17- to 22-year-old college-going population and less often to working adults, our growing new-traditional student population.
We'll need a different investment thesis: For most adults, taking time off work to attend classes at a local, brick-and-mortar community college or a four-year institution will not be the answer. The opportunity costs will be too high. Our current system of traditional higher education is ill-suited to facilitate flexible, seamless cost-effective learning pathways for these students to keep up with the emergent demands of the workforce.
…
Many adults may have no interest in coming back to college. Out of the 37 million Americans with some college and no degree, many have already failed one or twice before and will be wholly uninterested in experiencing more educational trauma.We can't just say, "Here's a MOOC, or here's an online degree, or a 6- to 12-week immersive bootcamp."
We have to do better. Let's begin seeding the foundational elements of a learning ecosystem of the future—flexible enough for adults to move consistently in and out of learning and work. Enough talk about lifelong learning: Let's build the foundations of that learning ecosystem of the future.
From DSC:
I couldn't agree more with Michelle that we need a new learning ecosystem of the future. In fact, I have been calling such an effort "Learning from the Living [Class] Room — and it outlines a next generation learning platform that aims to deliver everything Michelle talks about in her solid article out at edsurge.com.
Along these lines…I just saw that Amazon is building out more cashierless stores (and Walmart is also at work on introducing more cashierless stores.) Now, let's say that you are currently a cashier. 2-5 years from now (depending upon where you're currently working and which stores are in your community), what are you going to do? The opportunities for such a position will be fewer and fewer. Who can help you do what Michelle mentioned here:
Working learners will also need help articulating their learning goals and envisioning a future for themselves. People don't know how to translate their skills from one industry to another. How does a student begin to understand that 30% of what they already know could be channeled into a totally different and potentially promising pathway they never even knew was within reach?
And that cashier may have had a tough time with K-12 education and/or with higher education. As Michelle writes:
Many adults may have no interest in coming back to college. Out of the 37 million Americans with some college and no degree, many have already failed one or twice before and will be wholly uninterested in experiencing more educational trauma. We can't just say, "Here's a MOOC, or here's an online degree, or a 6- to 12-week immersive bootcamp."
And like the cashier in this example…we are quickly approaching an era where, I believe, many of us will need to reinvent ourselves in order to:
stay marketable

keep bread and butter on the table

continue to have a sense of purpose and meaning in our lives
Higher ed, if it wants to remain relevant, must pick up the pace of experimentation and increase the willingness to innovate, and to develop new business models — to develop new "learning channels" so to speak. Such channels need to be:
Up-to-date

Serving relevant data and information– especially regarding the job market and which jobs appear to be safe for the next 5-10 years

Inexpensive/affordable

Highly convenient