Technology for HyFlex Classrooms: Major Considerations — from hyflexlearning.org by Brian Beatty
Excerpts:
This post describes four aspects of classroom technology that are very important to address when developing a HyFlex approach that can be effective at scale.
…
The classroom technology needs can be organized into four areas:
two-way audio stream (connection),
incoming video presentation of remote learners
outgoing video presentation of classroom and learners
interactive technology to support interaction, engagement, and formative assessment
Also re: hyflex teaching — where some students are physically present and some are coming into the class remotely– see:
Part I – Motivating Learners by Building Efficacy (Confidence) through Scaffolding and Support— from hyflexlearning.org by Jeanne Samuel
Excerpts:
HyFlex delivery may be new to many learners. Therefore, it is important to provide them with the supports they need to be successful. Regardless of the delivery mode, learners are motivated by success and by instructor presence. In part one of this topic post, we will write about how instructor support and feedback (a form of guidance) can motivate learners and build learner confidence.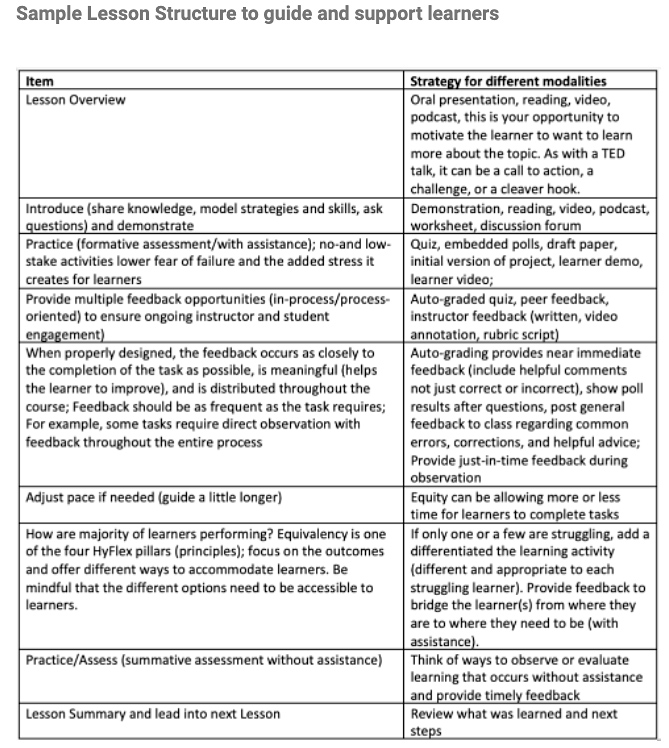 PART II- Feedback for Improving Student Success and Satisfaction — from hyflexlearning.org by Jeanne Samuel
Excerpt:
In part 1 of this post, we focused on how feedback and support promote learner confidence. Learner confidence can lead to improved learner retention, progression, and success regardless of the class delivery mode. In part 2, we focus on feedback strategies.