Mind-Bending 3D Staircase Wins the Best Illusion of the Year Contest — from interestingengineering.com by Loukia Papadopoulos
The winner's work is a mesmerizing take on the classic Schröder Staircase.
Coming Home for Christmas — from 500px.com by Arnd Kolleck
.

Animation Trends in 2021: Popping and Intriguing Animation Ideas — from graphicmama.com by Lyudmil Enchev
Excerpt:
Before we dive in, a quick list of the 9 animation trends in 2021:
1. 3D style
2. Live-Action and Animation Mix
3. Use Textures
4. Don't Underestimate Sound FX
5. Unique Characters and Illustration styles
6. Realistic Expressions
7. Glow and Shine Effects
8. Retro/Vintage Style Animations
9. Storytelling
.
Meet Texas A&M graduate Cheyenne Chapel, a CG artist behind Pixar's new animated film 'Soul' which premieres this Christmas on Disney+ — from victoriaadvocate.com by Joe Friar, with thanks to Keesa V. Johnson for posting this on LinkedIn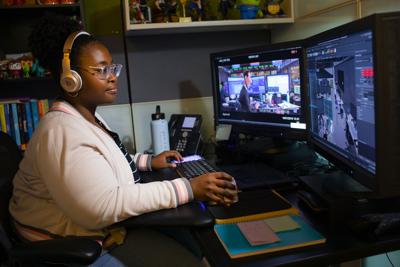 Cheyenne Chapel is photographed on January 21, 2020 at Pixar Animation Studios in Emeryville, Calif. (Photo by Deborah Coleman / Pixar)
Impressive Moving Dunes Optical Illusion — from fubiz.com