From DSC:
I can't help but reflect on how slippery the slope is when we start talking about using drones — especially as sponsored and used by governments, including our government here in the U.S. Consider the following from The Future Institute.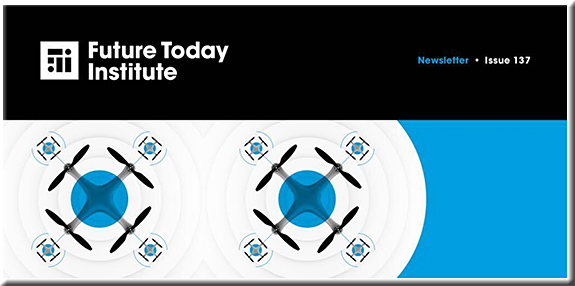 Excerpt:
Eyes in the sky
As nationwide racial justice protests continue, some journalists and protestors have noticed a new addition to the armed police officers and National Guard troops: a drone flying a hexagon-shaped route 20,000 feet above the streets in Minneapolis. The drone, flown by U.S. Customs and Border Protection, is called a Predator, and is a piece of military technology used for identifying and targeting terrorists overseas. Lately, it's become a more common sight domestically.
Last month, a number of New Yorkers witnessed a drone floating above them, barking orders to follow social distancing guidelines. The mysterious drone wasn't official police equipment, but rather a privately owned device piloted by a man named Xavier Arthur in Queens, who was frustrated that people weren't following stay-at-home orders. He claimed to represent the "Anti-Covid-19 Volunteer Drone Task Force. 
It's not an isolated incident. During the outbreak, drones have been used extensively to monitor residents and encourage them to stay indoors, to inspect traffic stops and hospitals, and to spray cities with disinfectants. In Paris and Mumbai, they're patrolling social distancing violators. In China, a video clip went viral, showing a drone breaking up a mahjong game—residents had defied local orders that they stay indoors. Drones with infrared cameras also allegedly flew overhead and checked for people with fevers.
Advanced drones can pinpoint certain behaviors in crowds from high altitudes, recognize and automatically follow targets, and communicate with each other or to command centers on the ground with remarkable precision and low latency. The pandemic and protests are playing to the strengths of an emerging real-time aerial surveillance ecosystem.
3 Things You Should Know
The Flying Internet of Things is taking off.
New drones can self-destruct.
Shareable drones may drive growth in the industry.