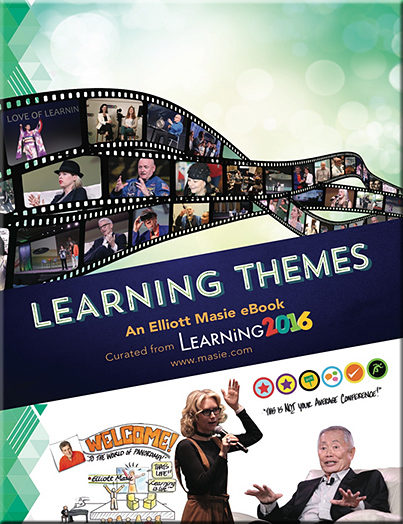 Learning Themes
Curated Content from Learning 2016
Open Source eBook – No Cost
http://www.masie.com/eBookL16
From an email from Elliott Masie and the Masie Center:
This 35-page eBook is packed with content, context, conversations, video links, and curated resources that include:
Learning Perspectives from Anderson Cooper, Scott Kelly, Tiffany Shlain, George Takei, Richard Culatta, Karl Kapp, Nancy DeViney, and other Learning 2016 Keynotes
Graphic Illustrations from Deirdre Crowley, Crowley & Co.
Video Links for Content Segments
Learning Perspectives from Elliott Masie
Segments focusing on:

Brain & Cognitive Science
Gamification & Gaming
Micro-Learning
Visual Storytelling
Connected & Flipped Classrooms
Compliance & Learning
Engagement in Virtual Learning
Video & Learning
Virtual Reality & Learning

And much more!
We have created this as an open source, shareable resource that will extend the learning from Learning 2016 to our colleagues around the world. We are using the Open Creative Commons license, so feel free to share!
We believe that CURATION, focusing on extending and organizing follow-up content, is a growing and critical dimension of any learning event. We hope that you find your eBook of value!