Study shows how classroom design affects student learning — from fastcodesign.com by Kyle VanHemert
A new study shows how color, lighting, and other classroom design choices can have a huge impact on student progress.
Excerpt (emphasis DSC):
As debate over education reform sizzles, and as teachers valiantly continue trying to do more with less, a new study suggests that it might be worth diverting at least a little attention from what's going on in classrooms to how those spaces are being designed. The paper, published in the journal Building and the Environment, found that classroom design could be attributed to a 25% impact, positive or negative, on a student's progress over the course of an academic year. The difference between the best- and worst-designed classrooms covered in the study? A full year's worth of academic progress.
 Also see:

From DSC:
Which reminds me of a recent idea I was thinking about and an accompanying 11″ x 17″ graphic:
.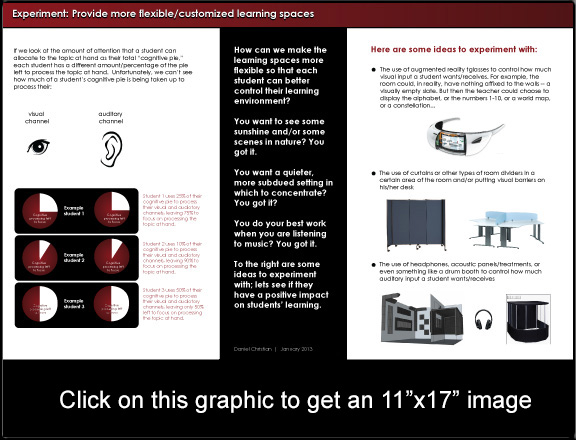 From DSC:
I'm trying to address the students that are more easily distracted and, due to how their minds process information, have a harder time focusing on the task at hand.  In fact, at times, all of the external stimuli can be overwhelming. How can we provide a learning environment that's more under the students' control? i.e. How can we provide — using the same exact learning space — "volume knobs" for students' auditory and visual channels?
Along these lines, I'm told that some theaters have sensory-friendly film showings — i.e. with different settings for the lights and sound than is typically offered.