Average student debt climbs to $26,600 for Class of 2011 — from The Institute for College Access & Success
Report, website include state-by-state and campus-by-campus debt levels for 2011 graduates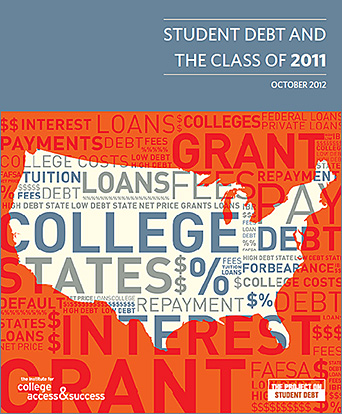 Excerpt:
TICAS recently released Student Debt and the Class of 2011, our seventh annual report on the debt carried by new college graduates. Hundreds of news outlets around the country have already run stories featuring our findings, including The New York Times, USA Today, and PBS NewsHour.
We found that two-thirds of college seniors who graduated from public and private nonprofit four-year schools in 2011 carried an average of $26,600 in student loan debt, up 5% from the previous year. Private student loans comprised about one-fifth of the Class of 2011's debt. Meanwhile, unemployment for recent graduates dipped from last year's peak of 9.1% but remained high at 8.8% (still less than half the unemployment rate for young adults with only a high school diploma).
The report also shows that average student debt levels vary widely by state as well as by college. To view debt levels for all 50 states plus the District of Columbia and more than 1,000 individual U.S. colleges and universities, visit our companion interactive map.
Read the press release
Read the report
Use the interactive map
.
From DSC:
The above items support the need for greater experimentation within higher ed.
Also see: