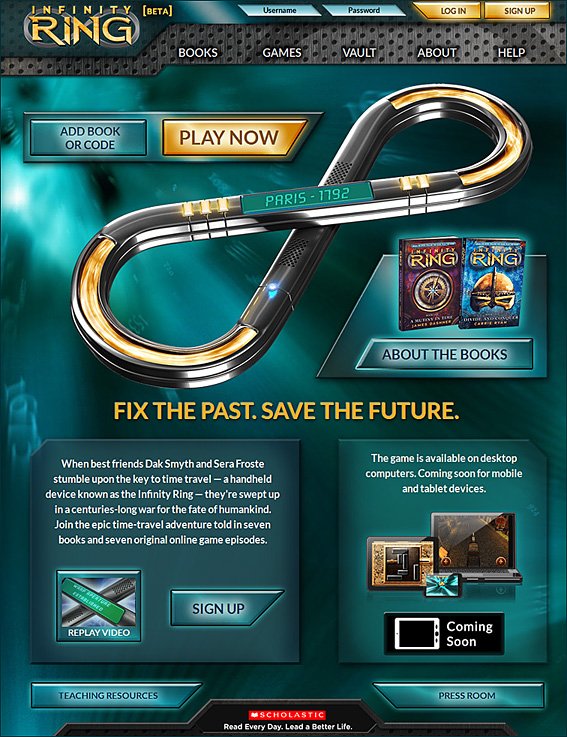 In each game episode, you play as Dak, Sera, and young Hystorian Riq as they travel back in time to fix one of the Great Breaks. Use your Hystorian's Guide to discover what has gone wrong in history. Then, the story continues as you explore the open environment and play mini games such as lock picking or white-water rafting. Along the way you will also complete side quests and speak with historical characters who will aid you in — or perhaps deter you from — your quest.
The Infinity Ring game boasts an immersive open-world environment in which players are free to explore a 3-D representation of sites around the globe and throughout time. The game is available on desktop computers. Coming soon for mobile and tablet devices.
Also see:
Scholastic goes global to promote its latest transmedia epic — from digitalbookworld.com
NEW MULTI-PLATFORM TIME TRAVEL ADVENTURE SERIES infinity ring™ LAUNCHES WITH global promotional campaign
FROM SCHOLASTIC
KIDS CAN PREVIEW THE INFINITY RING ONLINE GAME ON WWW.INFINITYRING.COM STARTING TODAY
Scholastic (NASDAQ: SCHL), the global children's publishing, education, and media company, today announces a massive worldwide campaign to promote INFINITY RING™, a new multi-platform time travel adventure series for children ages 8-12, launching on August 28th simultaneously in the United States, Canada, United Kingdom, Australia, and New Zealand with "Book 1: A Mutiny in Time" by New York Times bestselling author James Dashner.  As the pioneering force behind the groundbreaking and international bestselling The 39 Clues® series, Scholastic expands its innovative multi-platform publishing program with Infinity Ring, a fully immersive reading experience which combines books, an interactive "Hystorian's Guide" map, and an online game experience where readers travel back in time to "fix" history.
.
20 schools innovating with digital tools — from Getting Smart by Tom Vander Ark and Sarah Cargill
Excerpt:
Hans Renman in Stockholm (@tankom_hans) asked on Twitter, "Do you know any US schools that are REALLY using digital tools in an INTERESTING way for communication, marketing, or learning?" That tweet kicked off a few days of snooping around. Here is the list of 20 we came up with. We look forward to your additions!