8 things to know about the new Microsoft Office  — from inc.com by Christina DesMarais
Microsoft starts integrating Skype into Office — from techcrunch.com by Frederic Lardinois
Next version of Microsoft Office puts emphasis on subscriptions with Office 365 — from techcrunch.com by Frederic Lardinois
Licensing is the Achilles Heel for the new Microsoft Office — from techcrunch.com by Alex Williams
Microsoft's new Office: The cloud finally takes center stage — from cnet.com by Mary Jo Foley
A public preview of Microsoft's coming Office 2013 client is out today. But Office 365 and SkyDrive are the real stars of the new Office show.
New Microsoft Office taps into the cloud — from cnet.com by Lance Whitney
Like Windows 8, the new version of Office will let you sign in with an online account, providing you with the same settings across different devices.
The new Microsoft Office — in pictures –– from cnet.com
.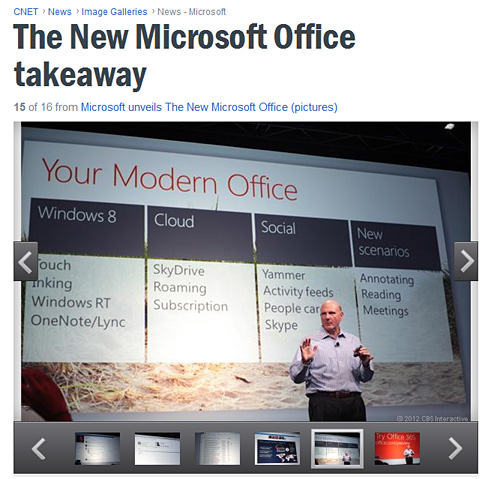 .
New Microsoft Office to embrace Windows 8 touch-screen tablets — from cnet.com by Lance Whitney
Demoing the applications in the new Office suite today, Microsoft emphasized the ability to integrate with Windows 8 using taps and other touch-based gestures.
Hands On: Microsoft Office 2013 and Office 365 — from PCMag.com by Jill Duffy
New Microsoft Office ropes in Skype, Yammer, SkyDrive — from gigaom.com by Barb Darrow
What the new Microsoft Office gets wrong — from fastcodesign.com by Austin Carr
Microsoft unveiled a preview of its latest version of Office, and the design is a schizophrenic mess. Here's why.
Office 15: Microsoft's Best Bet For Beating Dropbox, iCloud, Google Drive — from FastCompany.com by Austin Carr
With one billion Office users worldwide, the newest upgrade to Microsoft's productivity suite could give the company a significant hold on the cloud, which Gartner estimates will become a $149 billion industry by 2015.